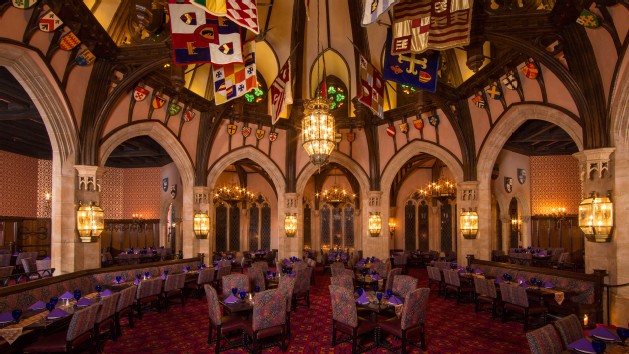 Dine with Disney Princesses inside Cinderella Castle during this one-of-a-kind Fairytale Dining experience.
Location: Magic Kingdom Park, Fantasyland
Type: American Cuisine
Price: $$$ ($35 to $59.99 per adult) – $$$$ (over $60 per adult)
Reservations: Yes
Fairytale Dining at Cinderella's Royal Table
Cinderella makes your acquaintance in the majestic Grand Hall, before you ascend a spiral staircase to the banquet hall above. (A gilded elevator is also available to transport you to the festivities.)
Then, dine in a storybook setting surrounded by soaring stone archways, majestic medieval flags and spectacular stained-glass windows overlooking Fantasyland. During your time inside the castle, visit with classic Disney Princesses.
Tiaras and glittering gowns are optional, although young Guests are encouraged to dress up for the occasion.
Character appearances are subject to change.
---
Complimentary Keepsake
As you enter Cinderella Castle, pose for a complimentary portrait with Cinderella herself. Your portrait will be delivered right to your table.
Guests receive:
One Professional Photo Package, for groups of up to 4 Guests
2 Professional Photo Packages, for groups of 5 to 8 Guests
3 Professional Photo Packages, for groups of 9 to 12 Guests
Each Photo Package includes:
One 6″ x 8″ and four 4″ x 6″ prints
One 6″ x 8″ print of Cinderella Castle
A Cinderella-themed photo holder
---
Feast Fit for Royalty
Delight in a regal banquet as Disney Princesses visit for photos and autographs.
Breakfast
Enjoy pre-plated, American breakfast favorites like stuffed French toast, steak and eggs, baked quiche, crepes and pastries as you sip on your choice of juice, milk, coffee or tea.
Lunch
For starters, Cinderella's Royal Chef creates a selection of baked specialties. Then, it's on to an unforgettable main course with choices ranging from slow-cooked short ribs to Her Majesty's catch of the day for the adults, and chicken nuggets or turkey pot pie for the kids. Polish off your meal with dessert, such as seasonal sorbet or flourless chocolate cake.
Dinner
Dine like royalty on your choice of appetizer, followed by savory entrées that may include oven-roasted chicken breast, beef tenderloin and gnocchi with roasted vegetables. The children's menu offers all-time favorites, such as chicken nuggets, cheese pizza and turkey pot pie. For a sweet finale, desserts include a sampler trio and other irresistible treats.
---
Celebrations for One and All
Celebrate someone special in your life with the ultimate princess dining package, just like she deserves!
After you set a dining reservation, you can upgrade the experience by arranging one of several enchanting enhancements—from personalized glass slippers to our signature slipper desserts.
A Package Fit for a Princess
Every girl dreams of becoming a princess, so why not make her dreams come true?
Bring your little one's fantasies to life with the exclusive "Her Royal Highness" package, which comes complete with a princess balloon on the table, a tiara adorned with crystals and an extraordinary princess-themed cake prepared by Cinderella's Royal Chefs. It's a truly magical experience, one sure to make any girl feel like a princess for the day!
Ready to Propose?
Fashion an unforgettable event she'll keep with her for a lifetime—set up the perfect fairytale setting for your proposal!
Create a moment as special as she can imagine with the "Glass Slipper Engagement," a package showcasing signature dining for two, a personalized glass slipper presented on a bed of rose petals, specialty slipper desserts and a celebratory toast—all captured on camera by one of our Disney Photo Pass Photographers.