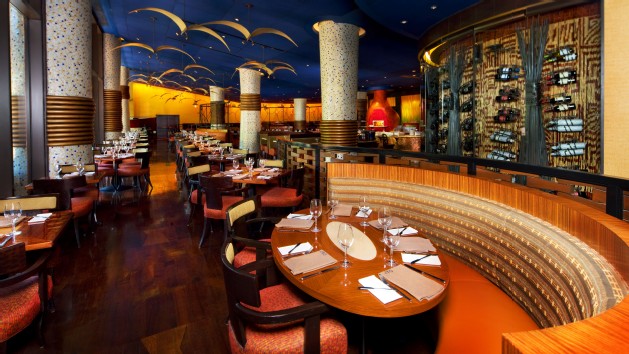 Vibrant spices, crackling wood-burning ovens and boutique South African wines transport you to the heart of Africa.
Location: Disney's Animal Kingdom Lodge
Type: African Cuisine
Price: $$$ ($30 to $59.99 per adult)
Reservations: Yes
African Cuisine
Discover a delicious blend of traditional African, Indian and Mediterranean cuisine. Steak, chicken, seafood, vegan and vegetarian dishes are infused with a uniquely bold blend of tantalizing flavors and fragrant spices.
Changing seasonally, the menu may include such mouth-watering selections as peri peri chicken with herb-crushed potatoes, shrimp curry and oak-grilled filet mignon with sweet corn risotto. Imaginative appetizers include curried potato-and-corn samosas and brick oven-fired flatbreads.
The children's menu features pizza, grilled chicken served with mashed potatoes, and steak served with macaroni-and-cheese, veggies and fruit.
Reservations are recommended and can be made up to 180 days prior to your visit.
---
Savannah Sunset
Twin wood-burning ovens roar as subtly changing light mimics the warm red, orange and gold tones of an African sunset. Watch chefs prepare appetizers in the open show kitchen, and after dinner, stroll through the grounds of Disney's Animal Kingdom Lodge to encounter more than 30 species of African wildlife in lush, natural habitats.
---
Dress Code
At this Signature Dining experience, Guests are asked to adhere to the dress code.
Men may wear khakis, slacks, jeans or dress shorts and collared shirts. Sport coats are optional.
Women may wear capri pants, skirts, dresses, jeans or dress shorts.
Not permitted in the dining room are tank tops, swimsuits, swimsuit cover-ups, hats for gentlemen, cut-offs, torn clothing and shirts with offensive language or graphics.