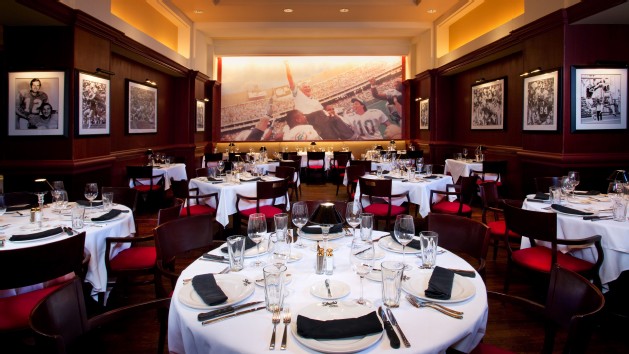 Sizzling steaks and seafood impress at this award-winning steakhouse, honoring the only undefeated team in NFL history.
Location: Walt Disney World Dolphin Hotel
Type: American, Seafood, Steakhouse Cuisine
Price: $$$ ($30 to $59.99 per adult)
Reservations: Yes
Perfect Season, Perfect Steaks
This "Perfect Season" steakhouse features succulent steaks, plus an excellent selection of fresh seafood.
Savor filet mignon, lamb chops and chicken, as well as crab cakes and cold water lobster tails. Finish the signature 48-ounce porterhouse steak to join Shula's 48oz. Club®, which has over 35,000 members. Then polish off your meal with apple crisp, key lime pie and chocolate cake.
Decorated with photos and memorabilia of the 1972 Miami Dolphins' "Perfect Season" under Coach Don Shula, Shula's Steak House celebrates the only undefeated team—and the most successful head coach—in NFL history.
Continuing the legacy, Shula's Steak House at Walt Disney World Dolphin Hotel has won numerous awards, including Critic's Choice for Orlando's Best High-End Steak House and The Wine Spectator's Award of Excellence.
Reservations are recommended and can be made up to 180 days prior to your visit.
---
Shula's Lounge
Watch sports and enjoy a cold pint in this inviting, wood-paneled lounge.