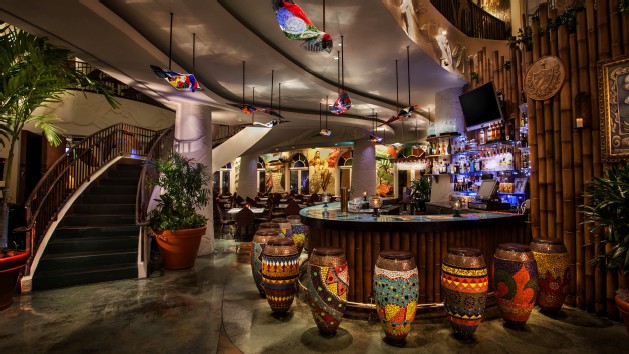 Enjoy hot Latin rhythms and authentic Cuban cuisine at this recreation of a 1950s Havana nightclub.
Location: Downtown Disney, West Side
Type: Cuban Cuisine
Price: $$ ($15 – $34.99 per adult)
Reservations: Yes
Fiery Rhythms and Flavors
Discover Cuban cooking and live entertainment at this tropical hotspot.
Favorite dishes include the "Cubano" sandwich, roasted chicken, seafood paella and Cuban-style skirt steak. The kids menu has hamburgers, chicken, pizza and more, and Guests 21 years of age and up can pair their meal with wine, mojitos, frozen cocktails and beer. Polish off your meal with flan, bread pudding or ice cream!
Created by music superstar Gloria Estefan and her producer husband Emilio, this vibrant restaurant is a mosaic of colors and flavors set against infectious music and a celebratory spirit. You'll feel you've been transplanted to a Miami hotspot—if not Havana itself.
Reservations are recommended and can be made up to 180 days prior to your visit.