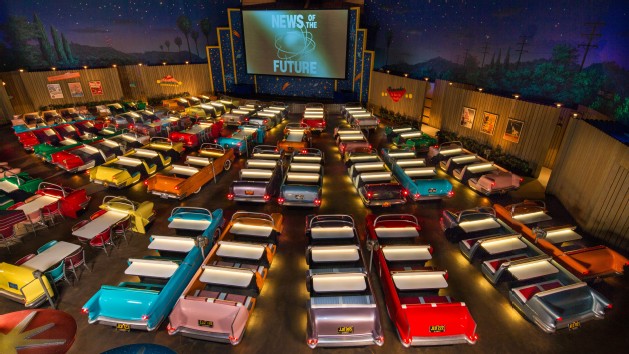 Do dinner and a movie retro-style at this eatery done up like a '50s drive-in, with all-American cuisine to match.
Location: Disney's Hollywood Studios
Type: American Cuisine
Price: $$ ($15 – $34.99 per adult)
Reservations: Yes
Pull In and Eat Out
Watch campy clips as you picnic under the stars in a classic car-shaped booth or table.
It's always nighttime at the Sci-Fi Dine-In Theater Restaurant, and there's always something savory—and spooky—headed your way: attacking aliens, marauding mummies, rampaging robots and more!
Enter the Hollywood-style soundstage as a classic car hop guides you to your very own automo-booth or table. Kitschy vintage memorabilia, the illuminated tail lights of your fellow drive-in diners and a sky full of twinkling stars set the mood as you place your order.
Road-ready picnic tables are located at the back of the theater, where there's even an old-fashioned, drive-in-style concession stand!
---
Attack of the 50-Foot Burger!
Whet your appetite with provocative previews like Spicy Buffalo Pop Corn Chicken and Fried Dill Pickles. For your main feature, The Famous All American Picnic Burger is a must-see—and a must-taste! More sandwiches are in orbit, such as the Salmon BLT, The Reuben and the Vegetable Burger.
For a full-on dinner experience, run, don't walk toward the House-smoked St. Louis-style Pork Ribs or the Vegetarian Sheppard's Pie Sci Fi-style.
Drive-In Drinks and Desserts
Moviegoers 21 years of age and older: get cozy with your date over cosmic concoctions like a Long Island Lunar Tea, the Magical Star Cocktail or Orbiting Oreos—glow-in-the-dark ice cubes make them even more out of this world! For terrestrial tipplers, wines and beers—both draft and bottled—are also available.
Junior sci-fi fans, enjoy an eerie Glowing Character Punch featuring a Disney character light. And before the drive home, make your sweetheart swoon with some Out-Of-This-World Turtle Cheesecake or a House-made Sci-Fi Candy Bar!
---
Reservations
Tables and booths will be assigned upon your arrival at the restaurant, unless otherwise reserved. Advance reservations are strongly recommended, and can be made up to 180 days prior to your visit.