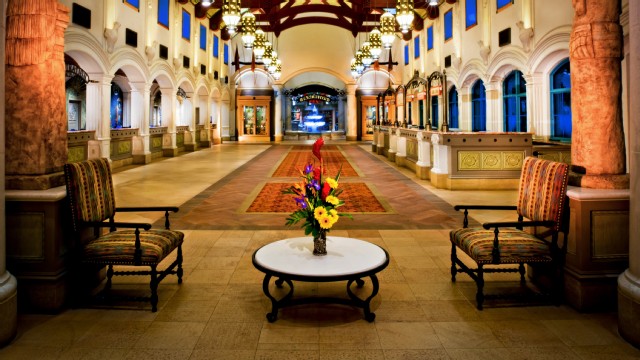 Relive the romance of Spanish-colonial Mexico as you follow in the footsteps of explorer Don Francisco de Coronado at this Resort hotel. Find your own mythical city of gold in a Southwestern-themed haven of brightly colored Casitas, rustic Ranchos and beachfront Cabanas encircling a glimmering 22-acre lake. Each accommodation provides a unique escape and a welcoming home away from home.
Dining | Recreation | Amenities
What Makes This Resort Hotel Unique
Pool with Waterslide
Worship the sun at an awesome aquatic area built around a 50-foot replica of a Mayan pyramid. Watch water stream down the steps of the massive stone structure into the Lost City of Cibola pool or plunge headlong into it on the spitting Jaguar Slide. This complex, known as the Dig Site Pool, is also home to the largest outdoor hot tub at Walt Disney World Resort, with room for 22 people!
---
Maya Grill
Heat things up with Nuevo Latino fusion cuisine like the sizzling beef fired over oak and mesquite.
---
La Vida Health Club
Take advantage of 24-hour fitness facilities and a range of spa and beauty services by appointment.