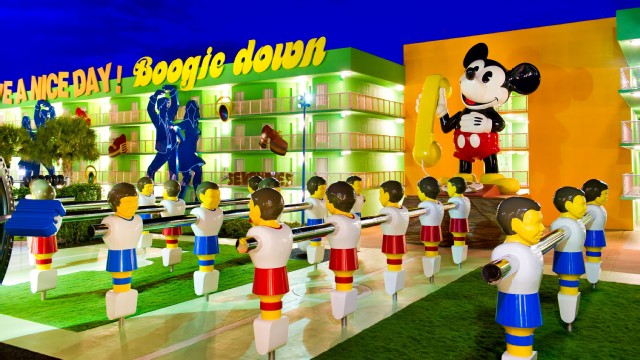 Experience the unforgettable fads of the 1950s through the 1990s all over again. From yo-yos and Play-Doh® to Rubik's Cube® and rollerblades, this Resort hotel salutes the timeless fashions, catch phrases, toys and dances that captivated the world through the decades.
Dining | Recreation | Amenities
What Makes This Resort Hotel Unique
Pool with Water Jets
Immerse yourself in the spirit of the 1960's at the sprawling Hippy Dippy Pool, which features flower-shaped water jets. For the little ones, a kiddie pool area with a pop-jet water fountain is located nearby.
Two more pools, the smaller 1950's Bowling Pool and the 1990's Computer Pool, are also on hand for Guests looking to take the pop-culture plunge.
---
Everything Pop Shopping and Dining
Shop for Disney merchandise before or after you dine at this far-out food court that's a blast from the past. Find food favorites like waffles, pasta, flatbread and salads in one of the 7 food stations.
In-room pizza delivery is also available for those looking to dine in.
---
Movies Under the Stars
Watch Disney films at complimentary nighttime movie screenings outside by the Hippy Dippy Pool.