Anandapur Ice Cream Truck
Asia
Quick Service
As you cruise through Disney's Animal Kingdom theme park, pull off from the pathway throughout the day and pick up a soft-serve waffle cone or a frosty float with your choice of fountain beverage—as prepped by the Anandapur Ice Cream Truck!
---
Creature Comforts
Discovery Island
Quick Service
Discover the delightfully re-imagined Creature Comforts in Discovery Island at Disney's Animal Kingdom theme park—now an exciting new STARBUCKS® coffee and specialty beverages location serving a selection of Disney baked goods and La Boulange™ pastry items!
---
Quick Service
Sip on South African wines in the heart of Harambe village at this bamboo bar by Tusker House Restaurant. African beer, including the elusive Tusker Lager, and specialty cocktails like Lost on Safari and the Dawa Colada are also served.
---
Dino-Bite Snacks

Discovery Island
Quick Service
Dig up frozen delights at this fossil-friendly site! Re-enact the Ice Age with ice cream cookie sandwiches, floats and cool hot fudge sundaes.
---
Eight Spoon Café
Discovery Island
Quick Service
Cruise through your day at Disney's Animal Kingdom park with quick-and-easy snacks—like our three-cheese pasta, assorted chips and soft drinks. Plus, before you journey back out into the wild, be sure to bring a Mickey pretzel along for the ride!
---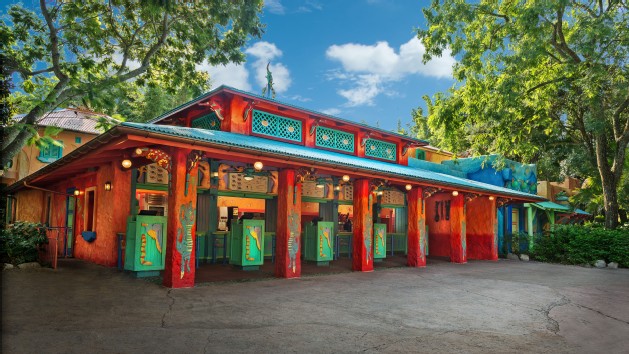 Flame Tree Barbecue
Discovery Island
Quick Service
Enjoy a terrace view and hearty meals seasoned with our special Flame Tree BBQ rub. Come try the chicken, St. Louis ribs or our pulled pork sandwich. Desserts, soft drinks, beer and wine are also available.
---
Harambe Fruit Market
Africa
Quick Service
Take your pick from the freshest fare Disney's Animal Kingdom theme park has to offer—apples, oranges, bananas and more! Or, sink your teeth into offerings inspired by the salt of the earth, including Mickey pretzels and assorted chips.
---
Harambe Market
Africa
Quick Service
Venture to this seaside town where 4 walk-up windows await your arrival—each featuring a variety of African tastes, tannins and more.
---
Isle of Java
Discovery Island
Quick Service
Pining for a pick-me-up? Located in Discovery Island, choose from fresh-brewed espresso, cappuccino, cold drinks and various sweet treats. The Island Cappuccino—made with white chocolate and Captain Morgan's Original Spiced Rum—will keep you coming back!
---
The Jungle Book: Alive With Magic Dining Package
Table Service, Dining Event
Go wild with a mouthwatering meal and reserved seating during an all-new evening show inspired by the blockbuster Disney film.
---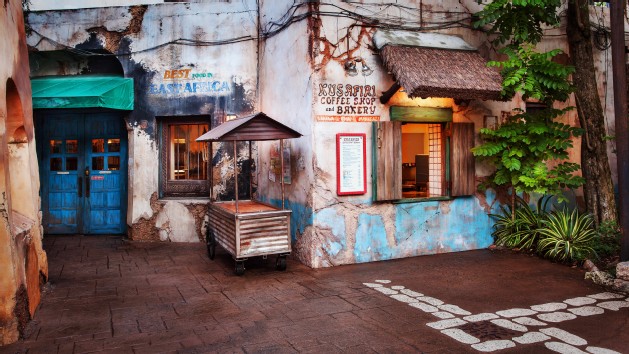 Kusafiri Coffee Shop & Bakery
Africa
Quick Service
Fuel up before your safari with a continental breakfast from this convenient walk-up window. Treat yourself to colossal cinnamon rolls, freshly baked pastries, assorted cereals, milk, yogurt, fruit, juice and specialty coffees.
---
Mahindi
Africa
Quick Service
Safari trekking is thirsty work! Visit this roadside hut to satisfy your cravings with cinnamon-glazed almonds or pecans and a souvenir bucket of popcorn. Then, beat the heat with a beer, water and soda—or the popular Jungle Juice slushie!
---
Nomad Lounge
Discovery Island
Table Service
Stop off at this refreshing oasis to discover specialty cocktails and enticing appetizers from all across the globe.
---
Quick Service
Spy colorful critters and savor pizza, hot Italian-style sandwiches, delicious salads and more on this tasty expedition. Peacocks, chameleons other creatures grace murals and mosaics in 6 themed rooms. Draft beer and wine are also available.
---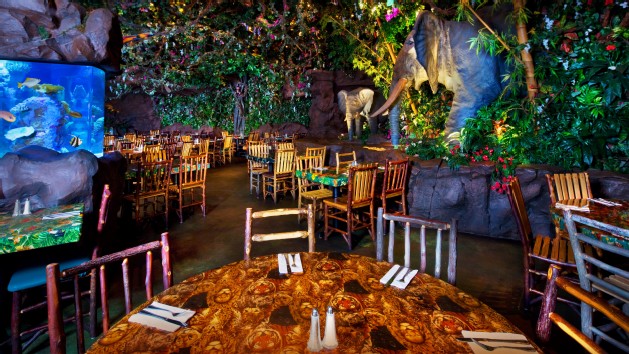 Rainforest Cafe® at Disney's Animal Kingdom
Table Service
Make your day at Disney's Animal Kingdom park even wilder with a feast in the middle of a tropical rainforest. Southwestern fare with a tropical twist amid a dense jungle filled with animals await you.
---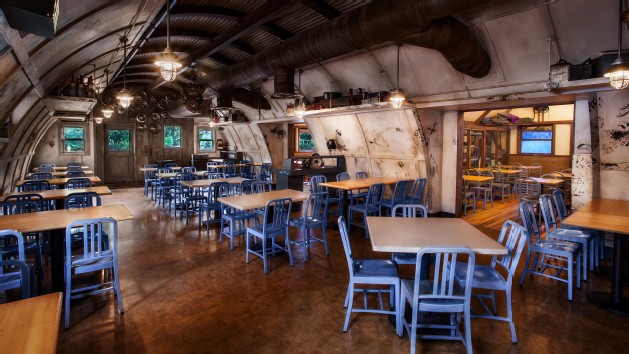 Restaurantosaurus
DinoLand U.S.A.
Quick Service
Delight in pre-hysteric, paleontology student humor as you dine on Angus or black bean burgers, hot dogs, chicken nuggets and more in a dino-themed dorm. Enjoy ice cold beverages and Safari Amber draft beer.
---
The Smiling Corcodile
Discovery Island
Quick Service
Chomp down on crocodil-icious foods to tame your appetite. Try smoky cheddar grits with pulled pork or a chicken drumstick with potato salad. Then, wash down the smoky flavors with a draft beer or assorted beverages in the shaded seating of Flame Tree Gardens.
---
Quick Service
Meaning "very delicious" in Swahili, this walk-up window in the heart of Harambe offers roasted chicken salad, as well as chicken and vegetarian curries—both served with jasmine rice. Desserts, milkshakes and soft drinks are also available.
---
Terra Treats
Discovery Island
Quick Service
Discover a world of healthy snacks, helpful dining tips—and great food that's great for you! Have allergies or special dietary concerns? No problem! Our friendly Islanders can help you plan out all your vacation meals at Disney's Animal Kingdom.
---
Thirsty River Bar & Trek Snacks
Asia
Quick Service
Parched? Pull on up to this open-air bar offering specialty drinks and beers, along with a selection of refreshing frozen beverages. Famished? While here, hungry travelers can also choose from grab 'n' go salads, sandwiches, fruit and more.
---
Triffins
Discovery Island
Table Service
Set off on a culinary expedition of international cuisine at this restaurant inspired by exploration and adventure.
---
Trilo-Bites
DinoLand U.S.A.
Quick Service
Dig up a tasty score before you transform into a fossil! Avoid extinction at all costs by sinking your teeth into appetizing chomps like pulled buffalo chicken waffle sliders, house-made waffle sundaes, frosty floats, draft beer and more.
---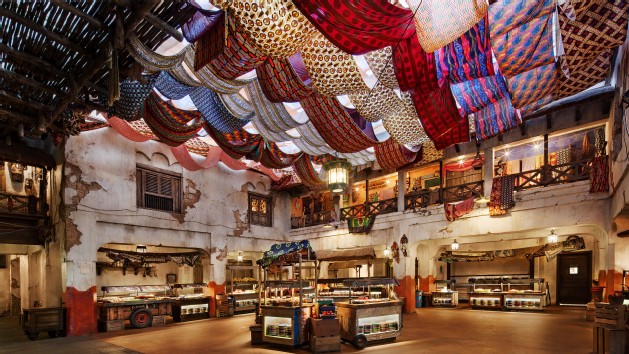 Tusker House Restaurant
Africa
Table Service
At this colorful Harambe marketplace eatery, you'll find a family-focused buffet brimming with African flavors.
---
Set out on an icy trip into margarita country, where you can choose from 3 delicious flavors—or layer them all into one refreshing treat!
---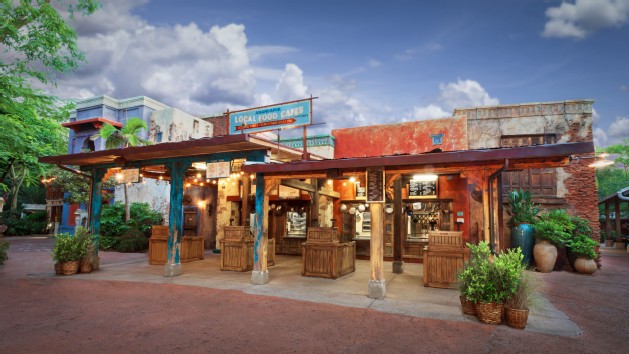 Yak & Yeti™ Local Food Cafes
Asia
Quick Service
Hungry after your Himalayan trek? Feast on Asian fare like sweet 'n' sour chicken, beef lo mein, mandarin chicken salad, egg rolls and fried rice. Kids' picks, desserts, draft beer, frozen lemonade and other soft drinks are also available.
---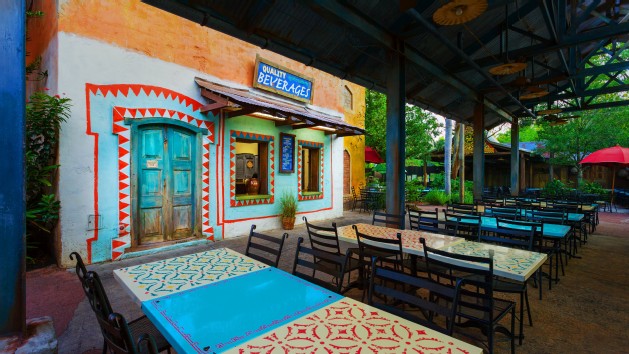 Yak & Yeti™ Quality Beverages
Asia
Quick Service
Walk up to the window for a cold one: the Yak Attack, an emperor margarita or a draft beer, including Safari Amber and Shock Top. Asian chicken sandwiches and salads are also available, as are chips, frozen lemonade and soft drinks.
---
Table Service
Travelers can relax and replenish with a pan-Asian feast in this beautiful Nepalese-style restaurant. Discover exciting pan-Asian cuisine at this quaint village home that's been turned into a restaurant.