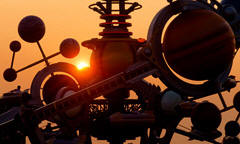 Astro Orbiter
Spin around on this rocket ride as you soar high above Tomorrowland in a 2-person spaceship. Enjoy the spectacular view from orbit as you dip and rise 'round the colossal monument of orbs and spirals.
---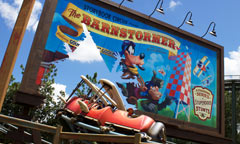 The Barnstormer
The Great Goofini takes Guests on a spiraling stunt plane adventure inspired by classic air shows. Here, you can enjoy a whimsical, roller coaster "flight" above the lively grounds of Storybook Circus in New Fantasyland.
---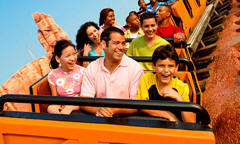 Big Thunder Mountain Railroad
Ride this rollicking runaway train that rushes through the gold-mining, Old West town of Tumbleweed in Frontierland. Beware when the rails go clackety-clack because your car's about to run over treacherous terrain!
---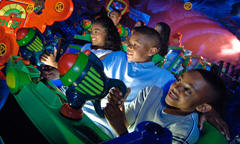 Buzz Lightyear's Space Ranger Spin
We need you, Space Ranger! Stop the Evil Emporer Zurg from stealing the Universe's cystollic fusion cell supply. Climb aboard your own space cruiser to shoot targets and rack up points as you battle the robots in Zurg's service. To infinity and beyond!
---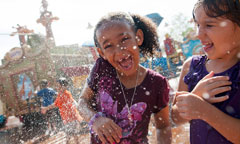 Casey Jr. Splash 'N Soak Station
Enjoy a refreshing break from the day at Casey Jr. Splash 'N' Soak Station. At this circus-themed water play area, Guests—especially little ones—are invited to cool down with Casey Jr., who can be found near The Fantasyland Train Station getting splashed by playful circus animals.
---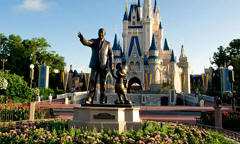 Cinderella Castle
Wander through this iconic fairytale fortress and take in this classic tale as it unfolds around you on murals. The castle serves as the formidable gateway to Fantasyland.
---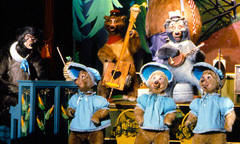 Country Bear Jamboree
Come on down to this foot-stompin', hand-clappin' musical revue performed by a band of backwoods bears and their furry friends in Grizzly Hall theater. Give a big "Yeehaw!" and sing along with beary special musicians like the Five Bear Rugs!
---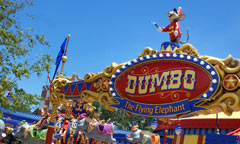 Dumbo The Flying Elephant
Soar high in the sky with Dumbo over Magic Kingdom theme park around a circus ball topped by Timothy Mouse. This classic ride is a hit with little ones who delight in this magical, fantastical flight.
---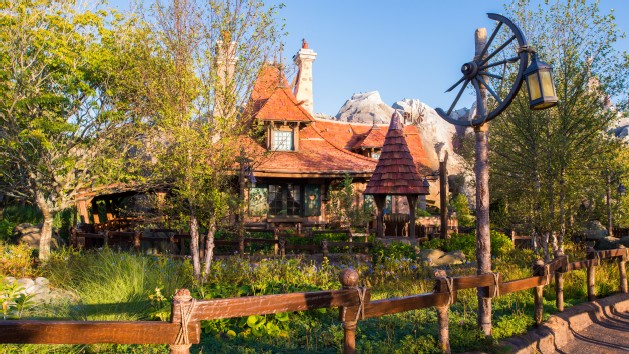 Enchanted Tales with Belle
Be magically transported from Maurice's cottage to the Beast's library for a delightful storytelling experience. You'll meet and spend time with Belle, and you may even be invited to play a part in the story. Will you be an enchanted object, or perhaps fill the role of the Beast with a heart of gold?
---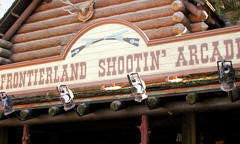 Frontierland Shootin' Arcade
Take aim at a whole posse of targets in this old-fashioned shooting gallery. Armed with an infrared rifle, you can shoot buzzards, tombstones and a scary tree in this Wild West ghost town. It'll make a sharpshooter out of you!
---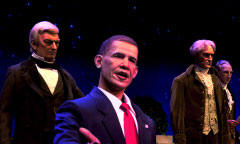 The Hall Of Presidents
This 23-minute stage show features every American president, past and present, in a fascinating tribute that combines film, Audio-Animatronics® characters and storytelling to honor their legacies.
---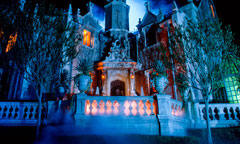 The Haunted Mansion®
Climb aboard the Doom Buggy and ride through this ominous haunted house where a supernatural Ghost Host introduces you to his closest 999 dearly departed friends. Watch out for harrowing hitchhikers!
---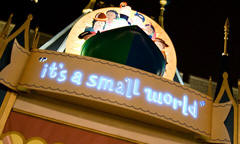 "it's a small world"
Sing along with the catchy melody on this fantastical boat ride that glides past the various continents of the world. Nearly 300 brightly costumed dolls sing and dance to bring the world's cultures closer together in no small way.
---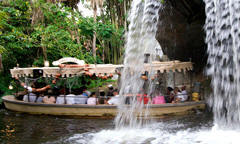 Jungle Cruise
Ride a 1930s-style safari boat through the world's most exotic, untamed rivers. Brave wild animals and zany goings-on in Asia, Africa and South America on this charming riverboat classic.
---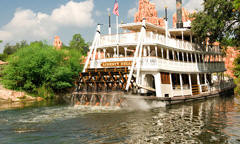 Liberty Square Riverboat
Cruise on the Rivers of America in this authentic 3-tiered paddlewheel steamship. Circle for a scenic, half-mile tour of Frontierland, Liberty Square and Tom Sawyer Island.
---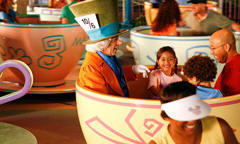 Mad Tea Party
Take a whirl in a giant tea cup as the Dormouse occasionally pops up from the pot. Control how fast your cup spins at this mad-as-a-hatter Unbirthday Party in Wonderland!
---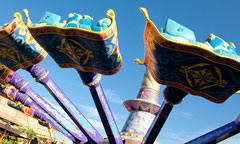 The Magic Carpets of Aladdin
Fly over Agrabah on a magic carpet! Make the carpet rise and fall, pitch forward and back as it circles the Genie's giant golden lamp. Keep an eye out for the spitting camels as you see Adventureland from above!
---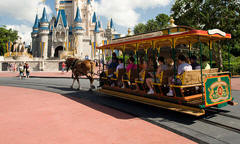 Main Street Vehicles
Climb aboard a classic vehicle such as a fire engine, omnibus, horseless carriage or trolley and be whisked down Main Street, U.S.A., in nostalgic grandeur.
---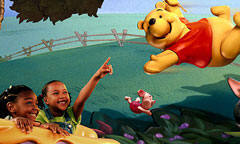 The Many Adventures of Winnie the Pooh
Embark on a jolly journey during a very blustery day in the Hundred Acre Wood aboard one of Pooh's Hunny Pots. Join your friends to save Piglet from the Floody Place Falls!
---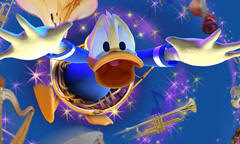 Mickey's PhilharMagic
In this dazzling and innovative 3D movie, Mickey Mouse and Donald Duck sweep you into the scenes from classic Disney films as Donald chases the Sorcerer's hat that starts all the trouble!
---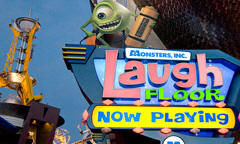 Monsters, Inc. Laugh Floor
It's a monstrous laugh a minute in this comedy show hosted on a digital stage by Monster of Ceremonies Mike Wazowski. This interactive spectacle even lets you text message your own jokes as suggestions.
---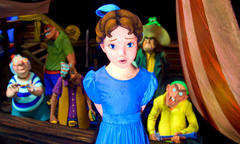 Peter Pan's Flight
On this sweeping, high-flying ride, swoop from the Darling children's home to far-off Never Land in a pirate galleon! Drift over the twinkling London skyline and Mermaid Lagoon to Captain Hook's ship.
---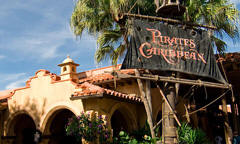 Pirates of the Caribbean®
Adopt a pirate's life as you venture into legendary territory on one of the most classic Disney rides of all time. Board yer vessel and drop 14 feet over a waterfall into treasure-filled caves! Then float through a town where pirates pillage and Captain Jack Sparrow hides from pursuers. Yo ho, yo ho!
---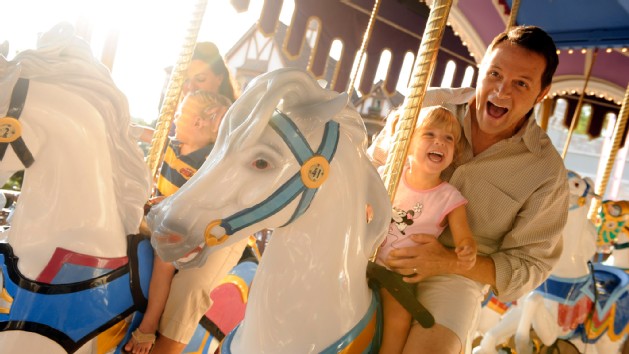 Prince Charming Regal Carousel
Make you way beneath a vibrant medieval tent within the Castle Courtyard and select one of 90 wood-carved ornate horses—or one intricately carved chariot. Bedecked in golden helmets, decorative shields and flowing flower garlands and feathers, each magnificent steed is unique.
---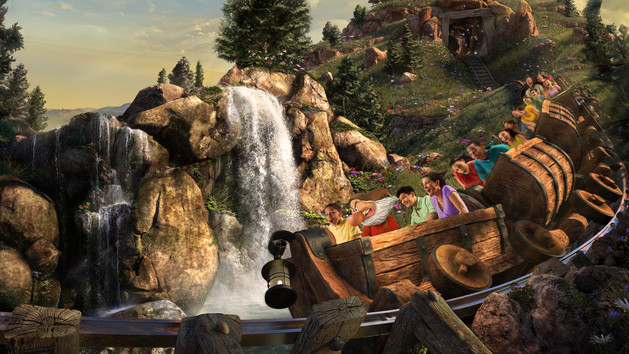 Seven Dwarfs Mine Train
Feel a rush of excitement, and enchantment too, as you take off on this first-of-its-kind ride system: swinging up and down large lifts, cruising across sharp banks and swaying around exhilarating hairpin turns.
---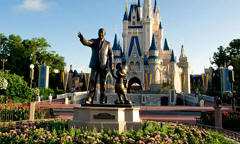 Sorcerers of the Magic Kingdom
Roam Magic Kingdom park in search of clues and use your newfound magical powers to defeat dastardly Disney Villains. Become an apprentice sorcerer and help the wizard Merlin fight the forces of evil in this interactive role-playing game.
---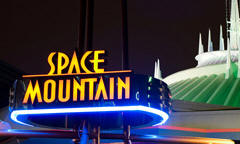 Space Mountain®
Launch past the flashing lights of your space station into the soaring darkness of space! This classic Dark Ride dips and swerves as it rockets through the blackest reaches of the galaxy. Check the monitors as you exit for a glimpse of yourself in flight!
---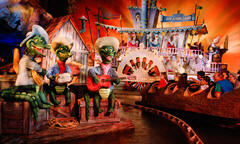 Splash Mountain®
Wind through bayous, caves and watery byways in a log boat, past scenes with characters singing songs from the 1946 Disney film, Song of the South. And hold onto yer hats for the finale with a 52 1/2-foot drop!
---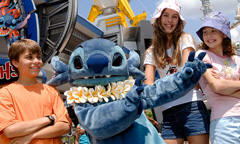 Stitch's Great Escape!™
Enter the Galactic Federation Prisoner Transportation Center for an outlandish adventure with everyone's favorite agent of chaos! When Stitch escapes, he wreaks havoc in the crowd using water, smells and other surprises during this wacky experience.
---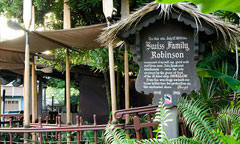 Swiss Family Treehouse
Inspired by the 1960 film, this fascinating treehouse is home to the South Seas-shipwrecked Swiss Family Robinson. Climb into the heights of this towering abode and survey the surrounding jungle.
---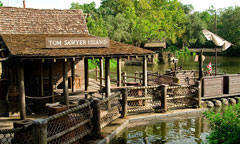 Tom Sawyer Island
Inspired by the famous novels of Mark Twain, this lushly landscaped outdoor playground is where children of all ages can scamper and climb in the rugged terrain while parents relax in a rustic atmosphere.
---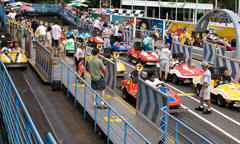 Tomorrowland® Speedway
Experience the glory of the Indianapolis Motor Speedway as you drive your own Indy 500-style race car on a guided track all the way to the Victory Circle. Or just ride along!
---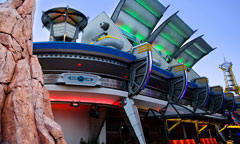 Tomorrowland® Transit Authority PeopleMover
Take this leisurely tour of Tomorrowland in an environmentally friendly, mass transit, skyway vehicle.
---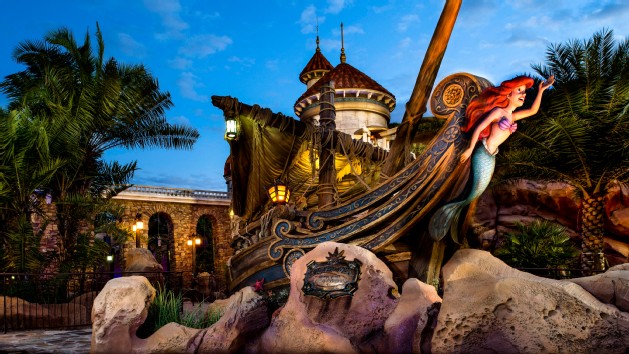 Under the Sea ~ Journey of The Little Mermaid
Enter Prince Eric's castle through an underground cavern at low tide, board a colorful clamshell and take the plunge. You'll become part of a world where mermaids dream of dancing, fish form a conga line, evil sea witches ensnare souls and unlikely pairs fall in love… and live happily ever after.
---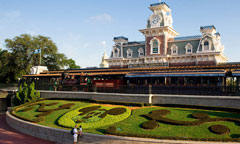 Walt Disney World® Railroad
Take a 20-minute scenic tour around Magic Kingdom theme park on one of four antique steam-powered engines.
---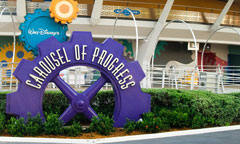 Walt Disney's Carousel of Progress
Presented in a revolving theater, this show designed by Walt himself tells the story of the evolution of technology in the 20th century. Open seasonally.
---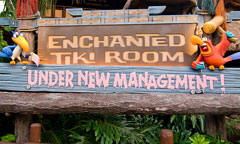 Walt Disney's Enchanted Tiki Room
Sing along with a lively menagerie of exotic birds, flowers and Tikis in this jubilant Disney classic. A feast for your eyes and ears, this theater-in-the-round attraction invites all to experience the exotic beauty and magic of the Pacific Islands.