Until now, when our clients wanted to include a stay at Walt Disney World and Universal Orlando transportation took a little extra planning getting from one location to the next and then to the airport, and a little extra money.  Well now the answer is easy!  Universal Orlando introduces a brand new option – the "Meet and Greet Transfer"!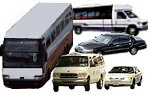 Your  Kingdom Magic Travel Planner can now book an exclusive  "Meet and Greet Transfer" added on to their Universal Vacation Package,  that includes a transfer between Universal and Walt Disney World AND also Orlando International airport – MCO.   This is a perfect answer and at a great price – only $39.00 per person*.
Here is how it works!

When you fly into Orlando International airport (MCO),  you can choose where you want to start your vacation either Walt Disney World or Universal Orlando.  If you begin with a Walt Disney World package your transfers would be; Disney's Magical Express to your Disney Resort, then a Meet and Greet Universal transfer via Quick Transportation from your Disney Resort to one of Universal's onsite Deluxe resorts then to the Orlando International Airport to complete your vacation.  It will work just the opposite if you begin at Universal Orlando!  Simple! Quick, Easy and exclusive!

Just a few things to remember:  You need to book a package at a Walt Disney World Resort Property and a Universal Orlando onsite hotel and using the Orlando International Airport (MCO) to be able to utilize the Meet and Greet Transfer.  And don't forget – it doesn't matter — Disney First or Universal First — it is up to you!
*Prices and terms subject to change without notice.
and Discuss this Great New Option to Make the Most of Your Orlando Vacation!