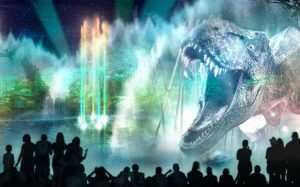 Universal Studios Florida has announced a brand-new nighttime lagoon show! This new show will be a great way to cap off a fun-filled day in the parks. The new nighttime offering will be called, "Universal Orlando's Cinematic Celebration". The show will debut at Universal Studios Park this summer! 'Cinematic Celebration will take what guests had previously seen as the lagoon show experience to a whole new level! The show will take place in the center of the lagoon, giving many opportunities for great vantage points around the water.
"Universal Orlando's Cinematic Celebration" will bring the magic, thrill, fun and excitement of favorite movie moments to life! Many beloved characters from well known Universal Orlando experiences and blockbuster movies. Guests will see clips from the Harry Potter series, Jurassic World, The Fast & the Furious, Despicable Me and so many more titles! All of this will be seamlessly projected on full panoramic water screens, accompanied by pyrotechnics and for the first time ever more than 120 dancing water fountains with projection mapping.
The whole waterfront area of the Universal Studios lagoon and its surrounding buildings will transform into a colorful celebration of incredible movie moments and highlight favorite characters. Universal has stated that they are also building a permanent viewing area for the show in the Central Park area of Universal Studios. Here guests will be able to take in this one of a kind show! "Universal Orlando's Cinematic Celebration," starts this summer. What are you most looking forward to seeing in the new show? Contact your Kingdom Magic Vacations Travel Planner to plan your next visit to the Universal Orlando Resort or whatever destination you are dreaming of!