Fans of Netflix's hit show Stranger Things have watched their favorite characters concur bullies, first love, and demons beyond their wildest nightmares. It's your turn to battle the monsters that lurk in the Upside Down world of Stranger Things! You can live the experience of the show in the Stranger Things haunted house at Universal Orlando's Halloween Horror Nights. To prepare yourself for visiting the Horror Nights house, here are some iconic scenes to get you pumped for your visit.
The Disappearance of Will Byers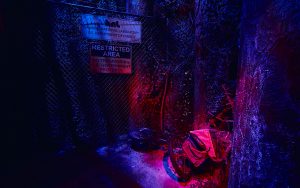 Will Byers' life changed forever when he meet the Demogorgon on his bike ride home from Mike's house. Inside the Stranger Things house you will experience the same terror Will felt as he was being hunted by the monster. Alone. In his house. In the shed. At night.
Communicating With Christmas Lights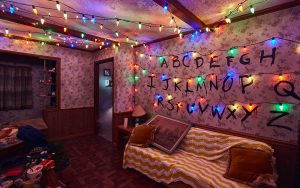 When Joyce was left to her own devices, she used a very unique form of communication with her lost son. Joyce hung Christmas lights above the alphabet written on the patterned wall in her living room and desperately asked Will what she should do. Guest's visit inside the world of Stranger Things would not be complete without this iconic scene. As the lights flash and flicker, you will feel the same anticipation and fear that Joyce did. It's only a matter of time before it all breaks loose and two dimensions collide…
The Upside Down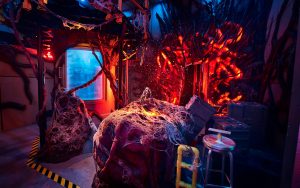 With everybody on the same page, and Eleven confirming that Will is alive, Hopper and Joyce team up to save the boy. The two travel to the Upside Down and find Will alive, but in terrible trouble. Now guests will have the chance to enter this alternate dimension. You will make your way through spores-filled hellscapes and fight your way past invasive vines. You won't know who or what you may encounter. Get ready to relive your favorite scenes from the first season of Stranger Things!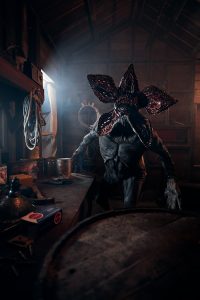 Do you feel brave enough to face the terrors of Hawkins and the Upside Down? This year's 2018 Halloween Horror Nights features more haunted houses than ever before! The event runs on selects nights now through November 3rd! Contact your Kingdom Magic Vacations Travel Planner to plan your next trip to the Universal Orlando Resort!