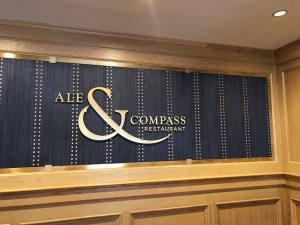 During my most recent trip to Walt Disney World my family and I experienced a Disney first for all of us! We dined at a restaurant we had never tried before, Ale & Compass at Disney's Yacht Club Resort. We were all filled with so much anticipation to check out a brand new restaurant that none of us had been to yet! I am very excited to tell you that our experience here did not disappoint! I actually proclaimed that our lunch here at Ale & Compass was my favorite meal of that trip!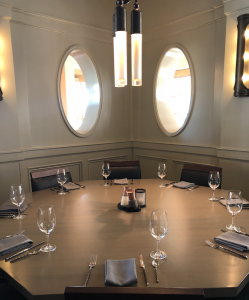 The menu features New England style comfort food including many classic seafood dishes! The restaurant's decor is themed to be reminiscent of a cozy lighthouse. This table-service dining location perfectly fits into the overall atmosphere of Disney's Yacht Club Resort!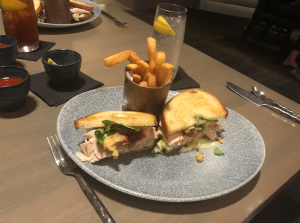 For my entree I choose the the white clam flatbread! White flatbread pizzas are my favorite variation of flatbreads and I do love clams! However I have to say I was skeptical what the combination of the clams on top of the flatbread would be like. Curiosity got the best of me so I asked our waitress about the dish. She was wonderful and very knowledgable about the menu. She told us that the white clam flatbread was actually her favorite item on the menu! I knew I had to give it a try!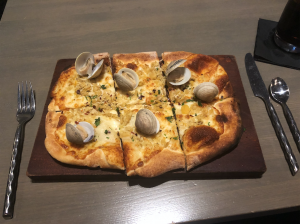 This meal was incredible! As I said before this ended up becoming my favorite meal of the vacation! I can't wait to get back here again to this restaurant! Another great thing about Ale & Compass is it is located at Disney's Yacht Club Resort which is in the Epcot Resort area. The resort can be accessed from Epcot through International Gateway the park's side entrance! From Epcot's International Gateway you are just a short walk or boat ride away from the Yacht Club! I would definitely recommend making a reservation here during a day at Epcot. This would be a great way to have a short mid-day break from the park and relax with a nice meal before hitting the theme parks again in the evening!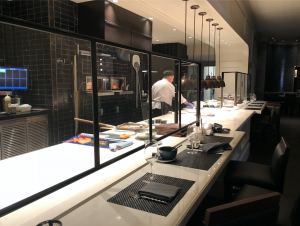 I filmed my experience checking out this restaurant for the first time. You can watch the video on our YouTube channel:
Contact your Kingdom Magic Vacations Travel Planner today to plan your next visit to Walt Disney World or to whatever destination you may be dreaming of next!