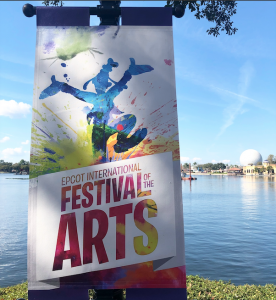 Just a few days ago I returned from an amazing vacation at the Walt Disney World Resort! Every visit to Disney is special but my family and I all agreed that this trip in particular was one of our favorites! We were blessed with such a perfect trip and got to see and do so much during our time in the world. This trip was very different for us. We typically travel to Disney World for a week-long stay at a time, however this trip we came for a long weekend arriving on a Thursday and returning late Monday. Even though this trip was a quick one, we did SO MUCH during our time at Disney and every moment was filled with magic! Prior to this vacation, February had never been a typical time for us to travel to WDW. However, we planned this trip around this time frame for a very specific reason, the Epcot International Festival of the Arts!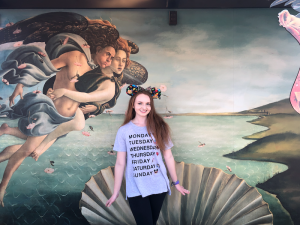 2019 marked the third year for this annual Epcot festival and until last week this festival remained the only Epcot Festival that I had not personally experienced. That all changed during this vacation and now that I have experienced Epcot's International Festival of the Arts, I have so much to share!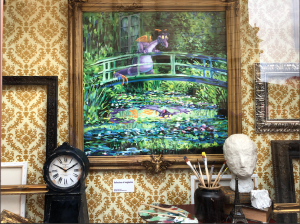 The International Festival of the Arts celebrates art in all mediums, with a focus on everything from visual arts, to performing arts and culinary arts! I am an art lover! In my free-time I love oil painting and drawing. Going to see shows and the theatre have always been something I enjoy. And I am a foodie and love getting to try new culinary creations! From the Festival of the Arts beginning I remember remarking that this festival sounded like it was made for me! Every aspect of this event was either a hobby of mine or something I loved! That is why getting to attend my first Festival of the Arts in person was such an incredible moment for me! Here are 5 of my favorite experiences from my time at this year's 2019 Epcot International Festival of the Arts!
1. Animation Academy
You may remember a few years back Hollywood Studios was home to a little thing called the Animation Academy. In this experience, you got to participate in a 20-minute drawing class instructed by a Disney animator and by the end of the class you have created a Disney character and get to take your masterpiece home with you. This was always one of my family and I's favorite things to do at Hollywood Studios and there were many days when we would go around and around again and take several classes in a row! To this day, we have a collection in our house of all the drawing we brought home from Animation Academy over the years! We were sad to see this experience go when the Animation building at Hollywood Studios was reimagined into the Star Wars Launch Bay. However, I have good news… the Animation Academy lives on! This experience is alive and well during the Festival of the Arts! That's right, inside of Epcot's Odyssey building you will find the Animation Academy! The class structure is just like the experience that once was at Hollywood Studios and I could not be more thrilled! We did the class twice during our time at the festival, the first time we drew Pluto and the second time we drew Chip, the teacup from Beauty and the Beast! This experience is unlike anything else and I am so happy that they have brought Animation Academy to the Festival of the Arts!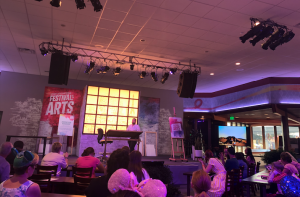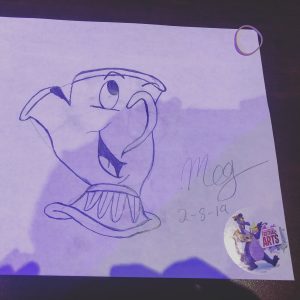 2. Meeting Ashley Taylor!
Visual arts have a big presence at the Festival of the Arts, throughout World Showcase and Future World you will find pop-up tents featuring paintings, sculptures, prints and more! All of this art is actually available to purchase and take home with you. I spent a lot of time checking out these art tents. My family and I all collect Disney prints and love filling our homes with Disney artwork. Bringing Disney art home is a great way to remember your vacation and your happy place! What is so cool about these pop-up art tents is that each day different artists come to do meet and greets and signings!  I had a very magical moment as soon as we walked into Festival of the Arts! I met Ashley Taylor! Our first day attending the festival we actually came in though Epcot's International gateway entrance and the first pop-up booth we came across was located over by the Canada pavilion. I saw this booth happened to have an artist there signing her work. As we got closer I realized it was Ashley Taylor. I am a big fan of her art so the fact that we got to see her on our very first day at the festival, at the very first booth we came across was such a perfect timing moment! I purchased a print and got it signed by Ashley and enjoyed chatting with her for a bit! This aspect of the festival is one that I think is so original and so special! The fact that you can have a personal meeting with a Disney artist and get a piece of art personalized by them is so cool!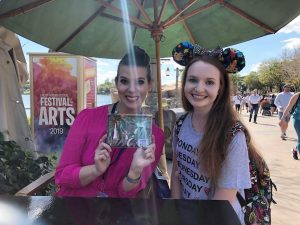 3. Food!
As I said before I am a proud self-proclaimed foodie! I love getting to try new dishes and cuisines. The Epcot Festivals are a great way to expand your palate! What I love about the food and beverage offerings at all of the Epcot festivals are that the portions are all tasting sizes, allowing you to try multiple items during your visit and never fill up on just one dish. This is a great way to try new things as well! This is how I found out I like escargot (aka snails)! A few years back at the Epcot International Food and Wine Festival I got brave and ate a snail! I LOVED IT! Here's the thing, if it wasn't for the festival portions the only chance I would have had to try escargot would have been ordering a full entrée of it somewhere and I would have never done that being unsure if I liked it or not. That is the great thing about the festival, you get those opportunities to try new things you wouldn't typically try! That is why I was so excited to check out the culinary offerings available at this event! The Festival of the Arts food and drink items stand out on their own from the culinary items found at any other Epcot festival. All of these items are truly unique and original. For the Festival of the Arts the food dishes all have a big emphasis on the artistry that goes into the dish! You will notice that the plating of these festival items is incredible! The food and drink offerings all look too good to eat! I recommend when you order from the market places be sure to watch the chef actually plate your dish because it is done with so much attention to detail and artistry! A stand-out item for me was the Sous-Vide Poulet Rouge Chicken Roulade from Pop Eats! For dessert, I loved the Paintbrush Churros from Taste Track! They were such a novelty and so cute to take a picture of!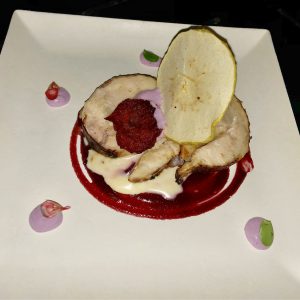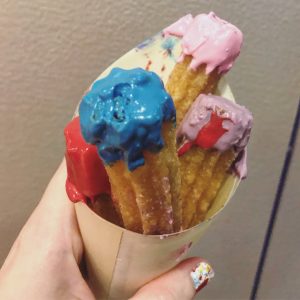 4. Disney on Broadway Concerts!
I have always enjoyed the theatre and going to see shows! So for me another big highlight was the Disney on Broadway Concert Series! Every night during the Festival of the Arts performers from Disney Broadway Shows will perform Disney Broadway songs and share stories with guests about their experience working for Disney on Broadway! It has always been my dream to see a Disney on Broadway production in New York City and I was able to get a taste of what is in store right in Epcot! The performing artists that Disney brings in are so talented! Throughout the festival's run they will rotate through a few pairs of Disney on Broadway performers. During our visit, we got to see Heidi Blickenstaff and Gavin Lee. They were incredible! Heidi is known for her role in Freaky Friday and best known for playing Ursula in Disney's The Little Mermaid on Broadway! Gavin originated the role of Bert in the West End and Broadway's production of Disney's Mary Poppins! He was nominated for both an Oliver and Tony Awards! These performances showcasing the incredible Disney on Broadway talents happen a few times a night at Epcot's American Gardens Theatre! Be sure to check the times out when you visit, these shows are a must do at the festival!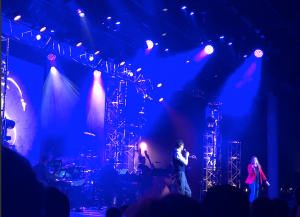 5. Art Everywhere!
This is the Epcot International Festival of the Arts and for this event Disney truly goes all out with immersing you in the world of art everywhere you turn in the park! The next aspect that I want to share with you is how art is happening live time around you everywhere and it is so magical! What is really cool about this event is that you are not just admiring completed pieces of art but you also get to watch the creation of many works of art and even participate in bringing some of the art to life for yourself! One of my favorite acts we got to see was an artist on the Fountain Stage in world showcase who painted to music! You had to see it to believe it. He danced to modern pop music as he painted and within minutes created a work of art featuring a Disney character! This performance is called "Visual Art in Performance." What I think is really neat is that after the artist is done his masterpiece on stage the painting is then brought over to a festival pop-up tent and you could get the opportunity to purchase the piece you just saw created onstage! Talk about a cool conversation piece to have in your house!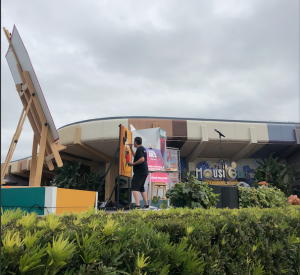 Another awesome visual art component of the festival is the chalk art! Every day chalk artists come to Epcot and created both 2-D and even 3-D masterpieces on the ground using chalk! This is so cool because once again not only do you get to admire the finished product but you also get to enjoy watching the progress of the artist creating their work! We enjoyed seeing the artist starting their work in the beginning of the day and then checking back later on to see the end result! My personal favorite was the 3-dimensional chalk art! It blows me away how they create these pieces that actually look so realistic and like you can reach out and touch them! These also make for some very fun photo-ops!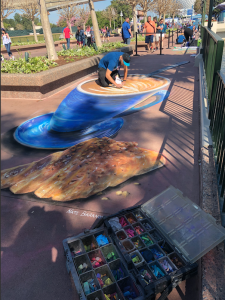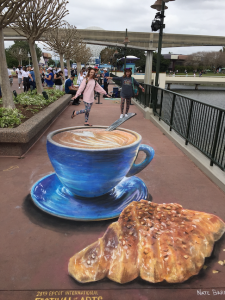 Another great part of the art happening around you is that there are opportunities for you to get hands on and make art as well! I loved the Expression Section: A Paint by Number Mural! With this experience, you received a paintbrush and a cup of paint with a number on it. You are then assigned so many squares that you get to paint that has your corresponding number. It is so cool to be a part of something so big! After you paint your squares and hand in your paint a cast member will present you with a postcard that shows what the end mural will look like so you can see what you are helping contribute to! This makes a great keepsake to bring home from your trip!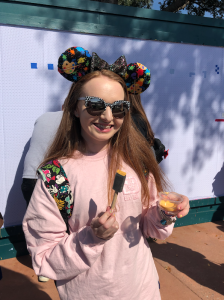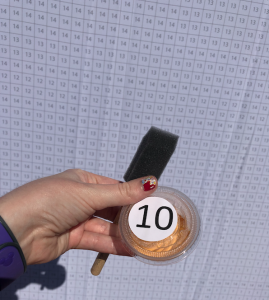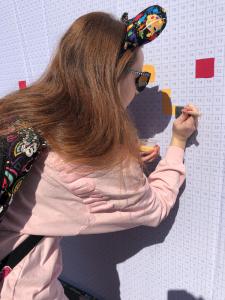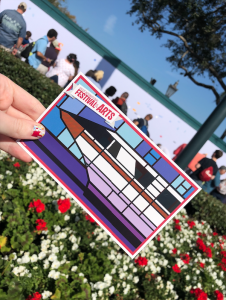 These were just a few of the reasons I loved the Epcot International Festival of the Arts! This year's event runs through February 25th 2019. I am already dreaming of next year's festival! I think Festival of the Arts may now hold a top spot as one of my favorite events that Epcot puts on, it has everything, food, entertainment and tons of creative energy everywhere you turn! Now is the perfect time to plan a visit for the 2020 Epcot International Festival of the Arts! Contact your Kingdom Magic Vacations Travel Planner today!