I think everyone can agree that a very important area when it comes to planning out your vacation is the food and beverage offerings that you will get to experience! We all love to indulge in some delicious food and drinks while on vacation! Universal Orlando's newest extra-affordable Value Hotel, Universal's Endless Summer Resort – Surfside Inn and Suites will be a foodie paradise! This brand-new Universal Resort opens on June 27! Let's take a first look at a few of the amazing culinary offerings you will be able to experience at Universal's Endless Summer Resort – Surfside Inn and Suites!
You will find a casual dining food court at Surfside Inn and Suites called Beach Break Cafe, here you will be able to take a break from your adventure in the parks to enjoy some incredible surfer-inspired dishes! These offerings will feature Southern California flavors and highlight many fresh ingredients! Just like in surf culture, Beach Break Cafe dares to be different! In this spirit the eatery will offer food and drink items from around the world! The atmosphere will be care-free, cool and exciting, from early in the morning to late at night, all within this great new family-friendly Universal hotel!
This casual dining food court will be open for breakfast, lunch and dinner. The eatery has been inspired by food trucks, local joints and backyard BBQs! Beach Break Cafe's menu will be very affordable and offer something for everyone from unique cuisine to comfort food! Here are just a few of the great items you will find at Beach Break Cafe!
Breakfast
Bacon Egg and Cheese Croissant
Served with Breakfast Potatoes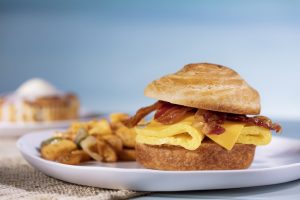 Breakfast Pizza
Sausage Gravy, Bacon, Scrambled Eggs, Mozzarella, and Cheddar Cheese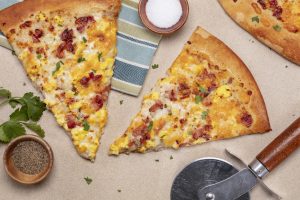 Lunch and Dinner
Italian Ciabatta
Ham, Capicola, Genoa Salami, Provolone, Red Onion, Tomato, Shredded Romaine, Pepperoncini, Red Wine Vinaigrette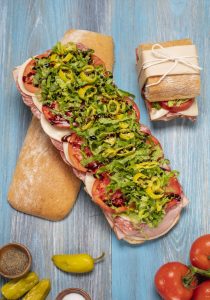 SoCal (Southern California) – Cobb Salad
Southern California is a region known for light, clean and unique flavors.
Chopped Lettuce, Tomatoes, Avocado, Blue Cheese, Bacon, Hard Boiled Egg and Avocado Ranch Dressing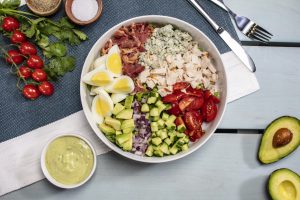 Caprese Panini
Tomato, Mozzarella, Fresh Basil, Balsamic Glaze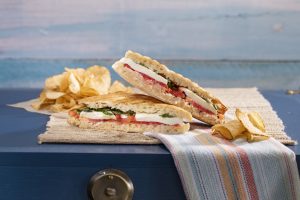 Pipeline Burger
This burger is inspired by the classic wave — one of the most famous and most photographed waves.
Beef Patty, Topped with Caramelized Onion, Bacon Jam and Provolone Cheese Served with Crisp Lettuce and Vine Ripe Tomatoes on a Toasted Bun Tofu Power Bowl with Baja Sauce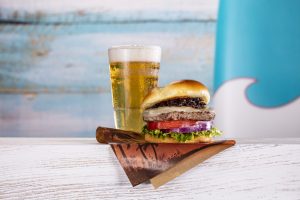 Tofu Power Bowl with Baja Sauce
If you're more of a carnivore, you can choose chicken or carne asada for this dish as well.
Cilantro Lime Rice, Quinoa, Kale, Red Cabbage, Pickled Carrots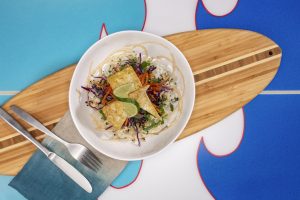 A great vacation always includes some time spent relaxing by the pool! As you soak up the sun you can indulge with some refreshing drinks! Head over to the resort's pool bar, aka the Sand Bar! Here you will find a laid-back atmosphere where you can hang loose! Here's a taste of some of the drinks you can enjoy poolside.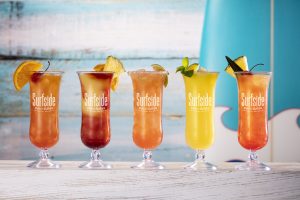 Orange Surf Board
– Orange Vodka, Coconut Rum, Triple Sec, Orange Juice and a splash of Cranberry
Tidal Wave
– Endless Summer Rum, Peach Vodka, Gin, Peach Schnapps, OJ and Pineapple Juice
Surf En La Paloma
– Tequila, Blood Orange, Grapefruit Juice and Soda
Epic Sunset (Frozen)
– Vodka, Mango Colada and Strawberry Island Oasis
Toasted Coconut Mango Mojito (Frozen)
– Coconut Rum, Mango and Mojito Island Oasis
Are you ready to plan your stay at Universal's new Endless Summer Resort – Surfside Inn and Suites?! This amazing new resort opens just in time for summer 2019! Contact you Kingdom Magic Vacation Travel Planner today to book your trip!