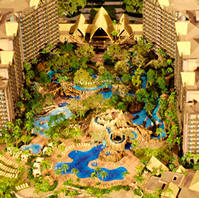 Aulani is relaxed yet regal with detailed touches of Disney magic. The white sandy beach, tropical gardens, turquoise lagoons and sparkling waterfalls are just a few highlights of this balmy paradise. Inside the Resort, lava rock rises up through the floor of the grand lobby as dual pools of water cross the expanse: one gently flows with lilies while the other rushes wildly through. This Hawaiian philosophy of balance – bright and shadowy, brisk and slow, delicate and coarse – resonates deeply throughout the resort. It reflects not only the nature of the islands, but the spirit of its people.
Add to this the exhilarating enchantment of Disney through its family entertainment and recreation, and you'll find a world of fun at your fingertips!
See the general fact guide below for more details about Aulani features and amenities.
Basic Resort Facts
21 acres
460 Villas, including 12 Grand Villas
359 hotel rooms, including 16 suites
4 restaurants
2 lounges
10 recreation facilities (see below)
18,000-square-foot spa with 15 treatment rooms and fitness center
4 whirlpool spas
14,545-square-foot conference center
36,695 square feet of outdoor venues
Storytelling fire pit

Location
Aulani, a Disney Resort & Spa in Ko Olina, is part of the Ko Olina Resort Community & Marina, which is located on the western shore of O'ahu about 17 miles from the Honolulu International Airport in Hawai'i. Aulani rests on 21 acres of beachfront property in the Ko Olina Resort & Marina development.
Address
Aulani, a Disney Resort & Spa in Ko Olina, Hawai'i
92-1185 Ali'inui Drive
Kapolei, HI 96707
Features
Spa & fitness center
Kids club (Aunty's Beach House)
Conference center
Restaurants
Shopping
Weddings

Recreation Facilities
AulaniWaikolohe Stream
Conservation Pool
Menehune Adventure Trail
Waikolohe Pool
Wailana Pool
Menehune Bridge
Rainbow Reef (snorkel lagoon)
Aunty's Beach House
Pau Hana Room
Beach

Entertainment
Pool parties
Fire pit storytelling
Resort tours
Character meet 'n' greets
Wellness activities
Sunset ceremonies
Lawn parties
And more!

Transportation
The primary forms of transportation used in O'ahu are:
Rentals: Cars, mopeds and motorcycles are all available to rent if you wish to explore O'ahu on your own. If you want to have a rental car during your stay, it's best to reserve a car in advance at the Honolulu International Airport.
Taxi: Taxis are a great way to get around town. Taxi stands are located at most malls, in the business district or at the airport. You can also call to have a taxi pick you up.
The Bus: Known as TheBus, this public transportation option offers extensive routes and destinations, with special visitor passes for multiple day use. The nearest bus stop is 1 mile from Aulani.
Trolley: While its coverage is not as extensive as the Bus, the trolley does go to the most popular tourist destinations and offers special tickets with unlimited rides over a number of days.

Weather Averages
With clear skies and warm temperatures, Hawai'i boasts some of the best weather in the world. Keep in mind, however, that weather conditions can vary depending on which side of the island you are visiting and at what altitude, with temperatures dropping the higher up you travel into the mountains.
Time Zone
The Hawai'i-Aleutian Standard Time (HST) is 5 hours behind Eastern Standard Time (EST) and 2 hours behind Pacific Standard Time (PST). Hawai'i does not recognize daylight savings time. Therefore, during those months add an extra hour to EST and PST times.