Disney Cruise Line Adult Activities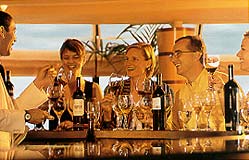 Throughout your voyage, activities and areas designed especially for adults welcome you to indulge. Massage tables beckon on board and on the seaside. Dance floors await with live music and dazzling lights. Wine tastings tempt and tantalize. A pristine beach glistens under a warm tropical sun. A world of romance, fun and relaxation surrounds you on board ship and on Disney's private island, Castaway Cay. If you are looking to get away from it all, look no further.
---
Spa & Fitness: Rest and re-energize in the serenity of scenic, modern facilities. Treat yourself to decadent body treatments or a makeover, or enjoy an invigorating workout.
Dining: Offering an elegant and romantic sojourn amid breathtaking ocean views, Palo is an adults-only restaurant serving fine Northern Italian cuisine.
Quiet Cove Pool: A relaxing, adult pool where you can enjoy the cool water and ocean breezes in tranquil solitude.
Nightclubs and Lounges: Enjoy live music, cabaret shows, sports, dance parties and karaoke at venues that cater exclusively to adults when the sun sets, like WaveBands and Sessions.
Entertainment: Original Broadway-caliber Disney live shows are performed nightly in the Walt Disney Theatre, while first-run Disney Digital 3-D movies and classic films are screened in the Buena Vista Theatre.
Art Gallery: Choose from a selection of limited-edition prints for purchase or partake in the at-sea auction offering fine art rarities.
---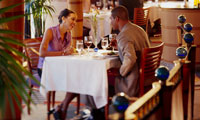 Palo & Remy
Disney Cruise Line Adult Exclusive restaurants are romantic onboard dinner destinations that cater exclusively to adults looking for the finest in onboard dining amid a refined and elegant atmosphere.
---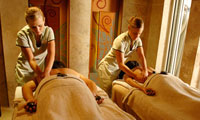 Senses Spa & Salon
Relax and rejuvenate in the luxury of a world-class spa that offers signature massages and skin treatments with optional private villas.
---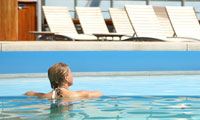 Quiet Cove Pool
Cool off with a dip in the pool, work on your tan or sit back, relax and enjoy the gentle ocean breezes with a refreshing drink and a good book.
---
Cadillac Lounge
Cocktails and a cool classic car theme are sure to keep your motor running at this sophisticated piano bar that recalls Tinseltown in the late 1950s.
---
Fathoms
Immerse yourself in the lavish ocean-inspired ambience of this happening nightspot, home to live music, dancing and interactive variety shows.
---
La Piazza
Inspired by the decorative plazas of Italy, La Piazza is the perfect place for adults to relax with a smooth drink after an action-packed day at sea.
---
O'Gills Pub
Share a pint and catch live sporting events on TV at this rollicking, shamrock-sprinkled Irish pub and sports bar.
---
Skyline
Drink in the view at this chic cosmopolitan lounge, where sweeping city vistas of the world's most scenic horizons magically transform from day to night.
---
The Tube
Go Underground—sip on a proper dry gin, shake your bum dancing and salute "Cheerio!" in this British-mod pub and club.
---
Azure
Dive into drinks, dancing and more at this splashy hotspot inspired by the shapes, colors, sounds and movements of the sea.
---
Evolution
Discover a trendy dance club that's the premier venue for grown-up fun.
---
Crown & Fin
Duck in for a jolly time and a frosty pint at this inviting bar resembling a classic British pub.
---
Pub 687
A sports-fan's paradise, this lounge is outfitted with huge flat-screen LCD TVs to view live broadcasts via satellite.
---
Ooh La La
Unwind at this romantic Champagne bar with elegant décor—it's an enchanted, effervescent delight.
---
Pink: Wine and Champagne Bar
It's sparkly, fizzy fun at Pink: Wine and Champagne Bar, an intimate space with cozy nooks to provide the ideal romantic setting.
---
Keys
Hit a high note at Keys, an adults-only lounge inspired by the famed piano bars of Hollywood's heyday.
---
District Lounge
Gather together and drop in to District Lounge, a relaxed piano bar featuring entertainment and live music nightly.
---
Meridian
Imbibe in a pre- or post-dinner cocktail at this sophisticated indoor and outdoor lounge situated between Palo and Remy.
---
Promenade Lounge
Mixed drinks, fun recreational offerings and live entertainment are always being served at this classy yet casual refuge.
---
Cafe Cafe
Anchor yourself at this relaxing, adults-only, indoor/outdoor lounge overlooking Quiet Cove Pool. Find refuge with gourmet coffee, mixed drinks and baked goods, or simply peruse a magazine, watch the flat-screen TV or surf the Internet.
---
Vista Cafe
Set your sights on this Art-Deco-inspired café and Internet hotspot. Enjoy coffee and pastries in the morning or a pre- or post-dinner cocktail at night. You can also connect wirelessly or view your photos available at Shutters via an onsite kiosk.
---
Outlook Cafe
Gain a new point of view at this scenic retreat located above Cove Café. Savor a full menu of refreshments—including cocktails, coffee and juice—while drinking in an array of stunning seaside sights via the floor-to-ceiling windows.
---
Currents
Ride a wave of relaxation at this open-air bar perched high on Deck 13. Offering commanding views of the sea, shore and sunset, this breezy hotspot is the perfect place to sip a cocktail or beverage and simply take it all in.
---
Signals
Answer the call for rest and refreshment at this breezy bar next to the Quiet Cove Pool. Offering views of the sea, shore and sunset from Deck 9, Signals is a superb spot for breathing easy and savoring a mixed drink.
---
Bon Voyage
Toast to a good journey with a refreshing beverage at this sophisticated Art Deco retreat located in the grand Atrium. Serving cocktails, coffees, juices and sodas, this full-service bar is a great place to meet up with loved ones while at sea.