Senses Spa & Salon Disney Cruise Line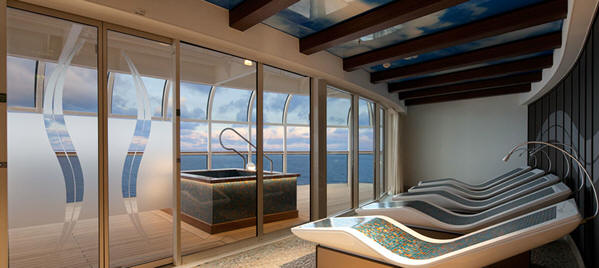 The exquisite Senses Spa & Salon provides therapeutic and beautifying personal care services for men and women in an impressive haven, spanning Decks 11 and 12, Forward of the Disney Dream. The ultimate in peaceful retreats, this immaculate setting offers spa treatments, massages, body wraps, facials, aromatherapy and much more. Salon services include manicures, pedicures, hairstyling and blowouts, plus teeth whitening at the Smile Spa, and a barber shop for traditional men's grooming services.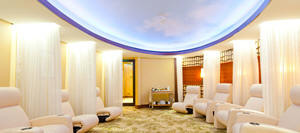 Experience pure tranquility, indulgent pampering and inner contentment in an environment designed to soothe the senses. Guests' bodies and spirits are nurtured in the spa's 17 private treatmentrooms and 2 private luxury Villas. The interior of the Senses Spa & Salon is a calming palate of green, brown and blue hues accented with a tropical flower motif and rich wood finishes. Slip into a state of bliss in our rainforest-themed aromatherapy steam room and sauna. Before and after treatments, Guests who have booked a treatment are welcome to relax and linger in the Relax Room, as well as enjoy the rainforest-themed aromatherapy steam room. Discover the benefits of steam, heat and hydrotherapy combined with the power of aromatherapy to relax the mind and body. Specialized areas within the Rainforest room include a Hamam (steam bath), a Caldarium (steam room) and Laconium (dry sauna)
Senses Spa & Salon amenities include:
Complimentary non-alcoholic drinks
Comfortable waiting areas
Showers
Lockers
Sandals and robes for use during your treatment
Men's and women's changing rooms
Massage rooms
Laconium (dry sauna)
Hamam (steam bath)
Caldarium (steam room)
Beauty products
Guests of the Senses Spa & Salon must be 18 years of age and older. Please note that charges of spa services are not included with the price of the cruise.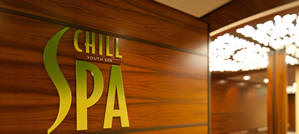 Chill Spa
Chill Spa is a separate spa for teens located inside Senses Spa & Salon. Offering a wide variety of spa services and treatments, including facials, massages, and manicures, it's the perfect place for teens to relax and rejuvenate while onboard.
Reservations for Chill Spa may be made any time after 1:00 p.m. on the first day of your cruise. Appointment times fill up very quickly, so book your session as soon as possible. If appointments become full and unavailable, you may request placement on the waiting list.