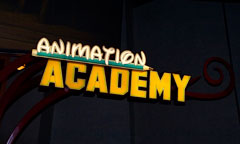 Animation Academy
Learn the secrets of how to draw a classic Disney Character with a hands-on lesson from a Disney artist!
---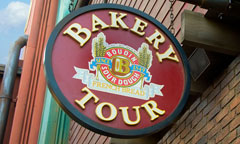 The Bakery Tour
Learn the secrets of the 150-year-old process used to bake sourdough bread while enjoying a glass-walled tour of the Boudin Bakery. Hosted by Boudin® Bakery.
---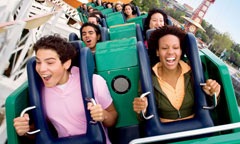 California Screamin'
Shoot forward up a steep incline and start screaming as you rip through the air on this tubular ride! While it might look like a turn-of-the-century wooden coaster, this state-of-the-art steel superstructure is ready to rock you on Paradise Pier.
---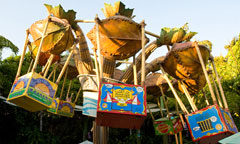 Flik's Flyers
Hop into a discarded food carton for a brief flight in Flik's latest invention! Fly in this contraption made of stitched leaves and twigs. When you take a whirl, get a great view of "a bug's land"!
---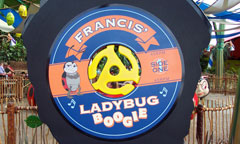 Francis' Ladybug Boogie
Take a spin to a famous swing tune as you ride on the "back" of a Francis ladybug! The ladybugs run 'round each other on a fabulous figure 8 track. Even though Francis is no lady, he can teach you to boogie like a bug!
---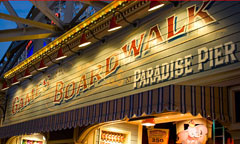 Games of the Boardwalk
Step right up, ladies and gentlemen, and test your skill at one or all of these turn-of-the-century-style games! Journey back to a time when the midway was the best way to find fun. Rub your lucky rabbit's foot or kiss a four-leaf clover and let the games begin!
---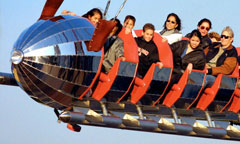 Golden Zephyr
Soar around the gleaming red tower in a shining spaceship! Hearken back to the 1920's movie matinees when science fiction heroes saved the skies in sleek silver ships that sailed through space. Imagine battling your own Martian invaders as you fly into the future!
---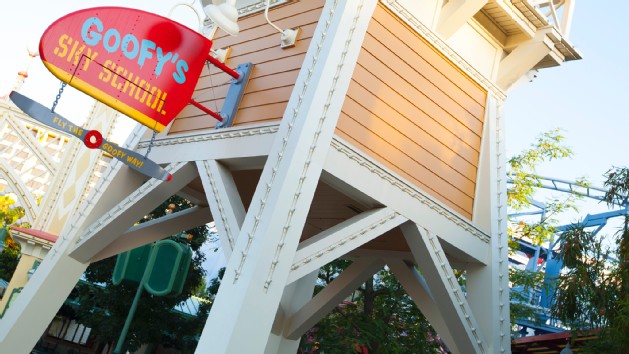 Goofy's Sky School
The wild blue yonder gets a little wilder when you board a plane for a "crash course" in flying! Climb aboard your flight-training vehicle and hang on as you travel 3 stories in the air. Journey across 1,200 feet of track on a zany roller coaster ride up, down, around, over and through the clouds.
---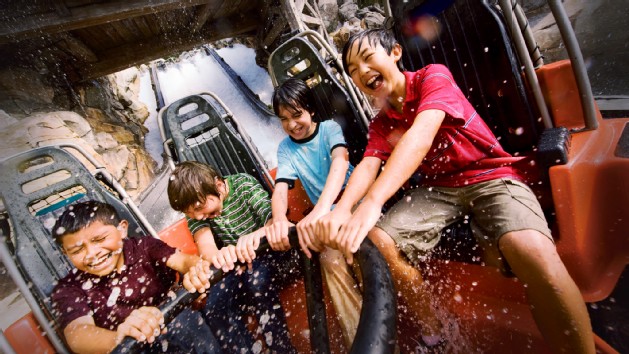 Grizzly River Run
Take a ride on the wild side with Grizzly River Run — a white-water rafting adventure along the rapids of the Grizzly River and up the mountain ominously known as Grizzly Peak. Your journey culminates with a thrilling plunge down a runaway river.
---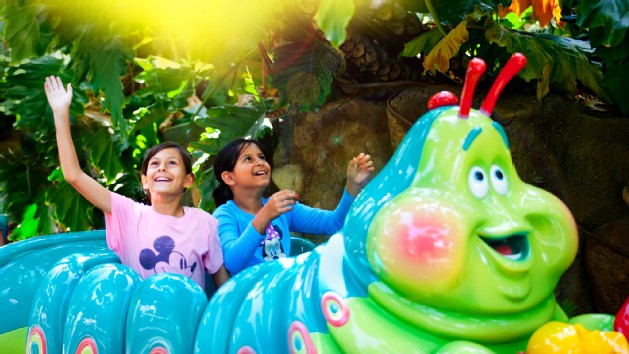 Heimlich's Chew Chew Train
Heimlich the Bavarian caterpillar invites you aboard his train for a sweet ride through his meals, including a carrot, watermelon and animal crackers!
---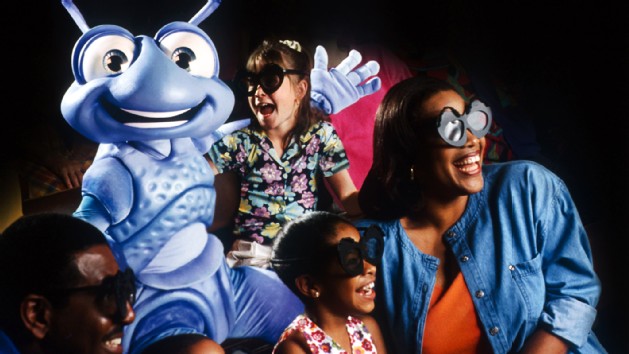 It's Tough to Be a Bug!
Wonder what it's like to be a bug? To have humans hunt you down at every turn with sprays and magnifying glasses? Flik the ant invites you to view the world through "bug eyes" to get a little perspective. We'd all be in big trouble without bugs — and now you know why!
---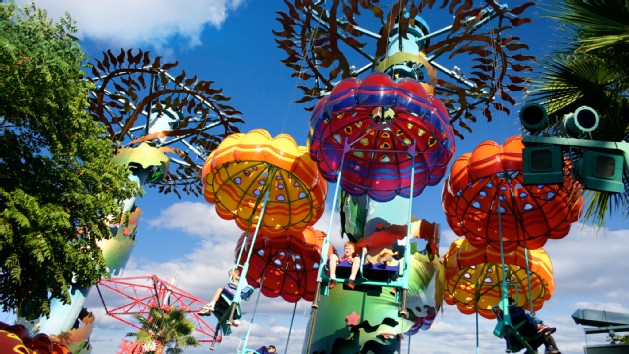 Jumpin' Jellyfish
Sail straight up 40 feet into the air and drift back down like a jellyfish in this experience that's enough to make you jump for joy. With your billowing parachute, ride in a giant jellyfish while a towering kelp garden maintains the feeling that you are underwater.
---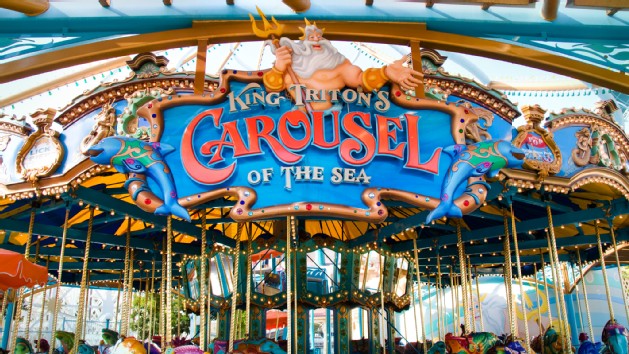 King Triton's Carousel
The only horse you'll find on this unique marine carousel is a seahorse. Triton's bejeweled, aquatic carousel also features colorful flying fish, musical whales, dancing dolphins, silly sea lions and seaworthy music to set them all spinning!
---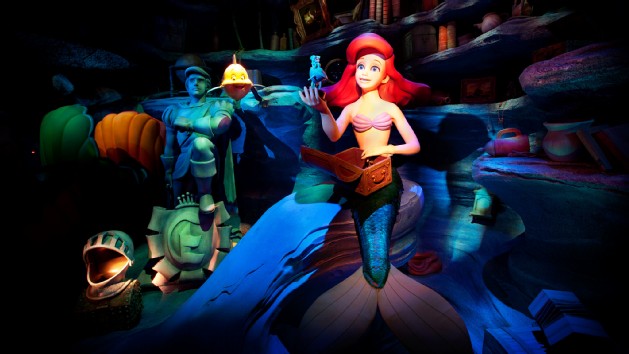 The Little Mermaid ~ Ariel's Undersea Adventure
Journey under the sea and find out exactly what it's like to be part of Ariel's world on this sensational new attraction filled with music and favorite characters from The Little Mermaid!
---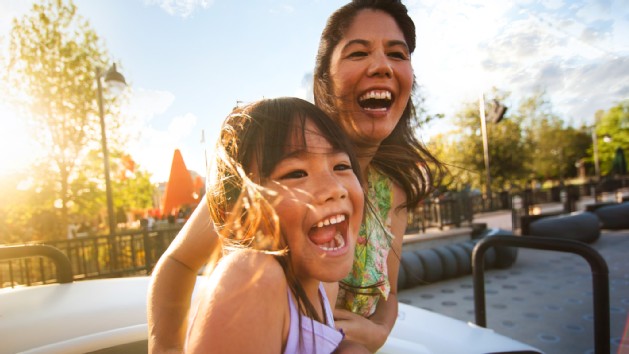 Luigi's Rollickin' Roadsters
Slide, glide and laugh as you lift slightly off the ground on a 9-foot-wide Fettuccini-brand tire. Float on a cushion of air aboard an oversized tire, thanks to Luigi from the Disney•Pixar movie Cars. Your kids won't tire of Luigi's Flying Tires, presented by Alamo!
---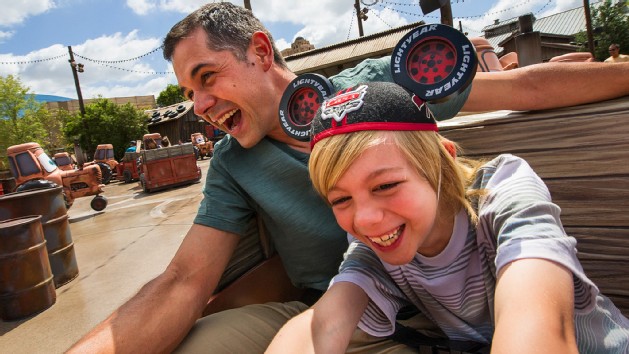 Mater's Junkyard Jamboree
Mater rounded up a herd of little tractors for some old-fashioned dancing fun. If you look closely, you'll notice that no 2 of the 22 tractors are the same. They have different spots, mouths and eye colors. The one thing they all share: they love to dance!
---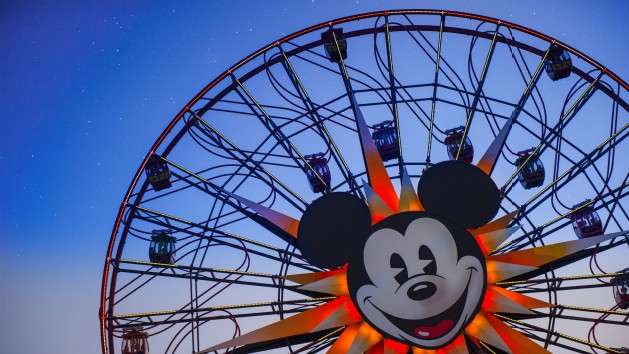 Mickey's Fun Wheel
Sail 'round the glimmering face of iconic Mickey on this
spin-sational Ferris wheel! The rotating rays of Mickey's Fun Wheel spokes twinkle like a kaleidoscope on this spectacular experience that rises to the occasion—in fact, up to approximately 150 feet into the air—for nine
exhilarating minutes!
---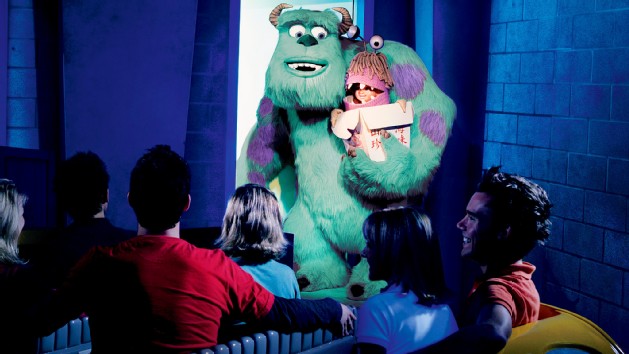 Monsters, Inc. Mike & Sulley to the Rescue!
Climb aboard a Monstropolis City Cab and embark on a wild ride through the streets of Monstropolis. Follow the escapades of Mike and Sulley as they race to return Boo to her bedroom before the trucks, helicopters and the Child Detection Agency find her first!
---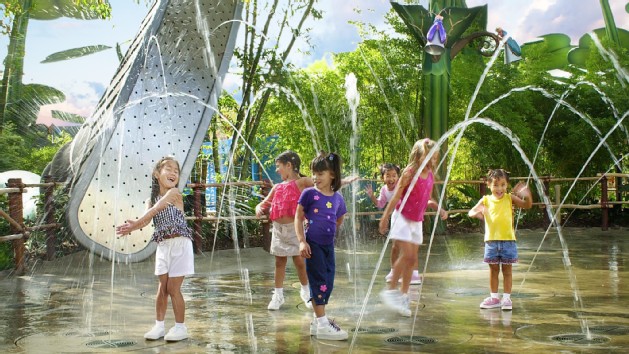 Princess Dot Puddle Park
Don't be bugged if you get a little wet in this watery play area that features more than one way to cool off. Play under the spray as an oversized hose nozzle and giant spigot spurt water. Everyone from the smallest larva to the biggest bug will think these jumbo garden gadgets are cool!
---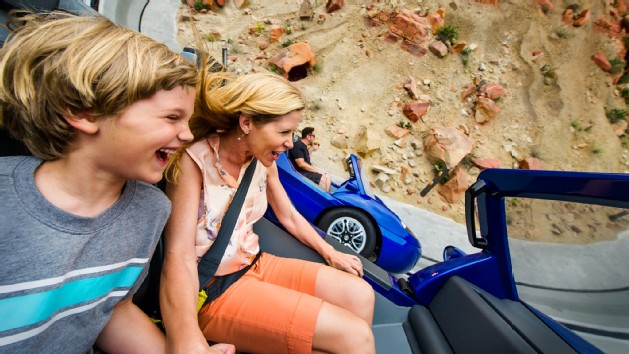 Radiator Springs Racers
Start your engines! Zoom through the desert landscape of Cars Land, inspired by the Disney•Pixar movie Cars. Kick the fun into overdrive on this auto race attraction that features familiar characters, fantastic scenery and "wheel" thrills!
---
Red Car Trolley
Ding! Ding! Hop aboard for a ride on Buena Vista Street and throughout Hollywood Land.
---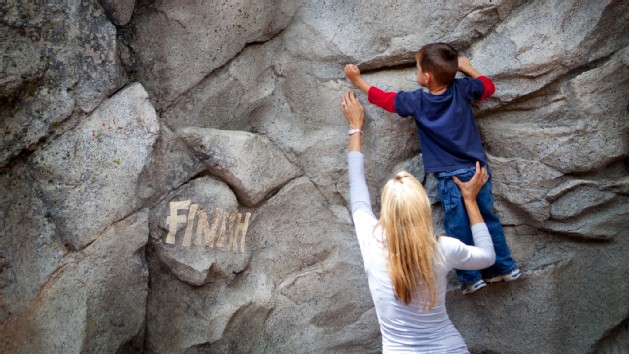 Redwood Creek Challenge Trail
Explore forested paths, climb lookout towers, swing on rope bridges and discover your magical spirit animal on Redwood Creek Challenge Trail — an outdoor recreational area for Guests of all ages featuring the magic of Brother Bear.
---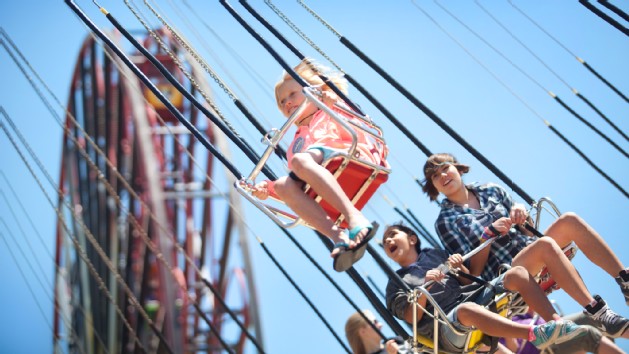 Silly Symphony Swings
Mickey's conducting and Donald's disrupting— until a tornado hits the orchestra! Swing through the air in your musical chair as Mickey's barnyard orchestra plays William Tell's "The Storm"!
---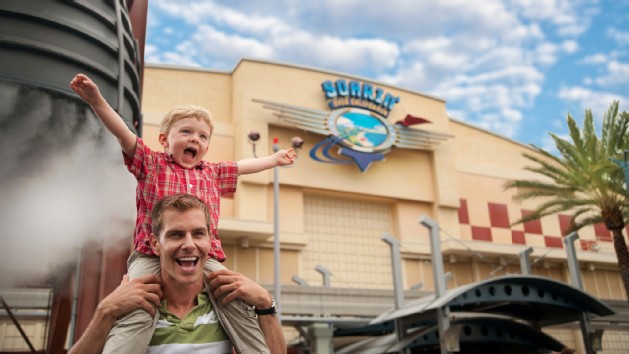 Soarin' Around the World
Soar like an eagle on an exhilarating yet gentle simulated hang glider flight over natural and manmade wonders from the State of California — including the Golden Gate Bridge, Yosemite, Palm Springs, Malibu and Disneyland Park.
---
Sorcerer's Workshop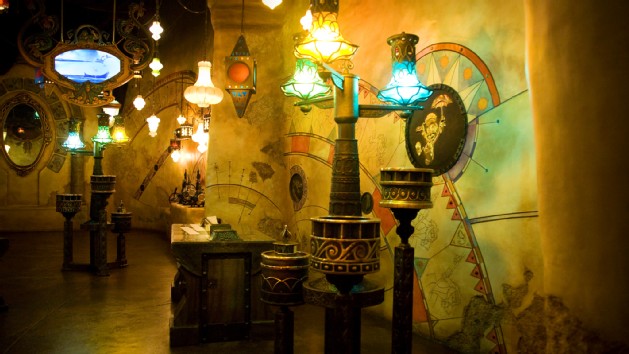 Sorcerer's Workshop is an interactive journey through 3 themed realms that reveal the magical secrets used to bring Disney animation to life.
---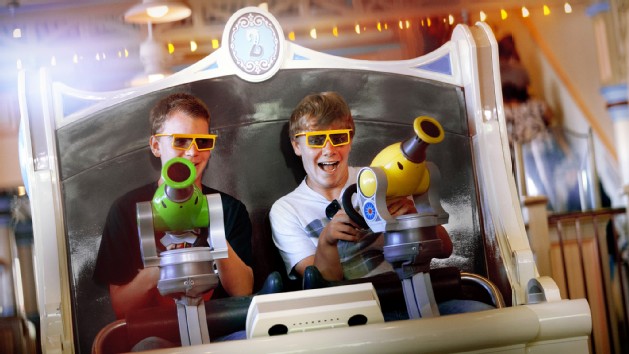 Toy Story Midway Mania!
Grab some 3D glasses and zip off into a 4D world of
exciting, midwaystyle games hosted by Woody, Buzz, Hamm and more! There's even a new version of the balloon game, hosted by Rex and his new friend Trixie from Disney•Pixar's Toy Story 3 film!
---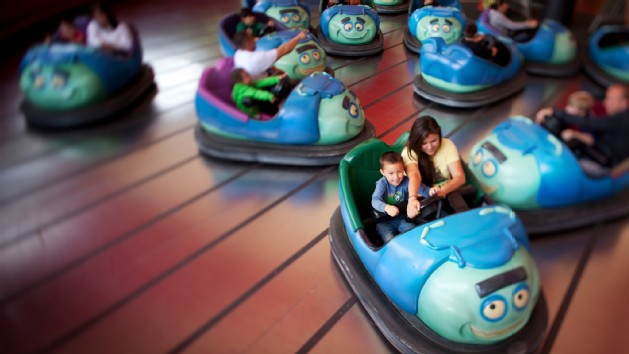 Tuck and Roll's Drive 'Em Buggies
Drive yourself buggy as you bump into others under the circus tent at P.T. Flea's circus. The acrobatic Tuck & Roll from Disney·Pixar's A Bug's Life put on quite a show while you are along for the ride.
---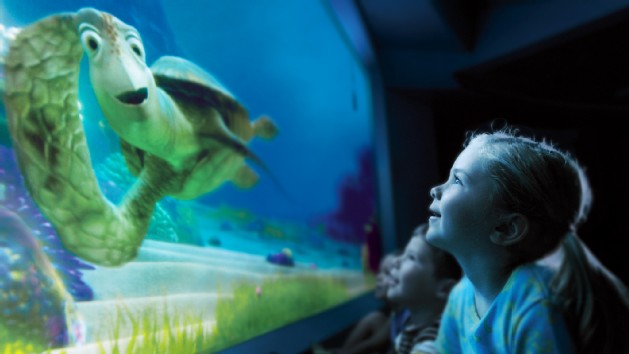 Turtle Talk with Crush
Grab some shell and take part in a righteous interactive chat with Crush, the totally awesome sea turtle from the Disney·Pixar film, "Finding Nemo."