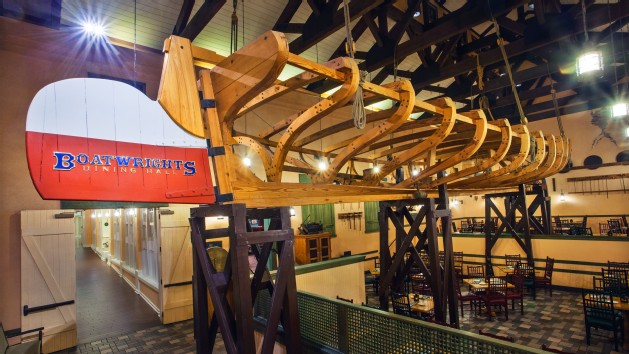 Looking for southern hospitality in a casual but creative setting overlooking the Sassagoula River? Your ship's come in.
Location: Disney's Port Orleans Resort
Type: American Cuisine
Price: $$ $$ ($15 to $34.99 per adult)
Reservations: Yes
Bona Fide Bites in the Big Easy
Dine in a rustic shipyard warehouse and savor the flavor of tasty New Orleans cooking.
Hanging lanterns illuminate the cavernous dining hall, and the skeletal hull of a lugger fishing boat is suspended on high as its centerpiece. Warm yourself by the fire as you spy antique shipbuilding tools on the walls: C-clamps, saw blades, axes and more. Season your dinner with salt and pepper housed in a dandy tool box and wipe your maw with a shop rag—clean, of course! But first, get into some good eatin'.
N'awlins favorites like Cajun crawfish bites, gumbo and jambalaya offer a tantalizing taste of the Louisiana Bayou. Keep rollin' down the river with voodoo chicken, pork tenderloin medallions, prime rib or andouille-crusted catfish. For dessert, bananas Foster angel food cake, bread pudding and pecan pie weave their black magic. A cavalcade of carnival-worthy cocktails is available to revelers 21 years of age and older, as is a kids' menu for little picayunes.
Afterward, stop by the River Roost Lounge for the comedy and musical stylings of Yehaa Bob.
Boatwright's Dining Hall is open for dinner only. Reservations are recommended and can be made up to 180 days prior to your visit.