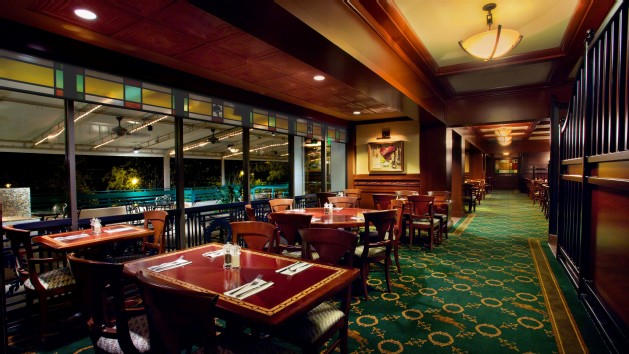 Savor classic American cuisine in a racetrack clubhouse setting with gorgeous golf course and lake views.
Location: Disney's Saratoga Springs Resort
Type: American Cuisine
Price: $$ ($15 to $29.99 per adult)
Reservations: Yes
A Day at the Races
A hidden gem with a cocktail lounge and pool table, this intimate venue recalls a bygone era.
Nestled alongside Lake Buena Vista Golf Course clubhouse, The Turf Club Bar and Grill is the perfect spot to unwind after a round of golf and one of the best-kept secrets of Disney's Saratoga Springs Resort & Spa.
Relax with a beverage at the lounge and shoot some pool, or head on through to the restaurant, where dim lighting and wood-paneled walls create a sophisticated, gentlemanly ambience. Outside, a spacious covered patio affords views of the beautifully landscaped golf course as well as Lake Buena Vista and the Downtown Disney Area.
Be transported to turn-of-the-century Upstate New York as you browse vintage equestrian memorabilia: photos of jockeys and their horses, antique riding gear and racing articles of yesteryear.
Reservations are recommended and can be made up to 180 days prior to your visit.
---
A Favorite Stomping Ground
Flame-grilled burgers, steaks and chops make the Turf Club a destination for those in the know.
Head out of the starting gate with crab cakes, creamy tomato bisque or the signature grilled Romaine salad. For a sensational mid-race move, a.k.a lunch, try the Turf Club pasta with shrimp or a good old-fashioned French dip.
Round the main stretch with American comfort classics like prime rib, the decadent Surf & Turf Burger or mint-crusted lamb chops.
For a photo finish, try the cheesecake—New York, of course—or the chocolate espresso torte. A full bar menu and selection of wines and beers is available to Guests 21 years of age and older. Specialty libations include the Preakness Cosmo, Belmont Stakes Martini and Millionaire's Margarita.