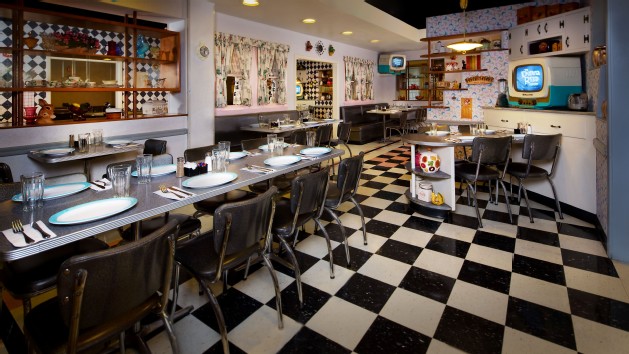 Classic American comfort food,'50s kitsch and a good old-fashioned family gathering take you back to a bygone era.
Location: Disney's Hollywood Studios
Type: American Cuisine
Price: $$ ($15 – $34.99 per adult)
Reservations: Yes
An Authentically Vintage Atmosphere
It's a blast from the past when you walk into this all-American eatery themed like Mom's kitchen.
Bring your appetite and your sense of humor, because Mom and the extended family aren't above giving you lessons in table etiquette—and doling out punishment to misbehaving boys and girls.
Mind Your Manners!
Pull a vinyl chair up to the Formica table and tuck into hearty home cooking like Mom's old-fashioned pot roast, Aunt Liz's golden fried chicken and so much more. Just make sure you wash your hands, put your napkin in your lap and keep your elbows off the table, unless you want a stern talking-to from Uncle Fred.
---
A True TV Dinner
For a special treat, you're allowed to watch TV at the dinner table today! Sit down at a "TV Table" and enjoy black-and-white television clips from popular prime-time shows circa 1955. After dinner, browse the dessert menu by peering into an old-school viewfinder toy! Among Mom's sweet treats are the Boston cream parfait and seasonal cobbler.
Dad's Dazzling Drinks
Kids of all ages will light up over specialty drinks in souvenir cups featuring Dad's Electric Ice Cubes or a glowing Disney character light. Big kids 21 years of age and older can "cool it" with Dad's classic cocktails.
For even more Selections from Dad's Liquor Cabinet for the over-21 crowd, bop into the Tune-In Lounge next door, where you can also watch retro TV and throw back a Singapore sling or a Blue Glow-tini. You can also order from the full 50's Prime Time Café menu. Unreal!
---
Reservations
Advance reservations are strongly recommended and can be made up to 180 days prior to your visit.
If reservations are unavailable for the date and time you would like to visit, you may be able to request seating at the nearby Tune-In Lounge.
Seating at the Tune-In Lounge is on a first-come, first-served basis; reservations are not accepted.