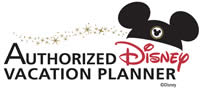 Make dreams come true in four uniquely themed parks, each with its own special version of Disney magic! Fantasy becomes real and reality becomes fantastic as you relive childhood memories and create new ones. Then hit the beach, slides and surf of Disney's two watery playgrounds. Splash into a world of fun and thrilling attractions for big kahunas and shore huggers of all ages.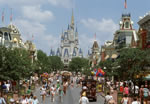 Magic Kingdom
Magical tales and bold new adventures await you at the Magic Kingdom® Park. Seven enchanted lands lead the young and the young at heart to excitement, fantasy and fun. Follow your Disney dreams to a place where storybook fantasy comes to life for children of all ages. Seek out adventures, create magical memories with beloved Characters and discover the fun where imagination reigns.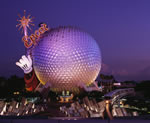 Epcot
Epcot® is an ever-changing, always entertaining world of discovery where you can explore the wonders of the universe and cultures from around the globe. Gather with family and friends to celebrate the fascinating cultures and numerous wonders of the world around you through dazzling shows, interactive experiences and amazing attractions. Marvel at the power of the human imagination to set the spirits soaring.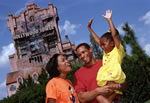 Disney's Hollywood Studios
Salute the world of showbiz — from the Hollywood classics of yesteryear to the best in popular entertainment. Take center stage as the star of your own adventure: from rock 'n' roll fantasy to Broadway-style stage spectaculars, from the silver screen to the TV screen to behind the scenes. And when you share it as part of your Magical Gatherings experience — now that's entertainment!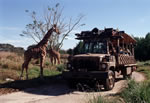 Animal Kingdom
Live the adventure at Disney's Animal Kingdom Theme Park, alive with creatures who inhabit our world and imagination. Disney storytelling comes to life in a kingdom brimming with fun, wonder and adventure. Join together with your circle of loved ones to savor thrilling attractions, shows, the majesty of nature and the fascinating animals — real and imagined — that enrich our planet.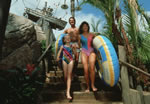 Water Parks
Looking for a refreshing break from your exciting Theme Park schedule at the Walt Disney World® Resort? Then kick off your shoes and dive into fun at one of Disney's two popular Water Parks.
Walt Disney World is indeed extraordinary, both in it's scope and it's genius. It was conceived out of a vision and birthed with imagination. It offers a sense of fantasy and wonder that cannot be found anywhere else. It gives us the opportunity to look back on our past while catching a glimpse of our future. It is truly more than just entertainment.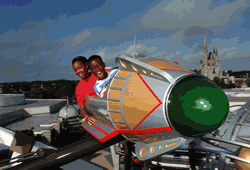 I heard the parking lots are as big as Vermont
Walt Disney World is 47 square miles, which makes it larger than many of our nations biggest cities. It totals an area twice the size of Manhattan Island.
Within its boundaries guests will find four major theme parks, two minor theme parks, 22 hotels, a sports complex, six golf courses, a campground, several convention centers, over 250 restaurants, a shopping complex, two nighttime entertainment districts and a natural preserve. It has its own transportation system that encompasses buses, monorails and boats all transporting hundreds of thousands of guests daily over four interconnected lakes and canals and on a system of roads that include four lane highways.
The more you know the more you will see
The more you understand about this vast entertainment and resort complex the more you will be able to see, do and ultimately enjoy.
Now if you are still not entirely convinced that a thoughtful plan will serve you well, or maybe you have a travel partner that insists they want wing it or self discover, here's a word of caution. You will be joining the other countless free spirits who can be easily spotted hovering over a park map or waiting in line at a restaurant hoping for a table that doesn't exist.
Don't forget Goofy
Although we obviously believe planning to be an essential part of any visit to Walt Disney World, we also offer another word of caution. Simply have some idea about where you are going and what you will do when you get there, but try to avoid a Magic Kingdom commando invasion. And above all remember that once you get to the "Big World", relax, buy a funny looking hat and get a little "Goofy"… after all you are on vacation.
In this section we have categorized and explained many of the entertainment choices that will be offered to you. In addition we provide helpful information and tips all intended to assist you in planning a most magical vacation.