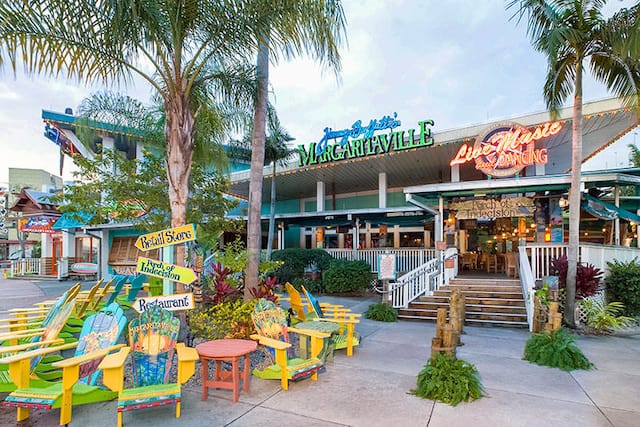 The music, lyrics and laid back island attitude of Jimmy Buffett comes to life at this popular landmark restaurant.
The main dining room was inspired by one of Jimmy Buffett's favorite South Florida waterfront concerts, and its three bars — The Volcano Bar, Land Shark Bar, and 12 Volt Bar — were themed around Jimmy Buffett songs. The Volcano Bar is a fan favorite, complete with a giant exploding volcano that erupts Margaritas periodically. Live bands take to the restaurant's stage to perform every evening.
There's outdoor seating available on the Porch of Indecision, featuring a live guitarist to sing along with every night. Or you can just relax in colorful Adirondack chairs outside the restaurant and watch the world go by.
Right next to Margaritaville is the Lone Palm Airport, featuring Jimmy Buffett's very own seaplane, the Hemisphere Dancer. This outdoor lounge and tiki bar serves a variety of drinks and quick eats under the wing of the plane, along with the "Parakeet Beach" area for the little ones to play in.
---
The menu features a unique combination of Key West and Caribbean foods we refer to as "Floribbean Cuisine." Offerings include Jamaica Mistaica Wings, Corn and Crab Chowder, Bayou Shrimp Pasta, Jimmy's Jammin' Jambalaya, Calypso Mahi Mahi, BBQ Ribs, Cuban Sandwich, Grilled Fish Tacos, Key Lime Pie, and the ever popular Cheeseburger in Paradise®. Not surprisingly, the award-winning Margaritas at Jimmy Buffett's Margaritaville are considered the best around. You'll find over ten different varieties to choose from, along with a number of other Frozen Concoctions and themed "Boat Drinks."