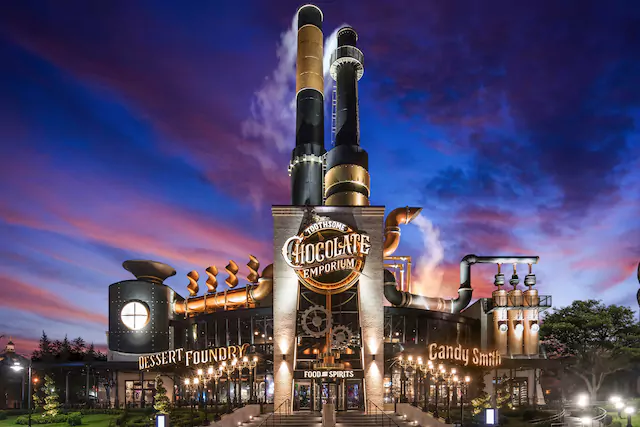 From the Alps to the empire of the Aztecs, from Mongolia to Madagascar, Professor Doctor Penelope Tibeaux-Tinker Toothsome learned new and fascinating methods of infusing chocolate into the most extraordinary recipes, making friends and receiving honors everywhere she went. Upon returning home to London, Penelope determined that she would share her love and knowledge of chocolate with the world. She set about building The Toothsome Chocolate Emporium & Savory Feast Kitchen™, an enchanting 19th century themed, Steampunk inspired dining establishment with a façade of towering smokestacks and an interior adorned with intriguing gadgets and gizmos.
---
Extraordinary foodstuffs await you at this new full-service restaurant, bar and confectionary at Universal CityWalk™. Delight your palate with fantastical fare including classic dishes like steak and seafood, and an all-day brunch featuring crepes and quiches, each with their own novel twist. Coffee and Chocolate Stout Chicken Wings, Chocolate Almond Bread and Chocolate Gnocchi are just a sample of the adventurously unique items available.
Then, behold, as our chefs create culinary alchemy with gourmet chocolates and one-of-kind desserts right before your very eyes. Savor artisanal milkshakes with flavors such as Chocolate x5, Bacon Brittle and Red Velvet. Feast on sumptuous sundaes like S'mores, Salted Caramel Flan and Chocolate Brownie Bark. You can even purchase tasty mementos from the restaurant's retail shop to enjoy at home.