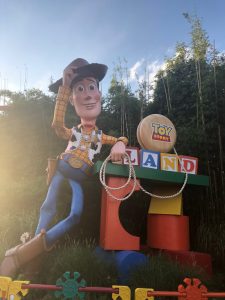 This time last week I was at the Most Magical Place on Earth, Walt Disney World! This vacation was so special, filled with pixie dust and lots of new memories! Let's be honest though, every Disney trip is! However, every Disney trip is unique and no matter how many times you go every Disney vacation gets remembered for its own special stand out moments. This trip in particular was fill with many of those special picture-perfect, memory making moments! One of these moments was my very first visit to Andy's backyard! That right, I went to Toy Story Land for my very first time!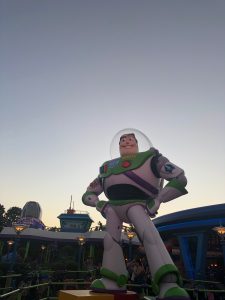 Toy Story Land is Disney World's newest land that just opened at Hollywood Studios this past summer. The land encompasses 3 attractions,
Toy Story Mania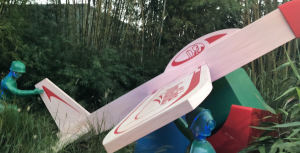 One of these attractions is Toy Story Mania. If you have visited Hollywood Studios in recent years you may be familiar with this one, it has been open for a few years already and the rides success definitely helped pave the way for this new land. Toy Story Mania has received a new queue line that has now rerouted the preexisting attraction into the Toy Story Land!
This new land is also home to 2 BRAND-NEW attractions!
Alien Swirling Saucers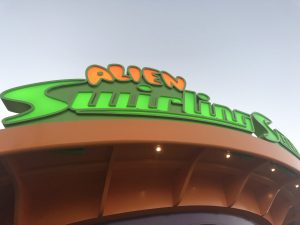 Alien Swirling Saucers is a fun whip style ride based around those little green aliens from the claw machine at Pizza Plant! The ride whips you around all while techno versions of Toy Story songs play!
Slinky Dog Dash Coaster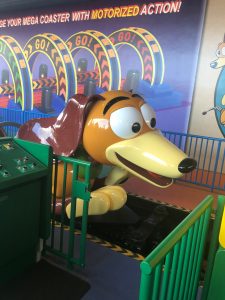 Hands down the most popular new attraction in Toy Story Land is the Slinky Dog Dash Coaster! With this family coaster, Slinky Dog himself races you through Andy's backyard and you encounter many of your other favorite Toy's along the way! The coaster features not 1, but 2 launches! So much FUN!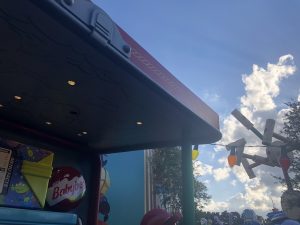 In addition to the attractions, Toy Story Land is also home to many character meet and greet experiences, fun entertainment offerings and a quick-service dining location – Woody's Lunchbox.
Wait times in Toy Story Land have been very high. It is best to try to secure a fastpass+ reservation for these new rides, especially for Slinky Dog Dash, this popular coaster typically has the longest wait of all 3 attractions in the land. Grabbing the perfect fastpass+ reservation is something our knowledgeable Travel Planners at Kingdom Magic Vacations are happy to help you with! Our team's knowledge can help you make the most out of your time on vacation.
When we got off the plane our first day of the trip we had no plans yet for the evening. We were all filled with so much excitement and anticipation to see Toy Story Land we decide to head straight for Hollywood Studios. We were able to secure a fastpass for Toy Story Mania and we planned to hope for the best and try our luck with being able to get on the land's 2 new attractions. I am excited to report we ended up being able to do everything in Toy Story Land!
As soon as we got to Hollywood Studios we were all starving after a long travel day so our first stop was Woody's Lunchbox for some food. I was very impressed with the food at this quick service location! The menu features classic comfort foods with a twist! I enjoyed the grilled cheese with a cup of tomato basil soup! It was excellent! Next, we used our fastpass for Toy Story Mania. I enjoyed getting to see the new queue area that connected this old favorite of mine into Toy Story Land. While the ride was the same the new queue made it feel fresh and like a whole new experience!
After our ride on Toy Story Mania, we headed to Alien Swirling Saucers to check out the wait time. At this point it was about an hour from park closing. The line was posted at 40 minutes. We ended up waiting just over 20 minutes to get on the attraction. Something we have noticed is that Disney tends to over project their wait times, especially with these new and popular rides. There is one word to describe Alien Swirl Saucers… FUN! I have to be honest I was excited for this ride but really just expected it to be a basic whip ride. Looking at it from the outside that is exactly what it is. But with the special lighting effects and techno-style Toy Story music, this whip ride is on a whole new level! It is so much fun!
Next we headed straight to Slinky Dog Dash about 20 minutes before the park closed. A tip if you are interested in riding some of the most popular rides such as this one is to wait and hop in line right at the end of the night. This works for multiple reasons. The first being that it is the end of the day and some guests have already left the park. Also many parks such as Hollywood Studios have night time fireworks shows that many people head to watch making the wait times shorter. The third reason to use this tip is that you can jump in line right before park close and as long as you are in line before the official park close they will still take everyone in line! Meaning the park can close at 8:00 and it is a 70-minute wait. As long as you get in line at 7:59 they will still need to take all the guests in the line! This is a wonderful tip so you won't waste time during the day while you could be doing other things. We used this logic and like I said hopped in line for Slinky dog. The wait was posted at 70 minutes and just like what we experienced at Alien Swirling Saucers, we only had to wait about half that time! We were on the ride within 35 minutes! Not bad for Disney World's most popular ride! Slinky dog was everything I dreamed it would be and more! New favorite ride!
To see more of my experience of my first time in Toy Story Land, watch our new YouTube Video,
Contact your Kingdom Magic Vacations Travel Planner to plan your next magical vacation to Walt Disney World or whatever destination you are dreaming of next!