This time last week I was in my happy place, Epcot! And not just for a regular visit but a visit during Epcot's most wonderful time of year, the Epcot International Food and Wine Festival! Attending the International Food and Wine Festival has become an annual tradition for me and my family! Each year we look forward to seeing what is new on the festival menus and what new experiences Disney will roll out during the event! This year definitely delivered on bringing many new and exciting offerings! Here is a list of my top 5 favorite items that I tried at this year's 2018 Epcot International Food and Wine Festival!
5. The Impossible Burger – Earth Eats
With wasabi cream and spicy Asian slaw on a sesame seed bun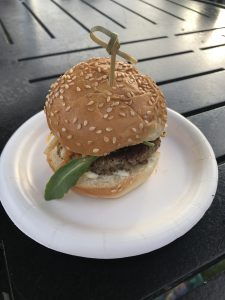 The Impossible Burger is 100% vegan! Curiosity got the best of me and I had to try this item to see if it truly tasted like a real burger. This item made my list because, IT DID! I was shocked it actually had the same charred flavor and consistency that real meat would!
4. Kalua Pork Slider – Hawaii
With sweet and sour Dole Pineapple chutney and spicy mayonnaise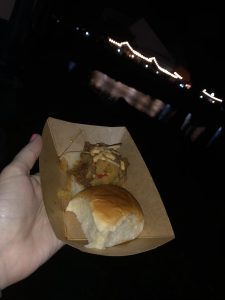 The Kalua Pork Slider from Hawaii is a returning item to the International Food and Wine Festival. This slider has been here for multiple years and it is always brought back by popular demand! Everyone loves this dish! For me it is not a visit to the festival until I have had the slider from Hawaii! The pineapple chutney is what makes this item! You get that perfect mix of savory and sweet and sour!
3. Seared Scallops- The Wine and Dine Studio
With truffled celery root purée, Brussels sprouts, and wild mushrooms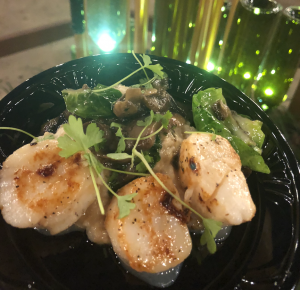 The Seared Scallops from the Wine and Dine Studio are a returning item to the festival. I have gotten the scallops for the last few years and every time it is always a winner! I have always gotten a good batch of scallops every time, they are cooked to perfection! The brussels sprouts and truffles compliment the dish so well!
2. Tropical mimosa – Shimmering Sips Mimosa Bar
Sparkling wine, pomegranate, orange and grapefruit juices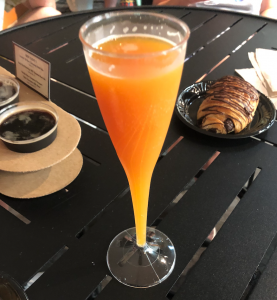 The Shimmering Sips Mimosa Bar is located inside of the Festival Center at this years festival. It is making it's festival debut during this 2018 festival. Instantly Food and Wine fans have welcomed it with open arms! I think its safe to assume Shimmering Sips Mimosa Bar will be returning again to next years festival! I tried 2 mimosas here, the Key Lime Mimosa and the Tropical Mimosa. I originally thought the Key Lime Mimosa would be my favorite, and it was incredible, however after trying the Tropical Mimosa it earned the spot as my favorite!
1. Teriyaki Chicken Bun – Japan
Steamed Bun filled with chicken, vegetables and a sweet teriyaki sauce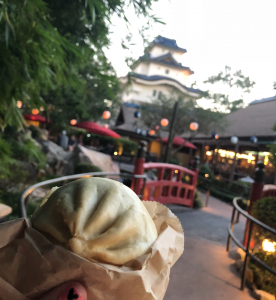 I became a fan of bao buns ever since the time I dined at Nine Dragons, the table-service restaurant in China at Epcot's World Showcase. During our meal here I had the steamed bun with fish! It was one of my favorite meals of that trip! Since then I have been a fan of bao buns, so when I saw this year during the Food and Wine Festival that Japan was doing a steamed bun I was very intrigued! Let's just say this did not disappoint! The chicken inside the bao bun is so flavorful, the sweet teriyaki sauce adds a sweet and sour element to this item! I actually got the item a second time during our vacation, thats how much i enjoyed it! Hands down the teriyaki chicken bun has earned the number one spot on my list!
Have you visited the Epcot International Food and Wine festival yet this year?! Contact your Kingdom Magic Vacations Travel Planner to plan your next visit to the Walt Disney World Resort or to wherever you may be dreaming of traveling next! Our knowledgable team is excited to make your vacation dreams a reality!