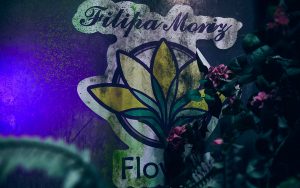 Something the theme parks do a wonderful job with is putting "Easter eggs" in their attractions. But wait… You may be thinking Easter is still half a year away. You would be right! By Easter eggs we are referring to the details and subtle references in theme park attractions that pay a tribute to or give a reference to another movie or attraction. These "Easter eggs" are common when a new ride replaces an old one. For example, this year saw the opening of Fast and the Furious Supercharged. Fast and the Furious replaced the old Disaster attraction at Universal Studios. In the queue line of Fast and the Furious Supercharged you can spot a jacket hanging over a chair that was part of the costume that the Disaster team members use to wear. These nods are referred to in the theme park world as "Easter Eggs!"
This year there are serval Easter Eggs that can be spotted at Universal's Halloween Horror Nights! As you experience the event, you will find "Easter eggs" created by Universal's Entertainment team. Universal proudly says their team pours their hearts and souls into every part of the events they put on! Many of these details can be seen at this year's 2018 Halloween Horror Nights, from homages to past events to secret facts about Universal's team members, each haunted house and scare zone has a special detail hidden inside!
In the Stranger Things haunted house, the wallpaper and bedsheets in Will Byers' bedroom are replicas to Netflix's show
The heights of Will and Johnathan Byers are marked on the door frame in the kitchen of the Stranger Things haunted house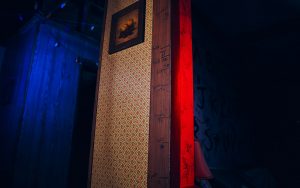 Good Harvest Daycare in Seeds of Extinction is based on the Good Harvest 'Orfanage' haunted house from 2010
Ultra-Violent Comics, a comic created for Halloween Horror Nights, line a shelf at the entrance to Seeds of Extinction. Each cover is based on a haunted house or character from past events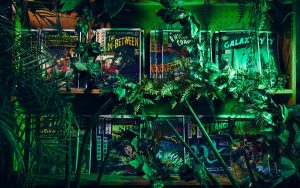 Filipa Moniz Flowers in Seeds of Extinction is based on the lost ship featured in The Forsaken haunted house from 2011
There is a raven in Twisted Tradition representing Edgar Allan Poe, who is Show Director Blake Braswell's favorite poet
The infamous and fan-favorite Halloween Horror Nights bear makes a terrifying appearance in ScaryTales: Deadly Ever After
The Carey Drive-In at Slaughter Sinema and the Township of Carey sign in Twisted Tradition are a reference to Manager of Entertainment Lora Sauls' hometown of Carey, Ohio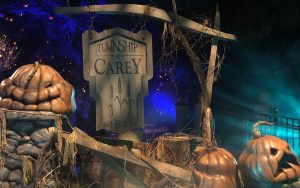 Show Director Charles Gray is featured in the trailer videos outside of Slaughter Sinema
In Carnival Graveyard: Rust in Pieces, there is an original song composed by Charles Gray, Show Director, and Anthony Smith, Audio Designer
There is an ice cream cart from Vamp 55, a scare zone from 2016, in Carnival Graveyard: Rust in Pieces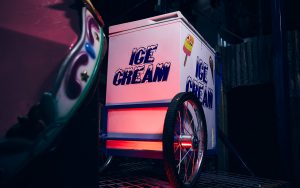 Universal Orlando's Halloween Horror Nights is running on select nights through Nov. 3. There is still time to make it to this event for a frightful good time! Contact your Kingdom Magic Vacations Travel Planner today to plan your next visit to the Universal Orlando Resort or to whatever destination you are dreaming of next!