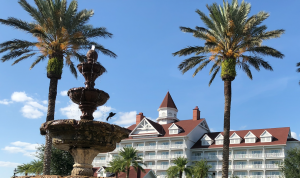 Last month I got to have a brand-new Disney experience that I had dreamed about for years! I stayed at Disney's flagship resort the Grand Floridian Resort and Spa! I have always been infatuated with the Grand Floridian and have enjoyed visiting the resort for years to simply walk the grounds or dine at one of their many wonderful restaurants. Even prior to actually getting to stay here myself, I would already say that the Grand Floridian was my favorite Disney Resort just because I enjoyed being there so much when visiting. So the dream of being able to actually stay here as a resort guest had been on my Disney list forever! Well my dream came true last month when I checked into Disney's Grand Floridian Resort and Spa for my very first time!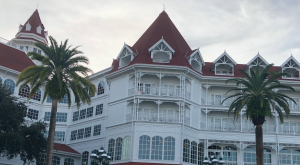 I knew that our stay was going to be incredible, but this resort stay exceed my expectations! There truly is magic in the air at the Grand Floridian! The overall feeling of relaxation and luxury that comes over you while there is a feeling like no other! I thought I knew the Grand Floridian so well from years of always just popping over for a walk around, but staying here I discovered so many little nuances that made the experience brand new to me! I had so many stand out moments and favorite things from my time at the Grand Floridian. Things that set this deluxe resort apart from the rest and make staying here a truly magical experience. The amenities and accommodations allow you to make the most out of your vacation! Here is my list of favorite things from my stay at Disney's Grand Floridian Resort and Spa!
Location, Location, Location!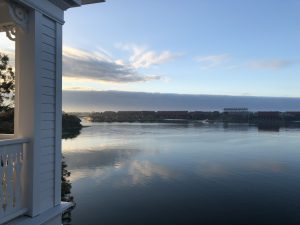 The Grand Floridian is located on the monorail loop in the Magic Kingdom Resort area! You are literally footsteps away from the Magic Kingdom Park. From the hotel, you can see Cinderella's Castle as well as many other icons from the Magic Kingdom skyline. Talk about a great place to watch the fireworks! You are so close you can even hear the sounds coming from the Magic Kingdom! Every once and a while from our room we could hear the gentle whistle of the Walt Disney World Railroad train! It is all these details of the Magic Kingdom that make you feel like you are still inside the magic of the park even when you have left for the day! This for me was everything!
The Views!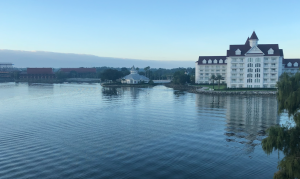 Wherever your room is located you are sure to have one priceless view! Rooms at the Grand Floridian overlook the Magic Kingdom Park, Seven Seas Lagoon, the gorgeous resort pools or the peaceful resort gardens. All of the rooms have balconies allowing you to soak in your breathtaking view. I absolutely loved the view from our room's balcony! We had a lagoon view that looked out over seven seas lagoon. We could see the ferry boats coming and going from the transportation and ticket center and watch the monorails go around and around! I spent so much time out there taking it all in that I actually learned the monorail schedule! I could tell you exactly what colored monorail would appear where and when! I was one proud Disney fan! Our room also had a great view of Disney's Polynesian Village Resort and a beautiful direct view of Disney's Wedding Pavilion! There was always some exciting action to watch! Once again even though you are back in your room you still are right in the middle of the Disney magic! There is no better feeling!
Proximity to Magic Kingdom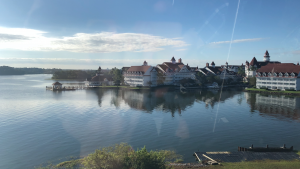 Staying at the Grand Floridian you are a stones-throw from the Magic Kingdom Park, you might as well say you and Cinderella are next-door neighbors. Not only is this awesome for the spectacular views but your commute to the Magic Kingdom park takes mere minutes! You can step aboard a monorail right from the 2nd floor of the Grand Floridian lobby or cruise right over to the park by boat! Until staying here myself I had no idea just how wonderful this convenience was! All other hotel guests not in the Magic Kingdom Resort area have to use bus transportation to get to Magic Kingdom or if traveling by car have to park at the ticket and transportation center and then take the monorail or ferry boat from that point. Due to this Magic Kingdom has always been a park that you need to allow yourself time to get to. Staying at the Grand Floridian the park is literally in your backyard, making the commute so easy! We got to Magic Kingdom the earliest I had ever been to the park. We just woke up and were there in minutes! Being able to so easily get to the park earlier, we were able to maximize our time and make the most out of our day! I had never seen the park so empty! Early morning is the best time to be in Magic Kingdom to beat the crowds. Due to the lower crowd level we were able to walk right on to many popular attractions!
Taking Breaks Mid-Day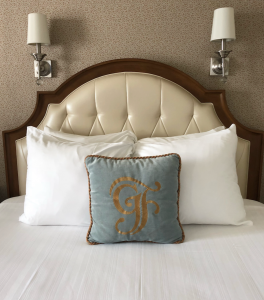 With being so close to the park you are also able to get back to the Grand Floridian very quickly! This is wonderful when you are tired after an action-packed day of fun in the park! It is also wonderful when you may want to take a break mid-day and go back to the resort to rest and enjoy the amenities such as the amazing pools. Since other resorts are farther away and most require bus transportation, it can eat up a lot more of your time if you wanted to go back to your resort mid-day. The convenience of close proximity to the park that the Grand Floridian gives you can add a whole other layer to your vacation.
The Pools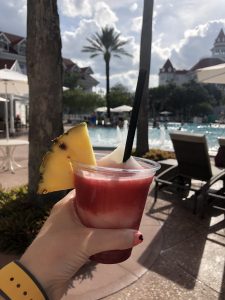 Speaking of relaxing by the pool, one of my favorite amenities at the Grand was getting to take advantage of their luxurious pools! There is a large pool called the Beach Pool, complete with a water fall and even a water slide. Next to this main pool you will find a fun splash play area for kids themed to the Mad Hatter. Then there was our favorite pool the Courtyard pool. This pool is a zero-entry leisure pool. We loved grabbing a drink from the pool bar and laying in the shallow-end! As we laid there with our drinks a complete feeling of peace and happiness rushed over me as I looked around at the gorgeous architecture of the Grand Floridian buildings and the lush courtyards and landscaping, all while I could still hear those amazing sounds coming from the Magic Kingdom! Absolute bliss!
Transportation to Epcot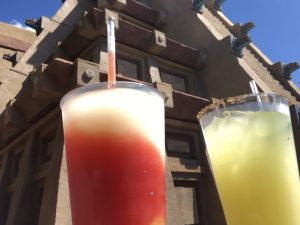 Not only is your commute to Magic Kingdom practically non-existent but you also have a very fun and easy commute to Epcot! All you have to do to get to Epcot is hop on the monorail straight from the Grand Floridian to the Ticket and Transportation Center. From there you can transfer monorails and hop on the direct line to Epcot! It is so easy, fast and also fun! Something about monorail transportation is just more exciting than any other form of transportation! Epcot is my boyfriend and I's favorite park so we loved being able to so quickly run over to Epcot even just for an afternoon!
Dining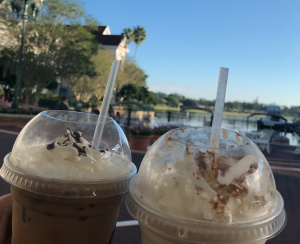 The Grand Floridian has the best restaurants to fit whatever you are looking for! Everything from quick service and casual dining to signature dining and even a 5-diamond restaurant! A personal favorite for me is Grand Floridian Café, located just off the main lobby the atmosphere is relaxing and the food is outstanding! I highly recommend the Café sandwich! I get it every time I go, even though I try to convince myself to try something new I love this sandwich too much! A place I found a whole new appreciation for this trip is Grand Floridian's quick service location, Gasparilla Island Grill. The food here is a step above any other quick service location. They actually deliver some entree items to your table after you place your order at the register. The menu has a wide select of delicious offering for breakfast lunch and dinner. You can also find pastries, snacks and grab-and-go items here as well. Something I loved was that they have a full-service Joffrey's Coffee shop inside of Gasparilla's! We loved getting frozen coffee to start the morning! Another amazing convenience is that Gasparilla's is open 24 HOURS A DAY! So whatever time you get in from the parks or if you find yourself wanting a late night snack you can count on Gasparilla's!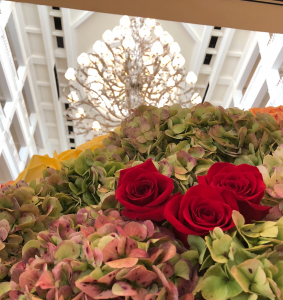 These are a few of the many reasons I fell in love with the Grand Floridian even more after staying here! I felt like a princess living in a castle! This is something you have to experience! When Disney releases discounts the savings percentage is always greater on the deluxe resorts such as the grand Floridian and we have some incredible promotions going on right now to make your travel dreams a reality! Our knowledgeable team at Kingdom Magic Vacations is excited to help you plan your next trip. Contact your Kingdom Magic Vacations Travel Planner today to start your next adventure!