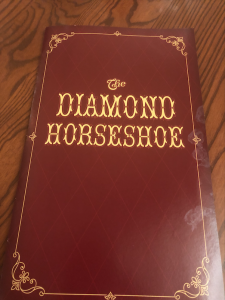 On my most recent visit to Magic Kingdom this week I enjoyed a brand new dining experience that I had never previously done! I ate at the Diamond Horseshoe inside the Magic Kingdom at Walt Disney World! I had a wonderful experience here at this restaurant! Everything was incredible from the delicious food to the charming western atmosphere!
Diamond Horseshoe is located back in Frontierland inside the Magic Kingdom Park. For some time this dining location was only open seasonally and for special events so it was always a challenge to try to experience this restaurant. For a while when this location would be open it was a quick service dining location. Now Diamond Horseshoe is one of Magic Kingdom's newest table service locations! You can either order off the menu or choose to enjoy the buffet!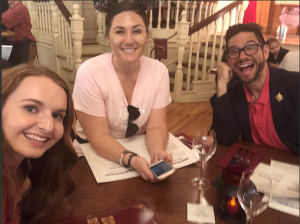 The restaurant menu has a wide mix of American-style flavors. They are known for their barbecue! The cuisine is definitely comfort food. I was dining here with my friends who are vegan and they were so excited to check out the vegan stuffed peppers! I am not vegan myself but I do love stuffed peppers and I was interested in what the vegan version would taste like so I also ordered this dish!
The service was wonderful, the chef came to our table to talking about the vegan options on the menu and answered everyones dietary questions. The cast members were all very knowledgeable about the menu! I really enjoy the meal I had! The vegan stuffed peppers were so fresh! The meat substitute was from Impossible Foods and was seasoned to perfection! It tasted very similar to real meat.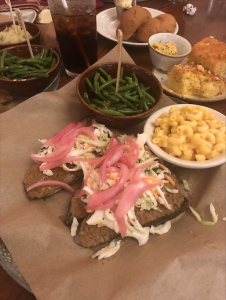 The atmosphere is very fun and charming! You feel like you have stepped into a western saloon! There is even a stage with a player piano that sets the tone for this incredibly themed restaurant. My friends and I really enjoyed our experience at Diamond Horseshoe! Be sure to check this restaurant out on your next visit to Magic Kingdom! Contact your Kingdom Magic Vacations Travel Planner today to plan your next visit to the most magical place on Earth!