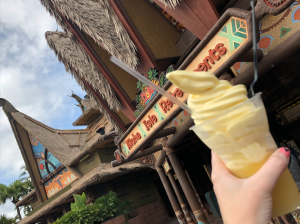 Disney World is famous for their state of the art rides, immersive lands, wonderful resort hotels, world class shows but what are they also famous for?! THE SNACKS! Disney World snacks are a fan phenomenon! So much so that recently Disney has even released an entire merchandise line themed to Disney snacks!  It is no shock that Disney treats and snacks are an iconic part of your Disney World vacation!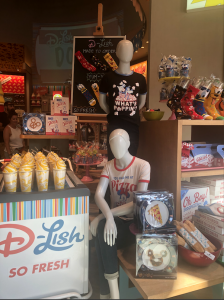 You always have your classic staple Disney snacks such as the Mickey Premium Ice Cream Bars, Churros, popcorn… ext. There are many iconic items that you can find at Disney year after year! Additionally, recently Disney has been creating many wonderful limited addition and specialty snacks that are making fans go wild! Many of these new snacks are very unique and very adorable! It's like these snacks were made for Instagram pics!
Today I want to share with you my personal favorite top 5 Disney World snacks, both classic snacks and new Disney treats! Let's get started!
Mickey Premium Bar
This first favorite of mine is a classic! You can't go wrong with a Mickey Premium ice cream bar! These treats are available at practically ever Disney snack cart and most quick service locations throughout all of Walt Disney World! I love that creamy rich vanilla ice cream coated in smooth delicious chocolate! It is my favorite ice cream treat of all time! And what makes it better? It is shaped like the main mouse himself!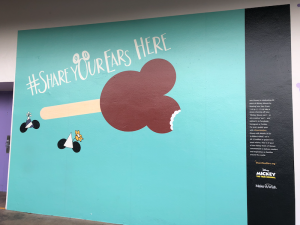 Dole Whip
My next snack is another classic Disney icon, the dole ship! This treat is dole pineapple soft serve! I love how fruity and tropical this item taste, yet it is still so rich and creamy! Dole Whips are actually dairy-free which makes this item also serve as a very refreshing treat to enjoy on those super-hot Florida days.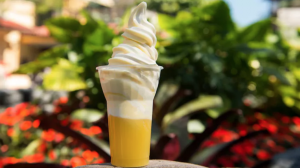 New Flavors of Dole Whip
The traditional pineapple Dole Whip is such a well-loved Disney snack! Recently Disney has introduced several new specialty flavors of dole whip that a served as a limited time or seasonal release! The one I have been really wanting to try is the "Hei-Hei Cone'! This cone features both the traditional pineapple Dole Whip as well as a brand-new raspberry Dole Whip! The cone is so cute! It Is themed to look like Hei-Hei, the chicken from Disney's Moana! Another new version of Dole Whip is 'The Lost Princess Cone,' it is a lemon Dole Whip themed to Rapunzel! It even features edible flowers just like the flowers in her hair! Another new flavor recently released is the mango Dole Whip! This flavor can be found in the "Adventure is Out There' Cone, which is Inspired by Disney Pixar's up. I tried this cone out for myself on my recent visit to Magic Kingdom and absolutely loved it!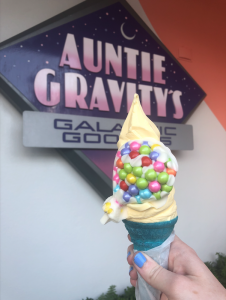 Mickey Rice Crispy Treat
Another go-to Disney snack staple for me is the Mickey rice crispy treats! I love grabbing one of these to take back to the room and enjoy at night! What is really fun is that Disney actually creates many different variations of the Mickey Rice Crispy Treat! I am constantly seeing new toppings and combinations! They also make adorably themed Rice Crispy Treats decorated based off of different Disney characters and themed seasonally to various holiday!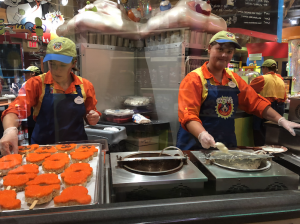 Mickey Apple
I love the Disney World caramel and chocolate cover apples! This is another classic Disney treat that can be found in many sweet shops throughout Walt Disney World! Similarly to the Rice Crispy Treats, Disney is always releasing new variations of the Mickey Apples! And New character themed apples! My personal favorite variation of a Mickey Apple is the dark chocolate, caramel and sea salt! The sea salt was the best touch! A great tip about the Mickey apples is that you can actually ask a cast member to cut the apple for you when you purchase it! This makes eating your treat in the park a lot easier! And easier for sharing!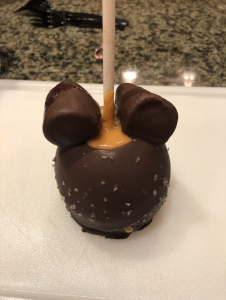 I hope my list inspired you to check out some new Disney snacks on your next visit to the park! As always be sure to contact your Kingdom Magic Vacations Travel Planner to plan your next trip to Walt Disney World to any travel destination you are dreaming of visiting next! Our knowledgeable team is excited to help you bring your vacation dreams to life!