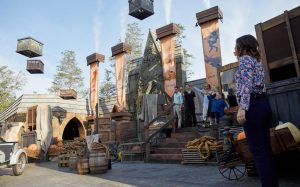 Hagrid's Magical Creatures Motorbike Adventure – the amazing new addition to The Wizarding World of Harry Potter – Hogsmeade – is Now Officially Open at Universal's Islands of Adventure! On your visit to Universal you can now experience all the mysteries and thrills of the Forbidden Forest and join Hagrid as you come face-to-face with some of the wizarding world's most rare magical creatures! This brand-new attraction is highly-themed! It is an incredibly immersive coaster experience!
Here is the excitement that happened during the open ceremony:
The ride's opening was hosted by stars from the Harry Potter movies! Thats right! To open the attraction, Harry Potter film stars Tom Felton (Draco Malfoy), Evanna Lynch (Luna Lovegood), Warwick Davis (Professor Flitwick) and James and Oliver Phelps (Fred and George Weasley) led guests in reciting the iconic spell, "Wingardium Leviosa" in unison, to reveal the entrance of the new attraction and welcome guests inside!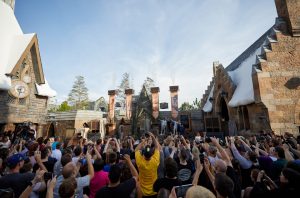 Here are just a few of the reasons to be excited for this first-ever "story coaster," :
Board magical motorbikes – You can enjoy two differnt ride experiences, riding on either the motorcycle or in the adjacent sidecar!
Journey to the Forbidden Forest, featuring more than 1,200 trees
Come face-to-face with some of the wizarding world's most rare magical creatures! Creatures such as a majestic Centaur, a swarm of mischievous Cornish pixies, Fluffy, the three-headed dog, and even Blast-Ended Skrewts – a creature that's never been seen in the films!
Encounter Hagrid himself! The most life-like animated figure Universal Orlando has ever created!
Find yourself tangled in a thicket of Devil's Snare and unexpectedly free-fall nearly 17 feet to escape the perilous plant!
Experience the freedom of flight as you soar above the trees, rapidly accelerate through the ruins, speed forward – and backward – up to 50 mph and more!