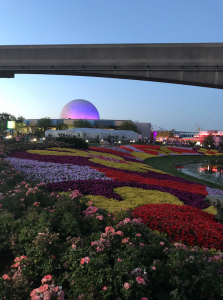 EPCOT is such a fun park to visit.  It has so much to offer and the vibe here changes frequently with all the different festivals throughout the year, so there is always something new to do and explore.  Also, there are so many changes going on in EPCOT with new rides like Guardians of the Galaxy and Ratatouille and new restaurants like the space themed one that will have you dining in outer space and the creperie in France, there will be so many new things to see and do.  Illuminations the iconic nighttime show will be going away soon and there will be a new spectacular, which I am sure will be incredible. This fall we will also have the opportunity to arrive from certain resorts via the new gondola system and park hop from EPCOT to Hollywood Studios on this fun new transportation, which will give us a new bird's eye view of the Disney World property.  Until these new things are available, I will enjoy my classic day in the EPCOT park.  Let me describe what my day usually looks like while visiting here: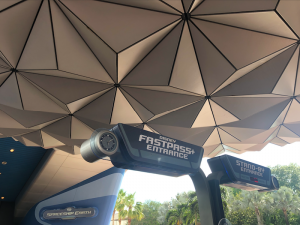 First upon arriving and walking through the entrance, I am always overcome with a sense of calm.  I love the massive sight of Spaceship Earth and the futuristic music which surrounds you, it always makes me smile.  Spaceship Earth is always a must ride for me so this will be my first stop and from rumors I heard this ride may be getting a refresh soon!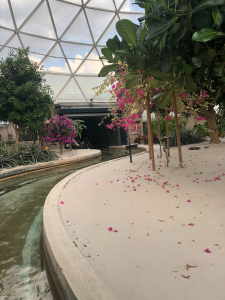 Next, I am going to head over to Soarin Around the World in the Land Pavilion.  I usually grab a fast pass for this ride so I only have a short wait.  This ride is always so enjoyable as you fly over iconic places around the world and experience all the different scents that go along with what you are seeing on the screen.  This is a must do ride for me!  Then in the same pavilion is another one of my favorites, which is the Living with the Land boat ride through all the ecosystems such as tropics, dessert and prairie.  Then your boat glides through the enormous greenhouse, which is home to so much vegetation, most of which is used all around property in the restaurants.  Twice I have taken the Behind the Seeds tour which takes you on a walking tour through this greenhouse with a knowledgeable  guide who will give you wonderful information on all that they are doing in the agricultural field to become eco-friendly.  I highly recommend this tour if you love gardening and the environment.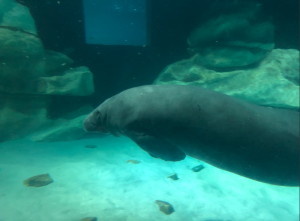 Next stop I will head over to The Seas with Nemo and Friends.  Such a cute ride and then you get off the ride and get to explore the aquarium with all the sea life.  My favorite is watching the manatees.  I could stand there for hours, they are such gentle giants.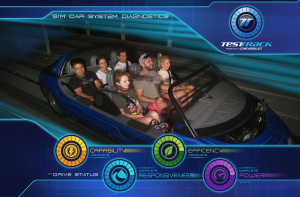 Now I usually walk to the opposite side of Future World to ride Test Track!  Since I already used up my tier 1 fast pass I go to the single rider line for a very short wait and even when I am with other people we usually split up and ride at the same time, sometime you even get lucky and end up in the same car!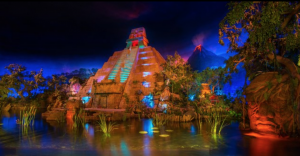 Onward to World Showcase!  Most times, I take the clockwise route starting with a stop at Mexico.  I love the temple with its marketplace that looks like nighttime in an open market.  I have gotten many souvenirs from here.  From here, I will wonder around the World exploring all the shops.  I love all the different cultural merchandise and talking to cast members that are from that country and learning about their customs.  Walking around World Showcase is breathtaking.  I love the attention to detail and the beautiful landscaping.  Along the way, I will enjoy many different food and drink item, especially during the festivals.
If you are not aware, EPCOT has the Food and Wine Festival in the fall followed by Festival of the Holidays, then Festival of the Arts; which is my new favorite and then the Flower and Garden Festival in the Spring which is a gardeners paradise.  If sampling food around the World is not enough, this is the best park for restaurants.  Each country has fabulous offerings.  I love Via Napoli in Italy and Biegarten in Germany; which also has a fun German Octoberfest show while you eat.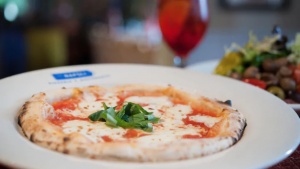 I always end the night watching Illuminations Reflections of Earth.  I love the musical score to this nighttime show.  Sadly, this show will have its last showing on September 30th after 20 years!  But I look forward to the next show that Disney will have in its place, I am sure it will be incredible!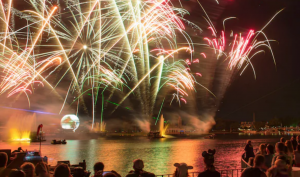 So this has been a look at my day in the EPCOT park.  If you would like to experience this for yourself, contact one of our knowledgeable Travel Planners here at Kingdom Magic Vacations.  They will be happy to help you plan an amazing trip to Walt Disney World or wherever you would like to travel.