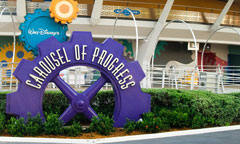 Florida is known as the sunshine state for a reason! Central Florida, home to Walt Disney World is a paradise, typically having warm weather ALL YEAR LONG! Anytime you visit you may find the temperature are soaring high. But don't let the heat keep you from the parks! The great thing about Disney is they offer so many great attractions that are all indoors in air conditioning so it easy to duck inside a queue line and escape the temperatures for a bit to cool off!
Here is my list by park of great attractions that typically have a low wait time and are great rides to head to when you are looking to get inside, sit down and cool off! Let's start with Magic Kingdom!
Magic Kingdom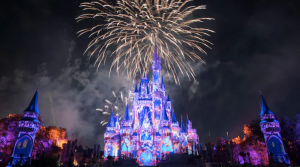 Enchanted Tiki Room
The Enchanted Tiki Room is a Disney classic! This show can be found in Adventureland. This is "where the birds sing word, and the flowers bloom!" You will enter a tropical paradise and get to sit down in air conditioning and enjoy the show!
Country Bear Jamboree
Another Disney classic! The Country Bear Jamboree is another great show that will get you out of the sun. It is located over in Frontierland.
Hall of Presidents
Located in Liberty Square, the Hall of Presidents is an amazing presentation that tells the story of the birth of our great nation along with the history of the American presidency. This show is educational and offers a great break inside air conditioning.
It's a small World
We all know and love this Disney classic! It's a Small world is a Magic Kingdom original found in Fantasyland! This attraction is a nice long boat ride that will give you a great break from being out in the sun.
Mickey's PhilharMagic
Also, located in Fantasyland, you can head to Mickey's PhilharMagic. This 3D show is a lot of fun for the whole family featuring many well-known Disney songs. A great show that gives you a chance to soak in some air conditioning!
The Little Mermaid Ariel's Undersea Adventure
Another great Fantasyland attraction and one of my personal favorites is The Little Mermaid Ariel's Undersea Adventure! This dark ride typically has a shorter wait and you can get on very quickly, making it a great spot to head to get inside and enjoy a Disney ride!
The Carousel of Progress
Located in Tomorrowland the Carousel of Progress is another personal favorite of mine! This show has a rich Disney history that dates back to the 1964 World Fair in New York. The shows main focus is all about innovation and how technology has grown over the years!
Now let's head over to Epcot!
Epcot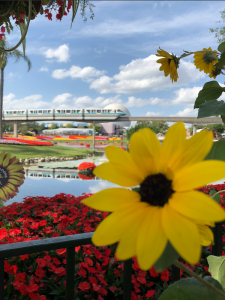 Spaceship Earth
Right at Epcot's main entrance you will find the Spaceship Earth attraction located right inside the heart of Epcot's icon! This slow moving dark ride offers a nice long break from the heat!
Living with the Land
Inside the Land Pavilion at Epcot you will find the Living with the Land boat ride! This attraction is a great sit-down that gets you out of the sun as you tour Epcot's greenhouses!
The Seas with Nemo and Friends
Board a clam shell and tour the ocean with Nemo and his pals in this adorable dark ride that is perfect for all ages! After your ride you will exit into the heart of the seas pavilion which features so many aquarium exhibits that you can visit and watch sea life! It is a great place to hang out and stay cool!
Journey into Imagination with Figment
I am a big fan of the Epcot classic character Figment! In the Journey into Imagination with Figment attraction you board your ride vehicle and head off on a scientific tour that soon gets hijacked by Figments antics! It is a fun attraction that typically has a lower wait and offers you a great chance to get out of the sun.
World Showcase Movies
Throughout Epcot's World Showcase there are a few pavilions that have movies that you can watch indoors in the air conditioning. Here is a list of each pavilion that has a film!
China
American adventure
France
Canada
Gran Fiesta Tour
Located inside of the Mexico Pavilion you will find the Gran Fiesta Tour! This indoor boat ride follows the adventure of Donald Duck and the three caballeros through some iconic parts of Mexico! A great ride to enjoy as you take a break inside from the heat!
I hope my list gave you some idea on attractions to enjoy to help you beat the heat next time you are visiting Magic Kingdom and Epcot! Stay tuned for part 2 to learn how to stay cool at Hollywood Studios and Animal Kingdom!
Contact your Kingdom Magic Vacation Travel Planner today to plan your next visit to Walt Disney World or to any travel destination you are dreaming of visiting next!