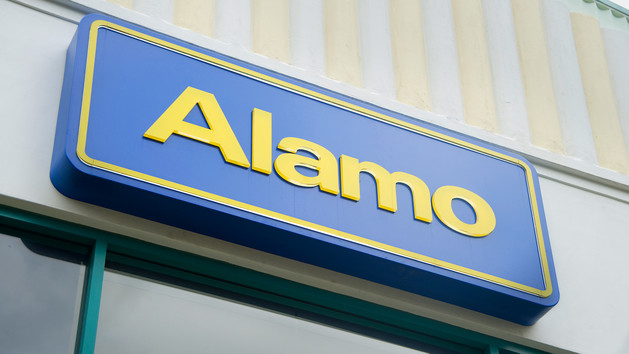 Alamo Rent A Car®
If you wish to avoid renting a car at the airport, Alamo Rent A Car at the Disneyland Resort can help. Once you've settled into your hotel and enjoyed the parks, pick up a car for a day or for your entire vacation and experience the freedom of exploring Southern California on your own terms.
---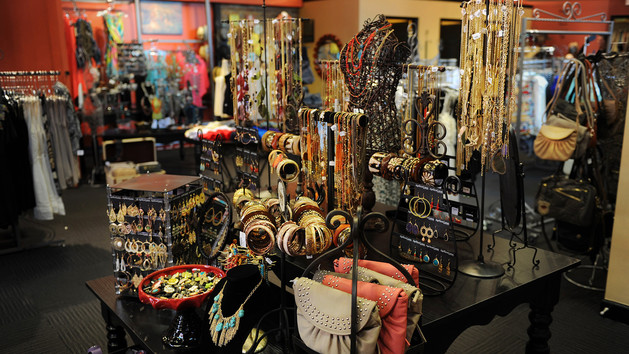 Apricot Lane® Boutique
At the Downtown Disney District location of this nationwide boutique franchise, shop brand-name women's fashion apparel and the denim labels you know and love: Miss Me, Rock Revival, Lucky Brand, AG Jeans and many more.
---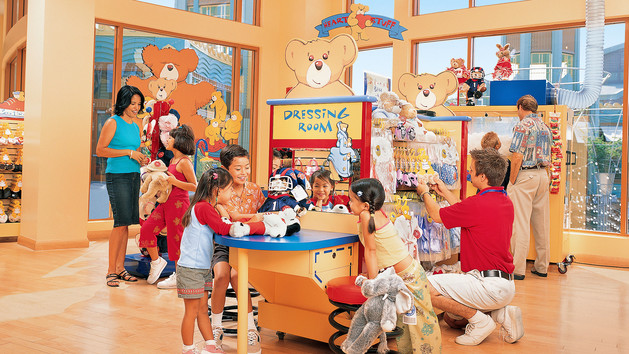 Build-A-Bear Workshop®
Pick out a cuddly new plush pal and customize him or her with cute clothing, accessories, recorded sounds and more. Bring your new best friend to life and add all the personalized touches your heart desires at this unique 2-story workshop.
---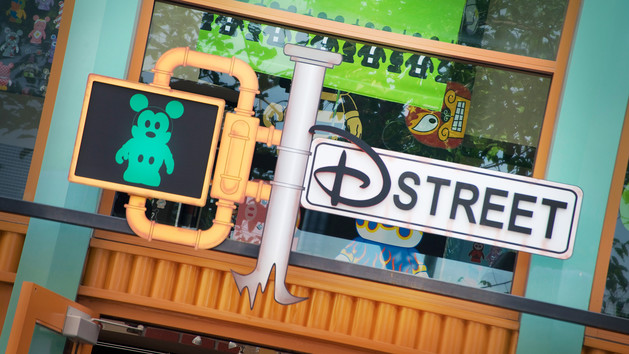 D-Street
At this Downtown Disney District boutique, get your fix of urban art fused with Disney flair as you browse cool clothing, accessories and tchotchkes from Tokidoki, Marvel, Star Wars, Disney Couture, Bloc 28 by Disney, Junk Food Clothing and more.
---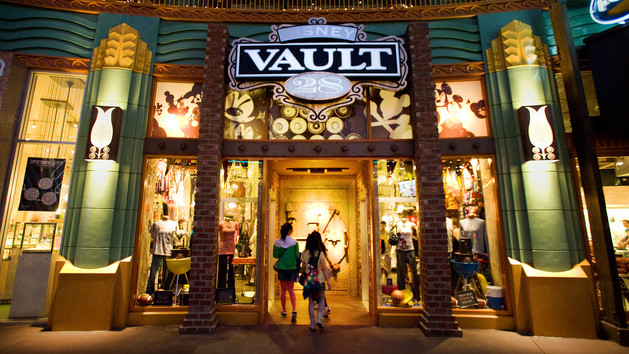 Disney Vault 28
Pop in to Disney Vault 28 for pop-culture takes on Disney and a cutting-edge assortment of contemporary fashion. Check out collections by famous-name designers who put their own spin on Disney, like Mighty Fine, Tank Farm and Harajuku Lovers.
---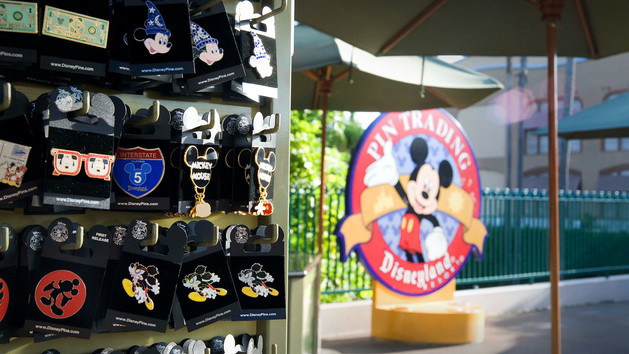 Disney's Pin Traders
Whether you're an avid Disney pin trader or just getting started, this pin-trading location has everything you need, from starter kits to lanyards to carrying cases. If you wish to buy a single pin to remember your trip to the Disneyland Resort, you can do that too.
---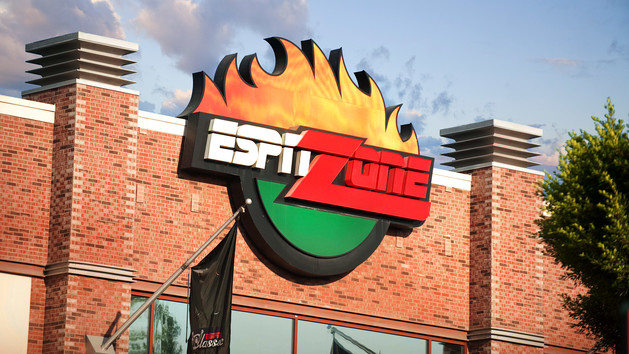 ESPN Zone® Studio Store
Snag shirts, hats and jerseys featuring the Los Angeles Angels of Anaheim, Los Angeles Dodgers, the Anaheim Ducks and more. From the head coach to the tiniest teammate, any player can find a fitting souvenir to commemorate their ESPN Zone experience.
---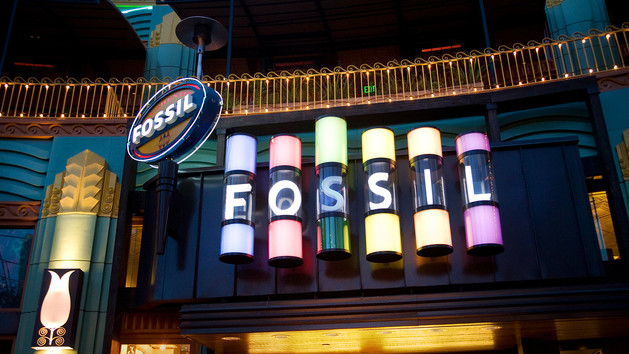 Fossil®
At this accessories and sportswear store, answer the question "What vintage are you?" with relaxed, casual style rooted in a retro aesthetic and authenticity that's as comfortable as it is current.
---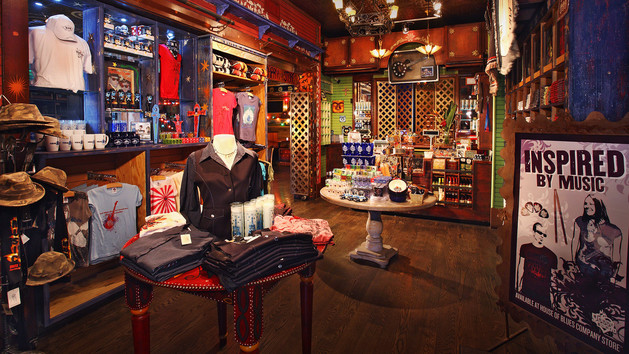 House of Blues® Company Store
Browse one-of-a-kind designs inspired by the classic film The Blues Brothers, including Jake and Elwood bowling shirts, Blues Brothers mug shot tees and even a suit-and-tie-printed romper for your Blues Baby! Of course, you'll also find House of Blues logo apparel in a range of styles for men, women and little future rock stars.
---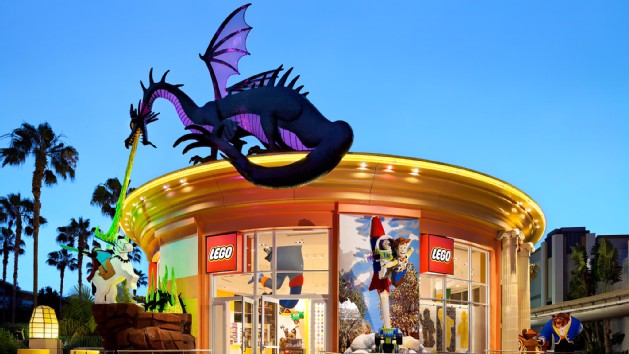 The LEGO® Store
The country's second-largest LEGO Store after the Downtown Disney area location in Orlando, Florida, this redesigned retail outlet features all-new displays and interactive play areas.
---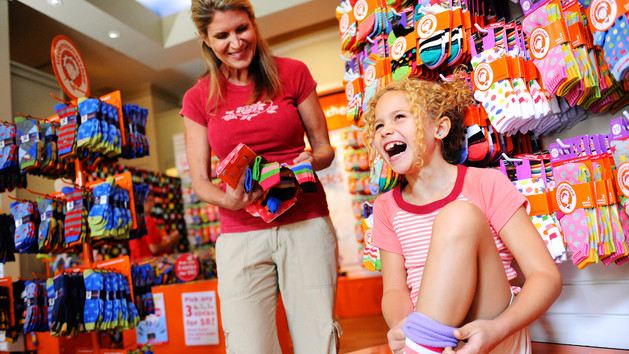 LittleMissMatched™
Get a load of the boutique's signature mismatched socks—they don't match, but they are coordinated by pattern and color scheme and come in sets of 3. Wear 'em your way! Better yet, you won't sweat it if one should go missing.
---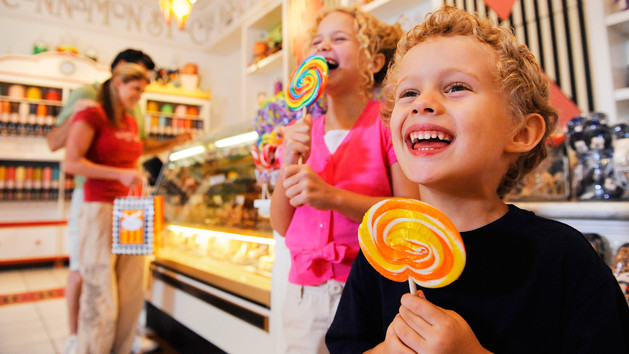 Marceline's Confectionery
Through the giant picture window, ogle Minnie Mouse candy apples, chocolate-dipped pretzels, giant toffee slabs and more. Munch on milk chocolate-covered marshmallows, go nuts for chocolate almonds, buzz over chocolate-covered honeycomb or make your own sour powder.
---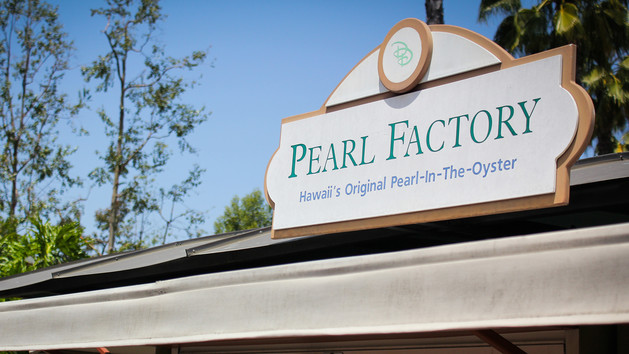 Pearl Factory
Be surprised, delighted, entertained and educated as you watch your very own pearl being plucked from a live oyster of your choosing. A pearl specialist will clean, polish and measure the pearl before your eyes. You're guaranteed to get a pearl to take home, though its size and color may vary.
---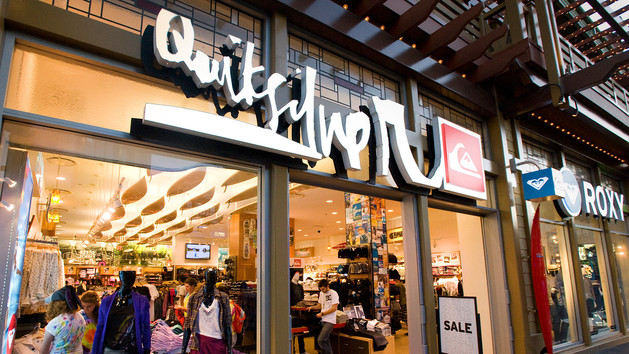 Quiksilver®
Ride the waves in style and comfort with surfboards, boardshorts, wetsuits and more from Quiksilver. Browse awesome apparel inspired by surf, skate and snow heroes like Kelly Slater, Dane Reynolds, Tony Hawk and Travis Rice and brands including Quiksilver, Roxy, DC Shoes, GNU Snowboards and Raisins.
---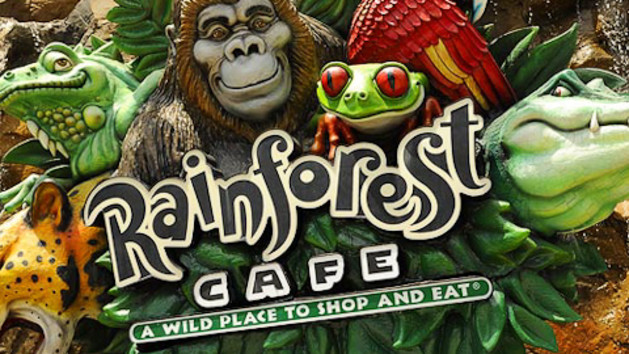 Rainforest Café® Retail Shopping Village
Find the perfect furry friend to take home amongst a menagerie of lions, rhinos, elephants, monkeys and more. Look for the Rainforest Café's own "Wild Bunch," the 8 adorable animals seen in its logo. Leading the charge is Cha! Cha! the red-eyed tree frog.
---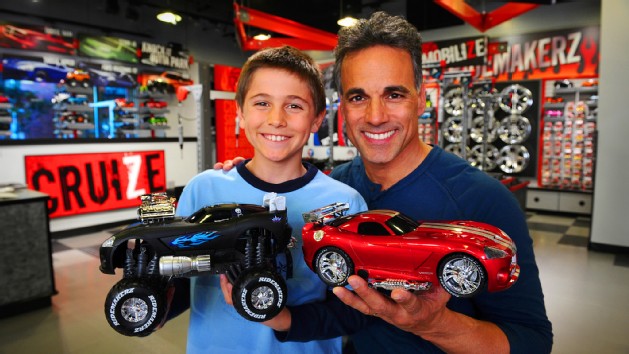 RIDEMAKERZ®
Cruise into RIDEMAKERZ and create a 1:18-scale model car that's truly one of a kind! Select a body style and chassis then decide whether you want your racer to be radio-controlled or "free wheel." Then kit it out with colors, paint details, rims and tires, real working lights, sounds, sporty accessories and decals.
---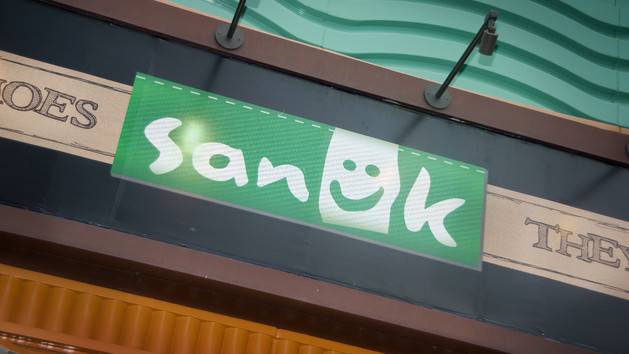 Sanuk®
From breezy beach sandals lined with unusual textiles to its eco-friendly, vegan RASTA line, find new kicks at Sanuk, meaning "fun" in Thai. Made using natural and sustainable materials and designed with your comfort in mind, this truly innovative footwear is as much about style as it is function.
---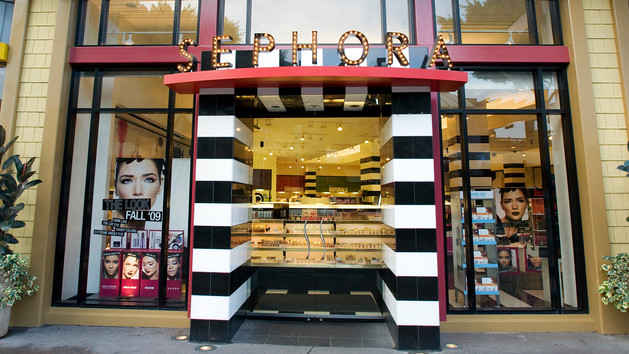 Sephora®
At the Downtown Disney District location of this Paris-based beauty superstore, you'll find your go-to colors and fragrances as well as the very latest in makeup, skincare, and bath and body.
---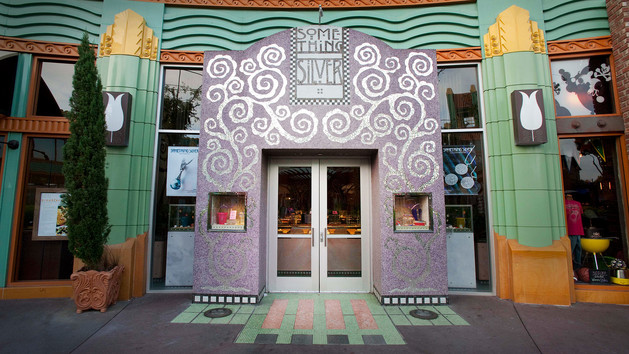 Something Silver®
One of the country's finest sterling silver sellers with stores in 4 states, Something Silver carries a wide range of necklaces, earrings, rings, bracelets, charms and pendants. Accessories including hair goods, watches and money clips are also available.
---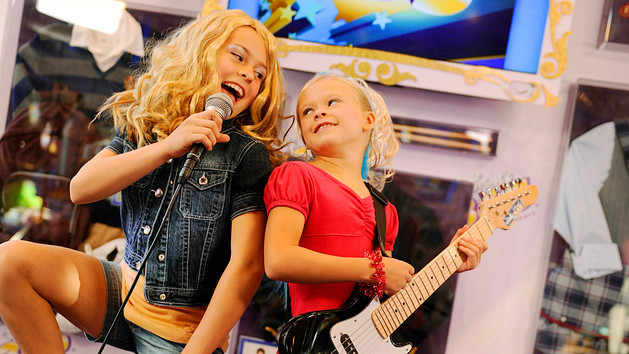 Studio Disney 365
At Studio Disney 365 at Downtown Disney District, you can become a star of tomorrow today with your choice of several superstar makeovers. All packages include a "talent contract," hairstyling, makeup and a deluxe make-up palette.
---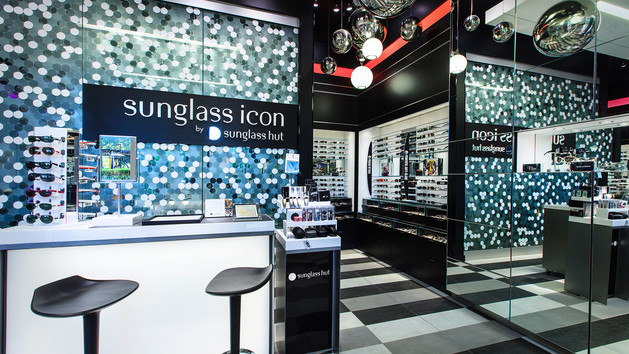 Sunglass Icon®
Browse sunglasses galore from more than 40 brands, including Tiffany, Coach, Burberry, Ray-Ban, Oakley and Maui Jim. Whether you're looking for form, function or a fun fashion statement, you've got it made with chic shades at this Downtown Disney District store.
---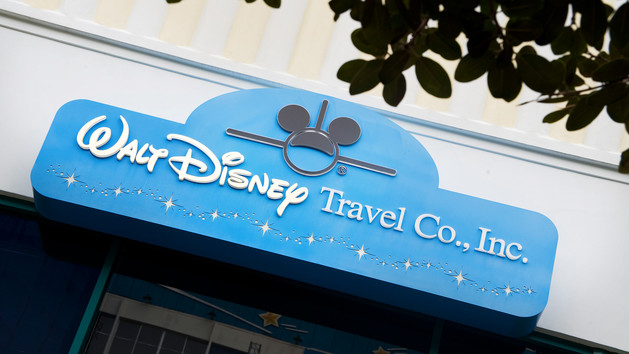 Walt Disney Travel Company Guest Services
Get answers to vacation questions, arrange a trip or modify travel plans at this Downtown Disney District destination. Our helpful, friendly team of planning specialists is here to assist you with all of your Disney vacation needs.
---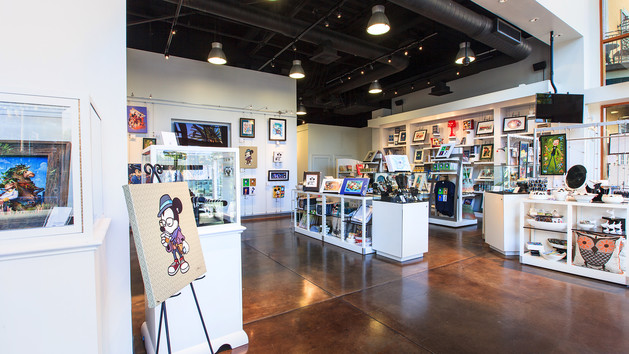 WonderGround Gallery
Enter a world of imagination and vision inspired by Disney films, characters, icons and—of course—the mouse who started it all. View interpretive works in a range of media by more than 25 artists and peruse unexpected finds in home décor and lifestyle merchandise.
---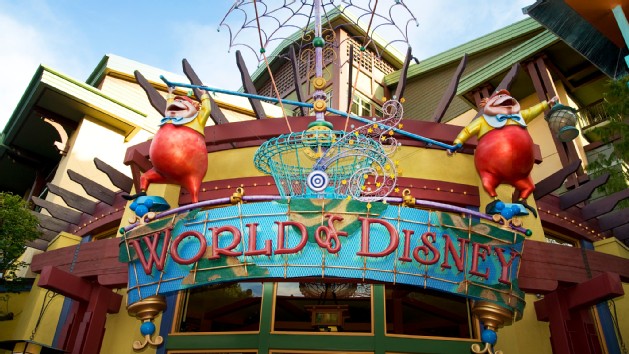 World of Disney®
Immerse yourself in the biggest selection of Disney wares on the West Coast. From Disney apparel to plush toys and collectibles, this superstore has something—make that tons of things—for every Disney fan.