9 Days / 8 Nights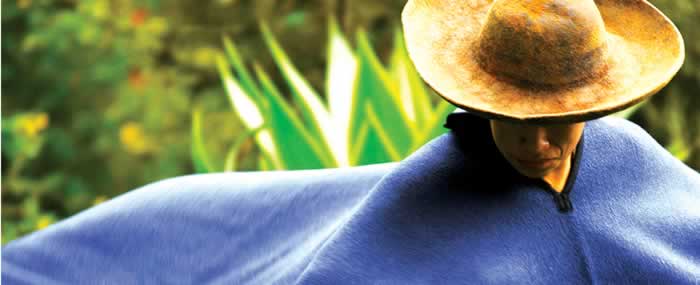 Treasures of the Galapagos – Quito, Otavalo Valley and The Galapagos Islands
The Ecuador and Galapagos Islands family vacation from Adventures by Disney® offers a land tour package that begins at the "Middle of the World" in Quito. The journey continues to the Andean Highlands with the silvery waterfalls of Peguche and the charming Hacienda Cusín of Otavalo Valley before you set sail through Darwin's paradise – the Islands of Galapagos.
View the Daily Itinerary and Download PDF
---
Trip at a Glance
Accommodations
• JW Marriott Hotel Quito
• Hacienda Pinsaqui
• La Pinta Yacht
Ages
• Minimum age: 7
• Suggested age: 8+

Meals
• 8 Breakfasts
• 7 Lunches
• 7 Dinners
Flight Information
• Arrive: UIO (Quito)
• Depart: UIO (Quito)
• Internal Flights Included
---
Trip Highlights
Visit Quitsato Equator Sundial
Stand at the "middle of the world" as you visit this enormous sundial. Sitting precisely on the equator, the sundial marks not just the location but the cultural identity of Ecuador.
Cooking Lessons in Ecuador
Discover how delicious Ecuadorian treats—like ice cream, empanadas and fried bananas—are made at the Hacienda Pinsaqui, the 16th-century Andean estate where you will be staying for 2 nights.
Experience the Andean Way of Life
Be entranced by whirling folk dancers at a festive welcome dinner. Immerse yourself in the region's rich culture with a private performance by a local flute maker. And learn weaving techniques from local experts at a renowned cultural center. It's all part of the amazing Andean lifestyle!
4-Night Cruise Aboard the La Pinta Yacht
Board this elegant vessel for an expedition to the islands of Santa Cruz, Santiago, Genovesa and North Seymour. On board the ship, you'll be treated to a private, story-filled stargazing session that gives you the rare opportunity to view the constellations from both the Northern and Southern hemispheres.
Hiking and Snorkeling in the Galapagos Islands
Hike across the islands of the Archipelago and submerge yourself in exotic underwater worlds with the help of a naturalist licensed by the Galapagos. Encounter unique animal life—like pink flamingos, blue-footed boobies, sea turtles, giant tortoises, red frigate birds, iguanas, penguins, sea lions and other incredible creatures.
Disney Difference
Experience the Disney Difference. You get more than you'd ever imagine when they travel with Adventures by Disney. More than you'd expect. And more reasons why the only way to see the world is with Disney.
Flute-making class
Ecuadorian cooking lessons
Private guides in the Galapagos
Kite-making class with local child
BBQ Dinner at Hacienda Cusín
Ecuadorian music lessons
Junior Adventurer/Family Friendly
Your Client's children will step into the pages of history, meet legendary figures and live timeless stories through unique activities designed just for them. And, when they're not exploring, Junior Adventurers enjoy special fun – like dinners or move nights!
Kite-making class with local child
Disney movie night
Ecuadorian cooking lessons
Condor Project
Kids Pizza