I have loved getting to document my visit to this year's 2018 Epcot International Food and Wine Festival and share them with you through video! In part 3 of my food and wine festival journey we tried our first item of the night from Earth Eats, located in the Next Eats area of this year's festival! Earth Eats is home to two food items, the steakhouse blended burger and also the Impossible burger. The Impossible burger is a 100% vegan burger! I had never tried a vegan burger before and my curiosity got the best of me. I had to see if it actually tasted like a real burger. I was very skeptical prior to trying it out. However as soon as I bit into this Impossible burger I was convinced! This vegan burger still had the texture and char grilled taste of a real burger. The Impossible burger actually made it into my top 5 items from this year's festival! I really enjoyed it!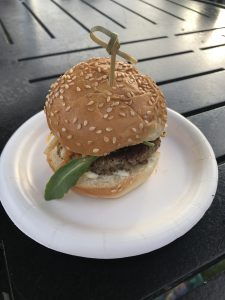 Next, we walked past Taste Track to check out their menu. This booth is located just out front of the Test Track attraction. Taste Track was just introduced this year and has a wide selection of very fun and creative pastries and donuts. They are also known for their pancake milkshake! We then went back inside of the Festival Center to take another lap around and see what was going on. I always love a visit inside the Festival Center, this area truly serves as the hub for festival activities!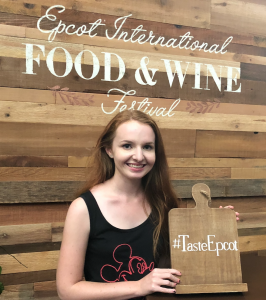 While inside the Festival center we stopped off at Artistic Marbling. This experience is brand new to this year's festival. Using the ancient Japanese art form of water marbling you can purchase and create your own creation to bring home with you. Items you can create include a set of dinner napkins and wine bag and a table runner. It is a great gift idea! I love the fact you can pick your colors and design yourself, this would make for a great keepsake to remember your vacation. We enjoyed getting to watch guests make their Artistic Marbling creations!
After hanging out for a bit in the Festival Center, we were ready to try more food items! We made our way to the Art of Pairing! This area of the festival is home to the Chocolate Studios, the Cheese Studio, and the Wine and Dine Studio. We enjoyed the Braised Beef Stroganoff from the Cheese Studio. My favorite part of the dish was the delicious egg noodles that accompanied it! From the Wine and Dine Studio I had the Seared Sea Scallops! These scallops were incredible and became another item that made it into my top 5 list of the entire festival!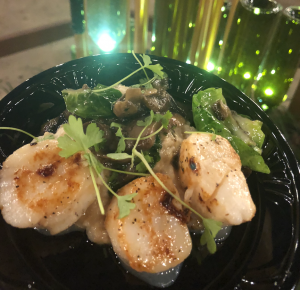 You can watch Part 3 on our YouTube Channel, Kingdom Magic Vacations! Be sure to subscribe for more Disney and travel videos!
Contact your Kingdom Magic Vacations Travel Planner to plan your next visit to the Walt Disney World Resort or to whatever destination you are dreaming of going next! Our knowledgeable team is excited to help bring your vacation dream to life!