Immerse yourself in wonder at SeaWorld Orlando, where the aquatic world comes alive like no place else. Climb aboard and ride the mighty Manta. Experience the power and grace of killer whales in the awe-inspiring Shamu show One Ocean. Share an epic voyage with sea turtles on the 3D 360 TurtleTrek. And there's nothing cooler than to see the world through the eyes of a penguin in the thrilling, chilling adventure of Antarctica: Empire of the Penguin.
An ocean of fun is waiting to be explored right here at SeaWorld Orlando. Jump in and dive deep.

---
Experience thrilling rides inspired by the force and power of the sea, including a few rides just for kids, inspired by the sea's more playful side.
---
Come and enjoy fabulous, family-friendly, live entertainment at SeaWorld. Share in the wonders and excitement of our incredible killer whale performances, dolphin shows, stage shows and laugh-out-loud entertainment.
---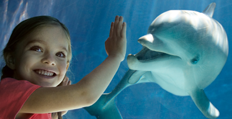 Exhibits
Get closer to your favorite animal friends with exhibits that only SeaWorld can create. From penguins, dolphins, and turtles to killer whales and sharks, there is an experience for everyone in the family just waiting for you!
---
From quick service to fine dining, there is something for everyone at SeaWorld. One thing is for sure, you won't go away hungry!
---
Get up close and personal with these special experiences that are only available at SeaWorld. Go behind the scenes to meet penguins, beluga whales, and sea lions, even even get a personal VIP tour!
---