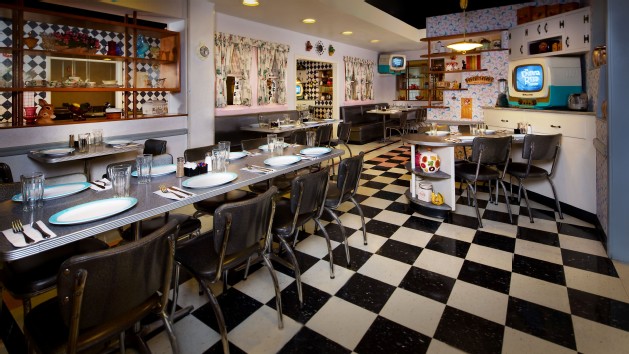 50's Prime Time Café
Echo Lake
Table Service
Bring your appetite and your sense of humor, because Mom and the extended family aren't above giving you lessons in table etiquette—and doling out punishment to misbehaving boys and girls.
---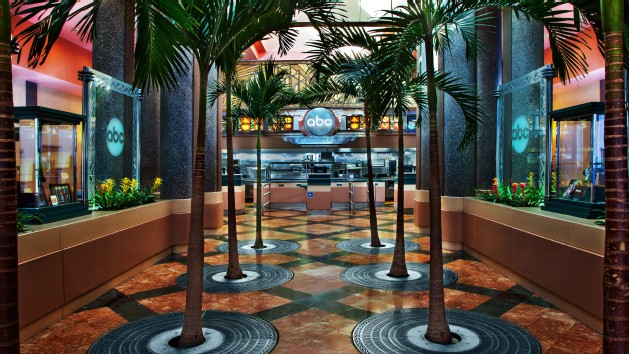 ABC Commissary
Commissary Lane
Quick Service
Feast on fast food with international flair: chicken curry, Asian salad, fish and chips, burgers and more. An Art Deco setting features film posters of past and present while movie trailers play on TVs. Beer and wine are also available.
---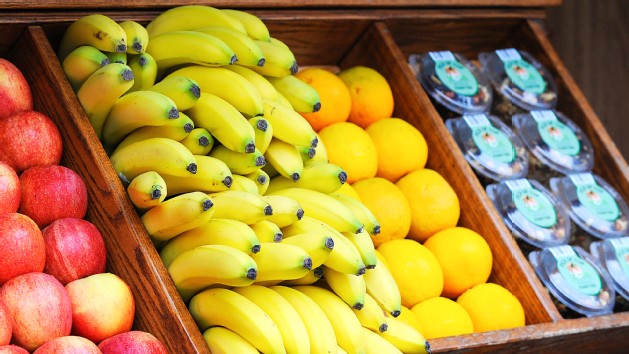 Anaheim Produce
Sunset Boulevard
Quick Service
Grab hold of an on-the-go energy boost at this healthy cart featuring a fast and refreshing assortment of snacks and treats, including fresh fruit and veggies, Mickey pretzels with zesty cheese sauce, frozen lemonades, margaritas and more.
---
Quick Service
Grab a bite before you head to the set: the Angus onion straw cheeseburger, Southwest chicken salad, grilled vegetable sandwich and more. Kids' favorites like hot dogs round out the menu. Desserts, beer and soft drinks are also available.
---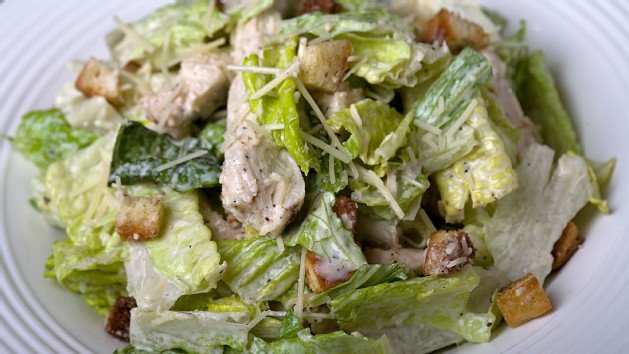 Catalina Eddie's
Sunset Boulevard
Quick Service
Cruise over to this island at Sunset Ranch Market to find quick and fresh fare, including pizza, hot Italian deli sandwiches, zesty Caesar salads and delectable house-made desserts like banana parfait and vanilla cake with chocolate custard.
---
Club Villain at Disney's Hollywood Studios
Table Service, Dining Event
---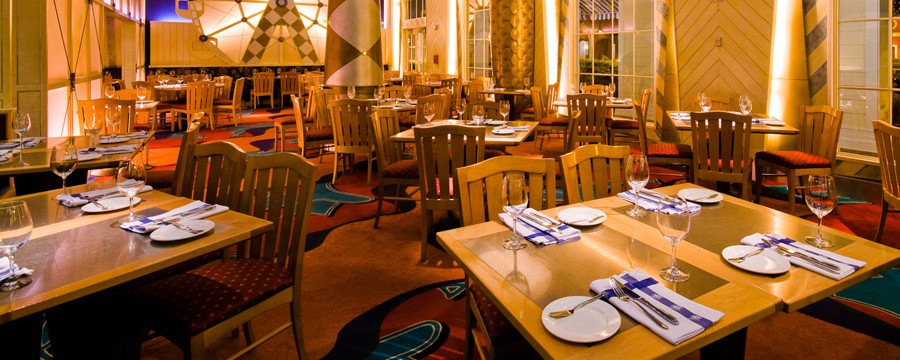 Dining With An Imagineer
Hollywood Boulevard
Table Service, Dining Event
Discover unique insights into Disney parks and Resorts as you enjoy lunch or dinner with a Disney Imagineer. Savor a delectable, 4-course meal at one of 2 Disney restaurants: Hollywood Brown Derby or Flying Fish Cafe.
---
Quick Service
Take a break on the boulevard with a half-chicken meal, St. Louis ribs or a BBQ pork sandwich, all served with baked beans and coleslaw. Turkey legs, the Fairfax salad and fully loaded gourmet hot dogs are also served. Beer is available.
---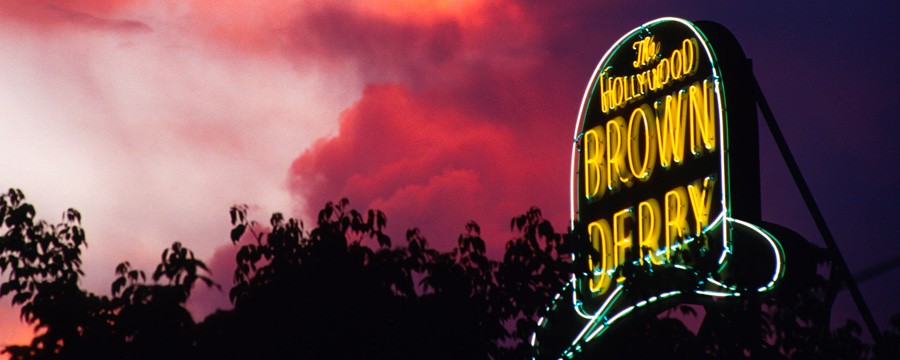 Fantasmic! Dinner Package
Multiple Locations
Table Service, Dining Event
Whether you prefer fine dining, casual dining or an all-you-care-to-enjoy buffet, you'll be sure to savor a mouthwatering meal before Fantasmic!, a stunning musical show of colorful waterworks, exciting fireworks and a host of Disney Characters.
---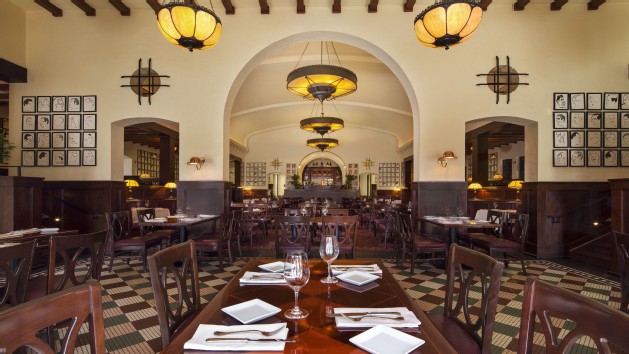 The Hollywood Brown Derby
Hollywood Boulevard
Table Service
Dine in an authentic replica of the famous Brown Derby, a Tinseltown landmark steeped in glamour and glitz. The walls are adorned with caricatures of famous faces—a tradition that began with the original restaurant—and the upscale atmosphere harkens back to the Golden Age of Hollywood.
---
The Hollywood Brown Derby Lounge
Hollywood Boulevard
Table Service
Slip inside this star-studded tuck-away to take in the many sights and sounds—and tastes—of Hollywood. Relax as you indulge in a few of the finer things, including appetizers, wine and libations like signature Derby cocktails and martinis.
---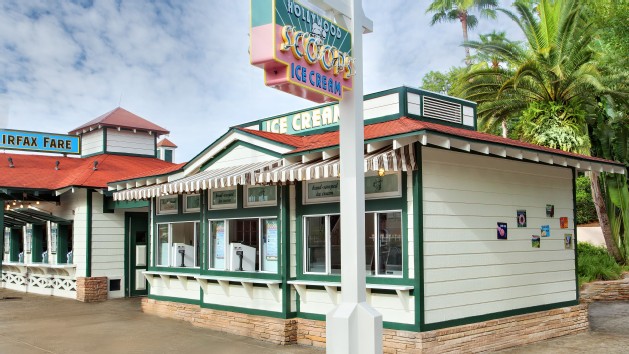 Hollywood Scoops
Sunset Boulevard
Quick Service
Get the inside scoop with hand-dipped ice cream, sundaes and ice cream cookie sandwiches. Stars on the menu include the apple crisp à la mode and the brownie sundae. Sugar- and fat-free options are also available.
---
Table Service
Discover the new chocolate fountain with fresh-dipped fruits, divine cakes and other delectable sweet treats available for lunch and dinner.
---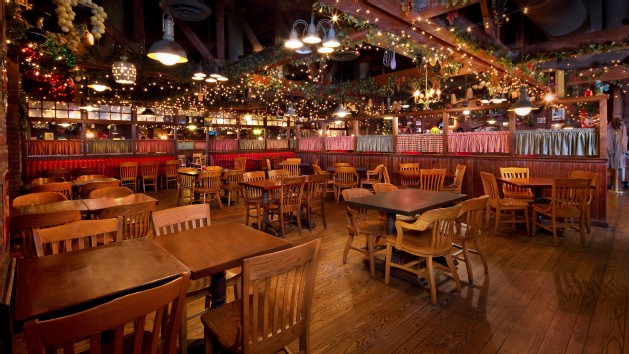 Mama Melrose's Ristorante Italiano
Muppet Courtyard
Table Service
Mangia in the backlot of Disney's Hollywood Studios at this casual but colorful Italian eatery with a California twist.
---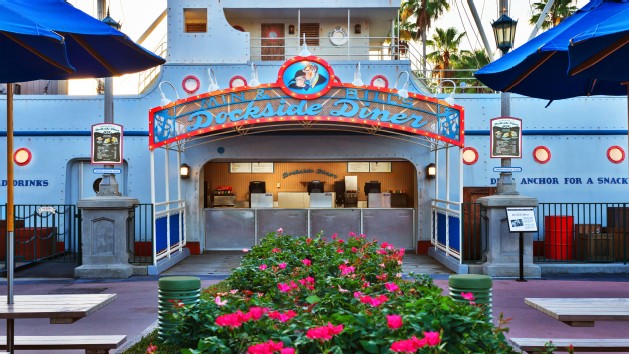 Min and Bill's Dockside Diner
Echo Lake
Quick Service
Cast your anchor at this open-air "tramp steamer" eatery that pays homage to MGM's 1931 comedy hit, Min & Bill. Serving up salads, frankfurters and hoagies, in addition to desserts and beverages, it's the perfect place to dock.
---
Oasis Canteen
Echo Lake
Quick Service
This Indiana Jones-style desert canteen may look ramshackle and rusty, but it's a trusted tabernacle for thirsty travelers hankering for their signature chicken breast nuggets (or sweet chili-glazed chicken nuggets)—not to mention an ice-cold beer, soda or bottled water!
---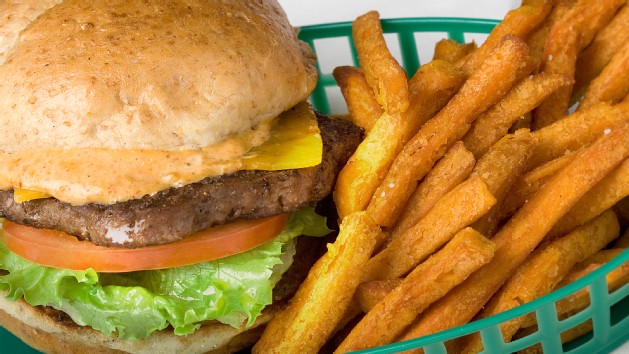 Rosie's All-American Café
Sunset Boulevard
Quick Service
Relish in the red, white and blue spirit with American classics like Angus cheeseburgers, crispy chicken nuggets, fries and coleslaw. Wash it down with an icy Coke or bottle of beer before topping off the feast with some banana parfait!
---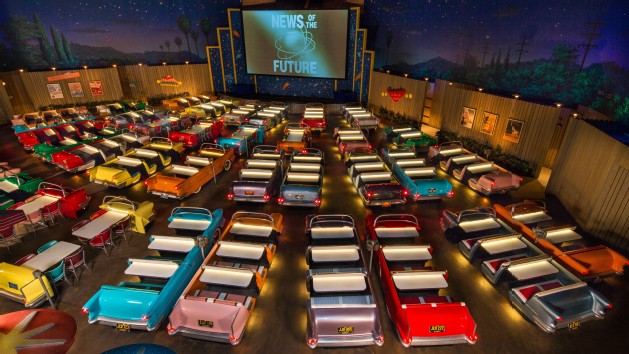 Sci-Fi Dine-In Theater Restaurant
Commissary Lane
Table Service
Do dinner and a movie retro-style at this eatery done up like a '50s drive-in, with all-American cuisine to match.
---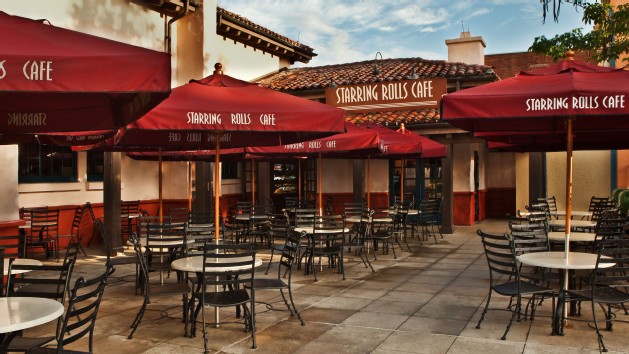 Starring Rolls Cafe
Sunset Boulevard
Quick Service
Let's do breakfast or lunch! Have your people call my people. Start your day with a fresh pastry—like a croissant or apple turnover. Later, tuck into tasty sandwiches or sushi. Enjoy assorted baked goods, desserts, wine and beverages too.
---
Star Wars: A Galactic Spectacular Dessert Party at Disney's Hollywood Studios
Table Service, Dining Event
Watch the fireworks from a reserved viewing area with Star Wars-themed desserts and drinks—plus receive a souvenir stein.
---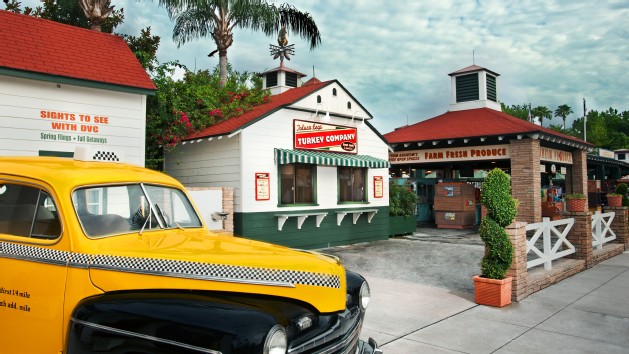 Toluca Legs Turkey Co.
Sunset Boulevard
Quick Service
Get a load of the hot legs on Sunset Boulevard—hot turkey legs! Taste a legend when you tuck into these jumbo drumsticks: they're crisp outside, tender and moist inside, and big enough to share!
---
The Trolley Car Café
Hollywood Boulevard
Quick Service
All aboard! Step inside this classic trolley car station and explore a unique experience for all kinds of coffee lovers—including a selection of STARBUCKS® Coffee and specialty beverages, Disney baked goods and La Boulange™ pastry items.
---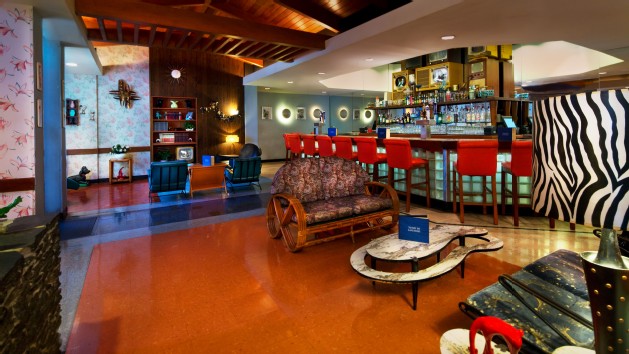 Tune-In Lounge
Lounges
Try Dad's specialty cocktails and watch 50s TV at this retro spot. Light up the room with his "experimental electric ice cubes" in the blue glow-tini or electric lemonade. A full bar and the 50's Prime Time Café menu are also available.