Walt Disney World in Orlando, FL has created Magic Your Way ticket options that will allow you to customize the ticket option that will make the most of your vacation to everything Disney has to offer and more!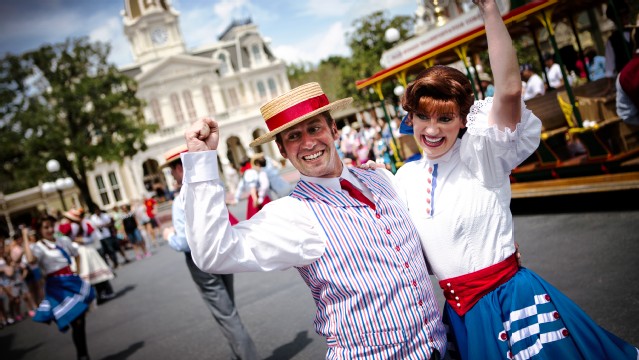 The Magic Your Way ticket begins with the  Base ticket. This ticket option allows you to enter one park per day purchased. The Base ticket includes, Magic Kingdom, Animal Kingdom, Epcot and Hollywood Studios. You can purchase this ticket from 2 to 10 days and can decide daily which park you are going to visit. If you just want go to a theme park for one day – you must choose which park you would like to go at the time of purchase. The one thing you cannot do with a Magic Your Way Base ticket is go to more than one park per day.
The Magic Your Way ticket does have ad on options that will allow you to do even more while visiting the Walt Disney World Resort. The most popular and most flexible option is the Park Hopper option. The Park Hopper option allows you to have the flexibility to visit more than one park per day. If you are Disney Resort guest this option works perfect when wanting to make the most of one of your resort guest benefits; Extra Magic Hours. You can visit your favorite rides at one of the parks for Extra Magic Morning hours, then head back to swim for the afternoon and then go to another park to experience a night time parade or fireworks or their Extra Magic Evening hours. In addition, the Park Hopper options allows more flexibility when selecting dining options that are located in the theme parks.
Another Magic Your Way ticket option is the Water Park Fun and More option. The Water Park Fun includes Disney's Typhoon Lagoon and Disney's Blizzard Beach. The More option includes Disney's Oak Trail Golf Course, Disney Quest indoor interactive Theme Park, ESPN Wide World of Sports complex, Disney's Fantasia Gardens Miniature Golf course, and Disney's Winter Summerland Miniature Golf Course. This option is great for those families that travel during the summer or want to do a little extra something on days that want to relax from the Theme Parks. When purchasing this option you will receive a 1 time visit per day that you purchase your Base ticket. For example if you purchase a 5 Day Base Ticket with the Water park Fun and More option, you will receive 5 one time visits to the Fun and More locations.
As you can see, it truly is Magic Your Way! You ad one or more options to your Base ticket. While you are planning your vacation, you will want to discuss with your travel planner your options and how they can best work for you and make the most out of your vacation.
When planning your Walt Disney World Resort vacation you will want to talk to your Kingdom Magic Travel Planner to be customize your vacation package.
*Terms and Conditions are subject to change at anytime and certain restrictions do apply to all ticket options. Extra Magic Hours vary depending on theme park and day.
Please discuss with your travel planner the complete terms and conditions.