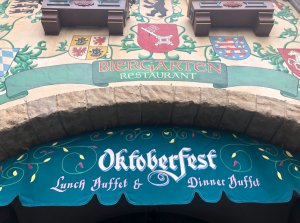 On my most recent trip to Walt Disney World I dined at Epcot's Biergarten restaurant, located in the Germany Pavilion in Epcot's World Showcase. I was so excited to dine here, I had been before but it had been several years and I was very eager to get back!
This German restaurant is designed to give you the full experience of a traditional German Oktoberfest celebration! From the incredible food, to the live Germany band, the overall atmosphere – everything! Everything is specially put in place to transport you to the time and place of Oktoberfest. No matter what time of day you dine here you will feel as though it is a gorgeous evening!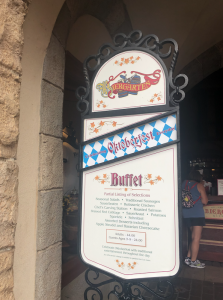 The restaurant's setting is created to simulate an outdoor courtyard at dusk. The ceiling around you looks like the night sky, complete with a gorgeous glowing moon. The seating here at this restaurant is family-style. The restaurant features several very long tables. You will likely be seated next to other families and groups as you dine. Our hostess explained that this seating style is in keeping with German tradition and creates the environment of friendship! We loved chatting with all of our table mates! This dining location truly does create such a warm and welcoming environment.
Now let's talk about everyone's favorite part, the food! This table service dining location is a buffet. You pay one flat price and can enjoy unlimited buffet trips. The best way I can describe the food is comfort! This truly is incredible, traditional German comfort food. I have a lot of eastern European in my roots and I am very familiar with this style of cuisine. And let me tell you, this food is truly authentic! Highlights for me were the spaetzli and the potato leak soup accompanied by a warm pretzel roll. The buffet includes a salad bar with some cold items, a hot foods section, a carved meats station which offers a wide selection of traditional German sauces and spreads, and of course a variety of desserts!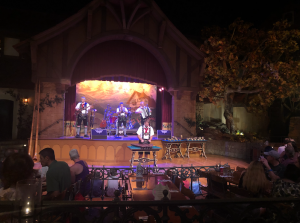 As you dine, periodically throughout the evening the German polka band will come out to perform! This completes the overall atmosphere so well and truly puts you in the mood for celebrating! There is a large dance floor and guests are encouraged to come join in the fun if they wish! We had a great time watching all the kids get up and dance to the festive music!
Watch our new YouTube video to see our experience at Biergarten!
Biergarten, remains a favorite of mine in Epcot's world showcase. This dining location has everything, great food, great atmosphere, live entertainment and more! Be sure to check this location out for yourself on your next visit to the most magical place on Earth! As always our team of travel planners here at Kingdom Magic Vacations is excited to help you plan your next vacation to Walt Disney World or to any destination you are dreaming of visiting next!