10 Days/9 Nights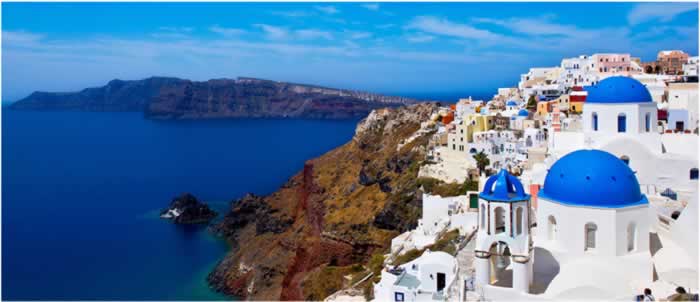 Greek Odyssey – Athens, Delphi, Santorini & Crete
Embark on a Greek Odyssey on this Adventures by Disney family vacation to Greece! Start in Athens at such sites as the venerable Acropolis and Temple of Apollo. Next, fly to sunny Santorini where you can learn some Dionysian secrets at a local winery and swim in the extraordinary blue waters of the Aegean Sea. Stroll through upscale Oia and witness one of its legendary sunsets before taking a high-speed ferry to rustic Crete, where shepherds still tend to their idyllic flocks. Then kayak to spectacular Spinalonga before continuing onto the labyrinthine Palace of Knossos and the villages in the mountains above. Revel in myths and Mediterranean beauty on this unforgettable expedition to classic Greece!
View the Daily Itinerary and Download PDF
---
Trip at a Glance
Accommodations
• Hotel Athenaeum InterContinental
• Vedema Resort
• Porto Elounda Resort
Ages
• Minimum age: 4
• Suggested age: 6+
Meals
• 9 Breakfasts
• 5 Lunches
• 6 Dinners
Rates
• Adult: $4,869 – $5,159
• Child: $4,629 – $4,909

---
Trip Highlights
Privately Guided Visits to Athens, the Acropolis and Olympic Stadium
Join your guide for a storytelling excursion of this renowned city of antiquity, as well as some of the greatest archaeological sites of all time. Discover the architectural marvels of the sacred Acropolis, as well as the mighty Panathinaiko, where the first modern Olympics were held.
Delphi
Embark on an excursion to mystical Delphi. At the foot of Mount Parnassus, explore the Temple of Apollo, as well as its theater and stadium. Then enjoy lunch at a taverna overlooking the Gulf of Corinth.
Wine Tasting and Stomping at Volcan Winery
As adults indulge in a delicious wine tasting event at the Volcan Winery in Santorini—where vineyards have been tended for thousands of years—Junior Adventurers can get into some grape stomping!
Sea Kayaking to Spinalonga
Board a sea kayak and paddle across the sparkling waters of the Aegean Sea or take a boat to fascinating Spinalonga to explore a "medieval ghost town."
Cheese Making in Crete with a Village Mountain Shepherd
Journey to the picturesque village of Karouzanous and learn from a shepherd how to make a tasty cheese using his goat's milk.
When you book an Adventures by Disney vacation, discover the Disney Difference:
• The services of two Adventure Guides
• Family Activities and special fun for the kids
• Accommodations
• Scheduled meals, activities & entertainment
• Luggage service
• Transportation within your adventure
• Cultural entertainment with local experts
• VIP access and exclusive activities