Disney Cruise Line Destinations
Disney Cruise Line has selected the most stunning itineraries—in the most exciting regions around the world—for cruises you and your family will not soon forget. Enjoy the service and expertise of our dedicated crew as we guide you in your exploration of international ports of call, from the Caribbean region to Europe and beyond. Discover, in detail, the world of delights waiting for you.
---
From the historic gold-mining town of Skagway to the ice fields of Juneau's Mendenhall Glacier, you'll find delightful diversions in Alaska's ports of call.
Juneau, Alaska
This capital city presents a surplus of exciting sites to see and adventures to experience.
Ketchikan, Alaska
This frontier town, the "Salmon Capital of the World," is a gateway to outdoor adventures.
Sitka, Alaska
Discover a fusion of Native American and Russian traditions in this charming sea port.
Skagway, Alaska
This town has a storied history steeped in the Klondike Gold Rush of the late 1880s.
Tracy Arm, Alaska
This scenic destination, viewed only from the ship, boasts waterfalls, glaciers and mountains.
Vancouver, Canada
This cosmopolitan city, cradled between mountains and the sea, offers fine dining and shopping.
---
From the sparkling white-sand beaches of Nassau to the tropical retreats of Disney's very own Castaway Cay, all our ports of call in The Bahamas offer delightful slices of paradise.
Castaway Cay
Introducing Disney's perfect private island paradise: for kids and teens, it's Never Land. For adults, it's Shangri-La.
Nassau
This city is where the pleasures of the Bahamas welcome you with a blend of tropical delights and Old World charm.
Port Canaveral, Florida
Home to the world-famous Kennedy Space Center and gateway to the Walt Disney World® Resort, Cape Canaveral is the place to explore both the skies and seas. It's one of the exciting ports on the Bahaman 8-Night Bahamian cruise from New York.
---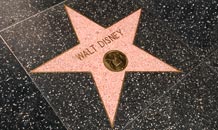 California Coast
The beautiful cities of Los Angeles, San Francisco and San Diego beckon you to explore—and experience the best of California in a new way.
San Francisco, California
This city, one of America's most beautiful, features steep hills, cable cars and stunning views.
San Diego, California
Sunny San Diego offers famous beaches, dining, shopping, museums, a bustling harbor and one of the world's best-known zoos.
Victoria, Canada
This city, British Columbia's capital, showcases stately English architecture and gardens.
---
Glittering waters, invigorating recreation and luxury shopping at deep discounts await you in the cities of the Caribbean—from Mexico's Cozumel to the island of St. Thomas… and everywhere in between.
Basseterre, St. Kitts
This small volcanic island in the West Indies is home to windswept beaches, a thriving rainforest and age-old historic sites.
Bridgetown, Barbados
This most populated island in the Caribbean has a British colonial past and an idyllic climate.
Cartagena, Colombia
Explore the rich history and culture of this charming South American port city.
Castries, St. Lucia
Explore this picturesque volcanic island, home to sweeping beaches and more mountainous terrain than most islands in the Caribbean.
Costa Maya, Mexico
This scenic family vacation destination is the oldest inhabited city on the Yucatan Peninsula.
Cozumel, Mexico
This adventurer's paradise features azure waters, vibrant, thriving reefs and Mayan ruins.
Falmouth, Jamaica
Historic Falmouth is your gateway to some of the most renowned destinations in Jamaica, like Ocho Rios, Negril and Montego Bay.
Grand Cayman, Cayman Islands
Chart your course to the renowned blue waters of Grand Cayman island.
Key West, Florida
This sun-drenched Floridian town features charming gingerbread Victorian cottages and famous leisure and culture.
Miami, Florida
From bustling Miami, Florida, embark on breathtaking Bahamian beauty, unique Panamanian adventures, crystalline Caribbean waters and other special experiences.
San Juan, Puerto Rico
With its cobblestone streets, brightly colored buildings and a history that stretches back to the Conquistadors, San Juan is a popular tourist destination.
St. George's, Grenada
Discover a mountainous island paradise home to pristine beaches and a tropical rainforest amid this "Island of Spice."
St. John's, Antigua
Discover gorgeous beaches, a lush rainforest and a myriad of fascinating historic sites amid this sun-kissed paradise.
St. Maarten
Here is a Caribbean island of 2 parts, many cultures and singular beauty.
St. Thomas/St. John, U.S. Virgin Islands
These 2 islands are celebrated for the best bargain-shopping bazaars of the Caribbean.
---
From the romantic boulevards and bustling bazaars of historic cities to sun-drenched islands in the Mediterranean, Europe has it all!
Piraeus (Athens), Greece
Gateway to the ancient wonders of Athens, this new port takes you to the cradle of western civilization and birthplace of democracy.
Barcelona, Spain
This ancient and beautiful city serves as the home port of Disney Cruise Line in the Mediterranean.
Catania, Italy (Sicily)
A vibrant port city on the east coast of Sicily, Catania offers fun for history buffs and nature lovers alike.
Civitavecchia (Rome), Italy
This seaport serves as the gateway to the "Eternal City" of Rome and its ancient wonders, such as the Colosseum and Pantheon.
Corfu, Greece (Greek Isles)
An island retreat located midway between Greece and Italy, Corfu has long captured the hearts of travelers, artists and storytellers.
Dubrovnik, Croatia
Breathtakingly beautiful, Dubrovnik is an ancient walled city on the coast of the Adriatic Sea and an exciting new port of call.
Kusadasi (Ephesus), Turkey
This coastal resort town offers some of the Aegean's most stunning beaches, active nightlife and is a gateway to the ruins of Ephesus.
Heraklion (Crete), Greece
The largest island in Greece, Crete was once the center of Minoan culture, the earliest recorded civilization in Europe.
Ibiza, Spain
World-renowned for its beautiful beaches and sizzling nightlife, Ibiza, Spain is a cosmopolitan destination where you can relax and unwind or dance to your heart's content.
Katakolon (Olympia), Greece
The sleepy port of Katakolon, Greece is the gateway to Olympia, where ancient Greeks honored Zeus with a series of athletic competitions–the Olympic Games.
La Spezia (Florence, Pisa), Italy
A shopping and sightseeing mecca, this historic city is known for being the cradle of the Italian Renaissance.
Funchal (Madeira), Portugal
This picturesque port of call boasts pleasant weather year-round and has natural beauty and romance in abundance.
Malaga, Spain
A gem on Spain's Costa del Sol, Málaga is one of the oldest ports in the Mediterranean.
Mykonos, Greece
Mykonos is a stellar new port of call and one of the picturesque Greek islands of the Cyclades in the South Aegean Sea.
Naples (Pompeii), Italy
Naples is a city with a 2,500 year history, and one that offers immense romance and immersive culture.
Palma, Mallorca (Spain)
The capital city of the Balearic Islands is a timeless destination known for endless sun and age-old sites steeped in history.
Rhodes, Greece (Greek Isles)
Take a journey into ancient history and Greek mythology on the island of Rhodes, Greece.
Santorini, Greece
With its rugged cliffs overlooking the bright blue waters of the Aegean Sea, the island of Santorini, Greece is an ideal place to savor soothing seascapes–and let your cares drift away.
Tenerife, Canary Islands
The largest of the Canary Islands, Tenerife is a tropical destination with an extremely diverse landscape.
Valletta, Malta
This port has a history that dates back 7,000 years to the dawn of civilization, and still holds marvels that predate the pyramids of Egypt.
Venice, Italy
From the Norman Palace to present-day decadences—like fine dining—the traditions and splendors in Sicily's capital city span centuries.
Villefranche (Monte Carlo, Cannes, Nice), France
This port is a leisure-lover's dream, with some of the loveliest views along the French Riviera. 
---