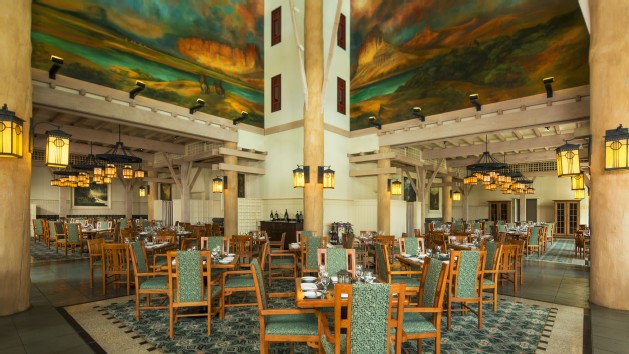 Celebrate the culinary heritage of the Pacific Northwest with seasonal specialties and stunning waterfront views.
Location: Disney's Wilderness Lodge
Type: American, Seafood Cuisine
Price: $#$ ($30 to $59.99 per adult)
Reservations: Yes
Rustic Elegance
Relax in the warm ambiance of this charming restaurant, inspired by the dining rooms of cherished National Park lodges. Dramatic murals capture the spirit and romance of the American frontier, and ornate iron lanterns are suspended from tremendous timber columns.
Dine indoors as you enjoy panoramic views of Bay Lake and Silver Creek Falls, or retreat to the outdoor terrace to soak in the beauty of Disney's Wilderness Lodge.
Reservations are recommended and can be made up to 180 days prior to your visit.
---
Pacific Northwest Fare
Enjoy specialties from the Pacific Northwest, with a focus on seafood, sirloin and game. Though menu options change seasonally, the kitchen's signature dish is a cedar plank-roasted salmon. For dessert, try the chef's Artist Point Cobbler, made from seasonal berries and topped with house-made black raspberry ice cream.
---
Award-Winning Wine List
The comprehensive, award-winning wine list features over 130 selections exclusively from Pacific Northwest wineries. Many wines are available both by the glass and the bottle, and Guests can complement their meals with a wine flight pairing. Guests must be 21 years of age and up to enjoy alcoholic beverages.
---
Dress Code
At this Signature Dining experience, Guests are asked to adhere to the dress code.
Men may wear khakis, slacks, jeans or dress shorts and collared shirts. Sport coats are optional.
Women may wear Capri pants, skirts, dresses, jeans or dress shorts.
Not permitted in the dining room are tank tops, swimsuits, swimsuit cover-ups, hats for gentlemen, cut-offs, torn clothing and shirts with offensive language or graphics.