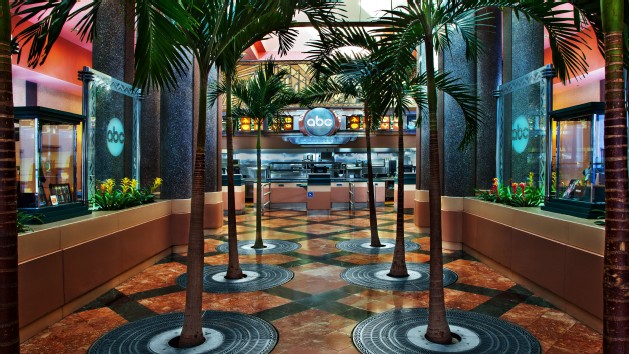 ABC Commissary
Feast on fast food with international flair: chicken curry, Asian salad, fish and chips, burgers and more. An Art Deco setting features film posters of past and present while movie trailers play on TVs. Beer and wine are also available.
---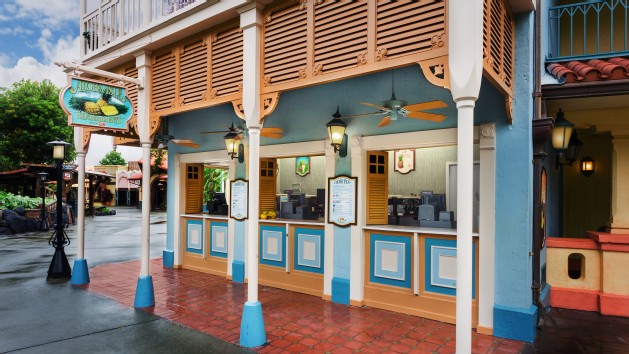 Aloha Isle
Dole out smiles with the much sought-after soft-serve treat Dole Whip, in pineapple, orange, vanilla or swirled. Floats, soft-serve ice cream, fresh pineapple spears, chips and soft drinks are also available from this walk-up window.
---
Amorette's Patisserie
Saunter over to this artsy yet sophisticated pastry shop and set your eyes on an exquisite gallery of goodies—think éclairs, New York-style cheesecake, cookies, gluten-free macarons and signature cakes, which you can watch chefs decorate.
---
Ample Hills Creamery
Treat yourself to a tasty cone straight out of Brooklyn, courtesy of this turn-of-the-century take on the ice cream parlor.
---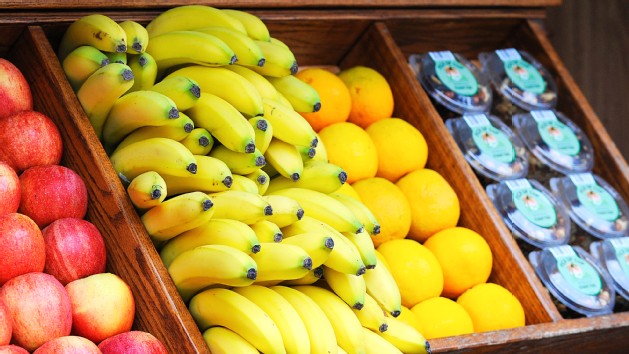 Anaheim Produce
Grab hold of an on-the-go energy boost at this healthy cart featuring a fast and refreshing assortment of snacks and treats, including fresh fruit and veggies, Mickey pretzels with zesty cheese sauce, frozen lemonades, margaritas and more.
---
Anandapur Ice Cream Truck
As you cruise through Disney's Animal Kingdom theme park, pull off from the pathway throughout the day and pick up a soft-serve waffle cone or a frosty float with your choice of fountain beverage—as prepped by the Anandapur Ice Cream Truck!
---
Arctic Expeditions
Keep on trekking until you see this meals-on-wheels snowmobile near the Chairlift entrance, then delight your appetite with a hearty cheese steak or chicken gyro sandwich or grilled chicken, feta and watermelon salad—and top it all off with a thirst-slaking frozen blueberry-lemonade!
---
AristoCrepes
Surprise your taste buds with a swoon-worthy selection of sweet and savory crepes. Delicious picks range from s'mores and key lime cheesecake to beef with horseradish cream and turkey with brie—refreshing tonics are also available.
---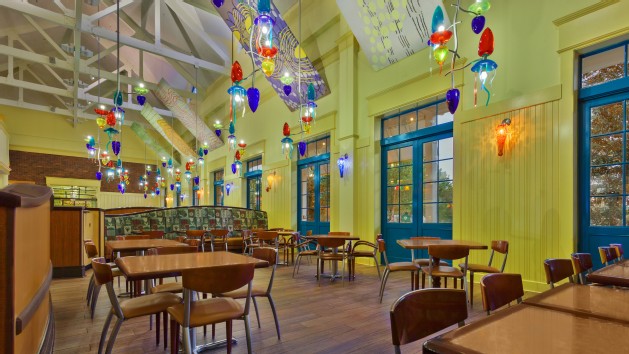 The Artist's Palette
Paint a pleasing culinary picture with gourmet sandwiches, salads, soup, flatbreads and grab 'n' go items. Hot breakfast is served until 11:00 AM. After 5:00 PM, enjoy chef's dinner specials like rotisserie chicken or stuffed meatloaf.
---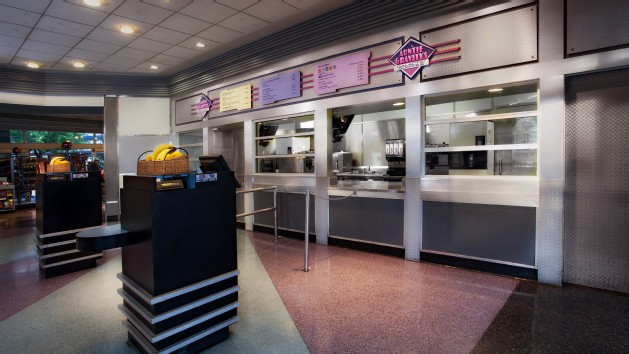 Auntie Gravity's Galactic Goodies
Come back down to Earth for a sweet treat: soft-serve cones, sundaes, floats made with soda or iced coffee, smoothies, muffins, fruit and fountain soft drinks. Coffee, tea, hot chocolate and assorted cereals with milk are also available.
---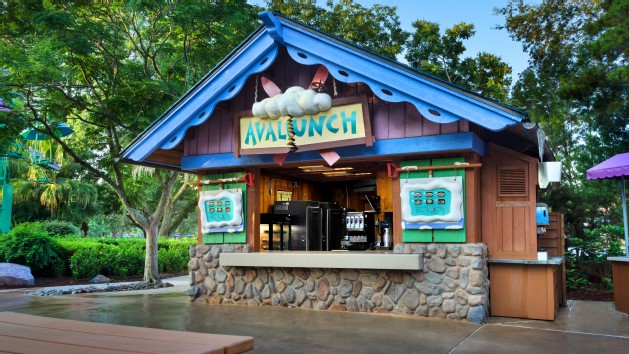 Avalunch
Don't let your hunger slide. Get a grip with loaded hot dogs, turkey legs, chicken salad, frozen novelties, desserts, chips, draft beer and soft drinks. Try the Blizzard Dog or the Tropic Dog, with banana peppers, tomatoes and onions.
---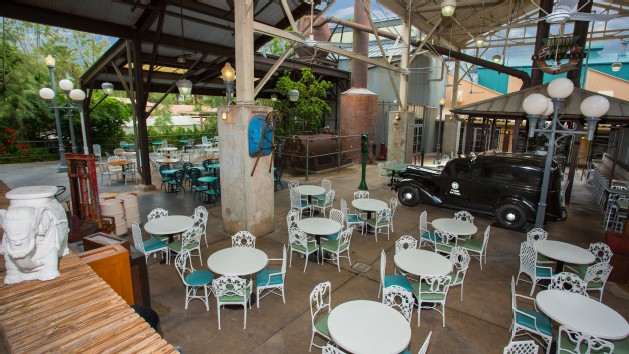 Backlot Express
Grab a bite before you head to the set: the Angus onion straw cheeseburger, Southwest chicken salad, grilled vegetable sandwich and more. Kids' favorites like hot dogs round out the menu. Desserts, beer and soft drinks are also available.
---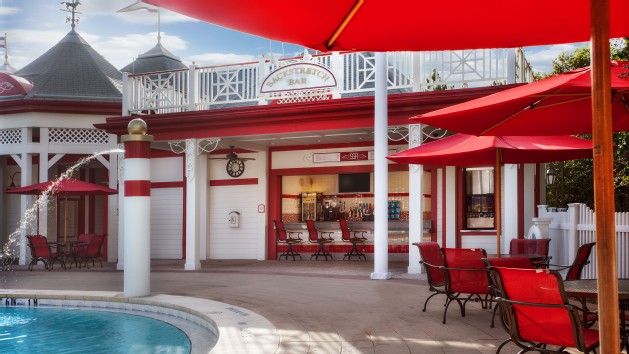 Backstretch Pool Bar
Round the home stretch with a refreshing non-alcoholic drink in hand, or choose from a winning selection of beers and cocktails. Make your victory lap even sweeter with a selection of poolside snacks, including hot pretzels and sandwiches.
---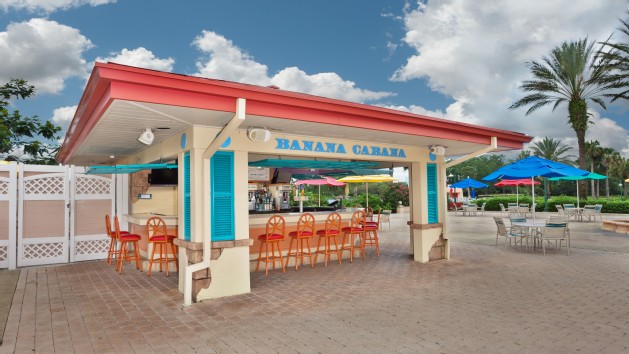 Banana Cabana Pool Bar
Go bananas with specialty tropical drinks as you enjoy the marina view. Try the Banana Cabana, Piña CoLAVA, Caribbean limeade or the house specialty, the Goombay Smash. Beer, wine, sangria and a full bar are also available.
---
Barefoot Pool Bar
Kick off your shoes and enjoy the white sandy beach as you sip on Tiki drinks and take in views of Magic Kingdom park. Try the Captain's Mai Tai or a Pipeline porter infused with Kona coffee. Beer, wine and a full bar are also available.
---
B.B. Wolf's Sausage Co.
Huff, puff and blow your hunger away at this gourmet kiosk serving up artisan sausages—each with a clever array of toppings. Pair your favorite with a fountain soft drink or draft beer.
---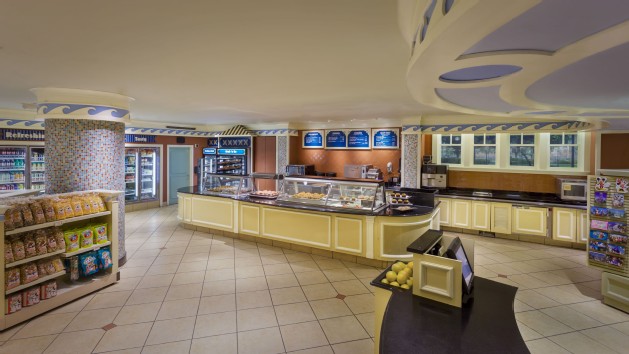 Beach Club Marketplace
Start your day with hot breakfast items like a scrambled egg platter, and fuel up on lunch and dinner served until 11:00 PM: flatbread pizzas, made-to-order sandwiches and soups, including New England "chowda."
---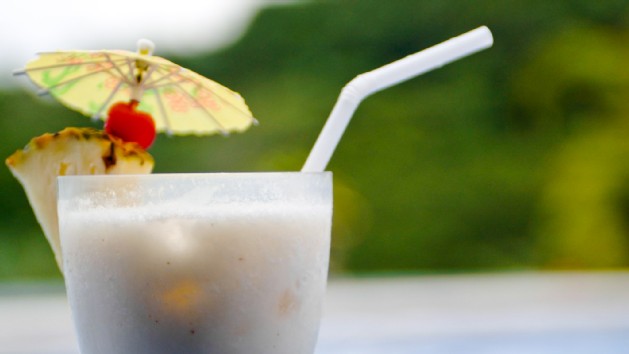 Beaches Pool Bar & Grill
Enjoy a drink in style at this gleaming white gazebo bar by the sandy beach and zero-entry pool. Sip on a selection of wines, beers and specialty cocktails, including the blackberry peach lemonade. Snacks and poolside service are available.
---
Be Our Guest Restaurant 
Step inside the Beast's enchanted castle for a delicious quick-service breakfast or lunch—or an unforgettable sit-down dinner.
---
Blaze Fast-Fire'd Pizza
Visit this modern-day pizza joint to customize your own fast-fire'd 11" artisanal pie by choosing from over 40 delicious toppings and sauces. Freshly made salads, s'mores dessert pies and blood orange lemonade are also popular picks.
---
Block & Hans
Wet your whistle with a stop at this popular spot and let the "Purveyors of Fine American Ale" introduce you to some of the great American craft beers! Mickey pretzels with cheese sauce and bottled water are also available.
---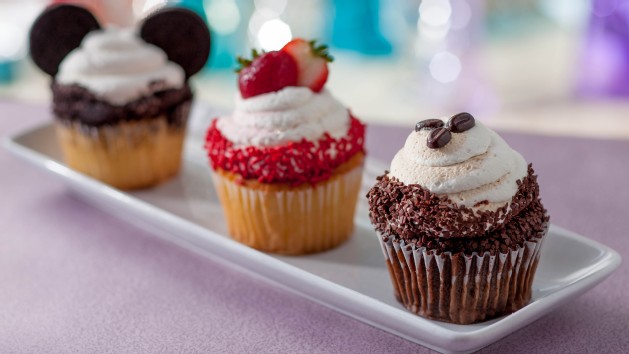 BoardWalk Bakery
Stroll along the seashore till you stumble upon this quaint stop where you can entice your palate with a host of freshly made house favorites—from baked goods, soups, salads and sandwiches to a selection of beverages, both hot and cold.
---
BoardWalk Joe's Marvelous Margaritas
Walk on the wild side with a frozen concoction, including margaritas, piña coladas and the Captain's Seaside Sensation—a pineapple smoothie with a shot of Captain Morgan Spiced Rum! Mickey pretzels and roasted nuts are also available.
---
Bongos Cuban Cafe Express
Drum up some fun and refreshment with a quick stop at this Latin-themed hotspot where you can find all kinds of festive foods, including delicious Cuban sandwiches, seasonal salads, authentic empanadas and beverages like Cuban coffee too!
---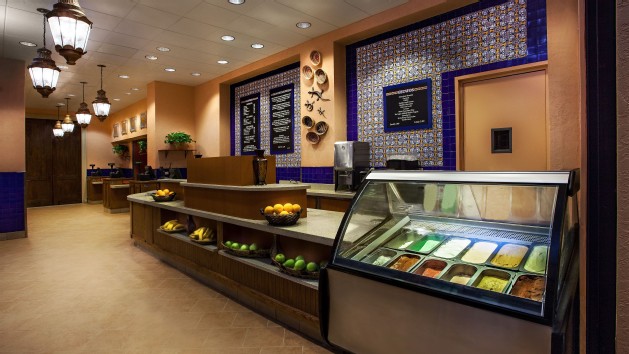 Cafe Rix
Get a quick fix at Rix: breakfast sandwiches are served until 11:00 AM and lunch and dinner until midnight. Choose from pizzas, sandwiches, wraps, salads, fruit and kids' favorites. Beer and wine are also available.
---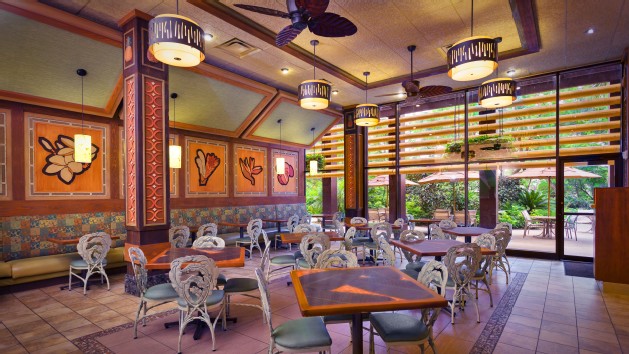 Capt. Cook's
Explore your options with breakfast till 10:30 AM and grill items for lunch or dinner until 11:00 PM. Choose from sandwiches, burgers, salads, stir-fries, flatbreads, sushi and grab 'n' go items. Dole Whip, beer and wine are also available.
---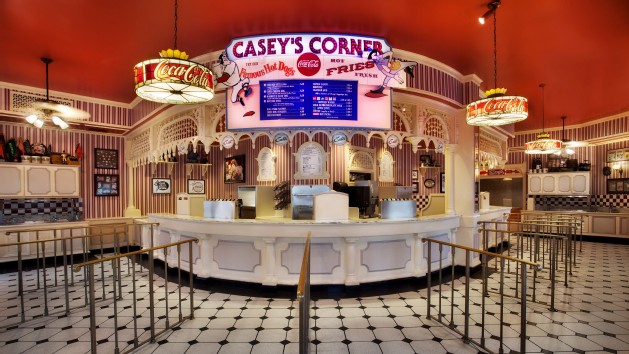 Casey's Corner
Hit it out of the park with American baseball favorites: hot dogs, nachos, corn dog nuggets, French fries, cotton candy and Cracker Jack. You may even catch Jim tickling the ivories to ragtime tunes outside. Soft drinks are also available.
---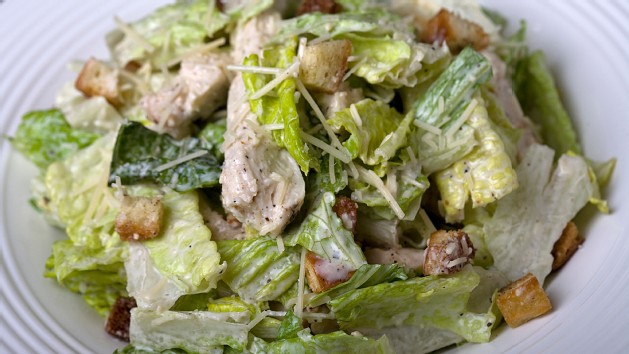 Catalina Eddie's
Cruise over to this island at Sunset Ranch Market to find quick and fresh fare, including pizza, hot Italian deli sandwiches, zesty Caesar salads and delectable house-made desserts like banana parfait and vanilla cake with chocolate custard.
---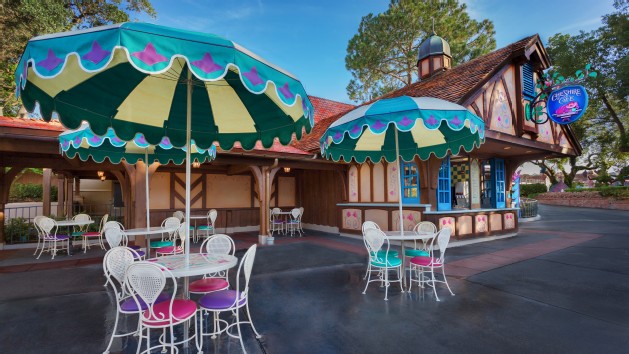 Cheshire Café
Start your day with a smile. Appear at this quaint cottage kiosk for muffins, whole fruit, assorted cereals with milk, iced or hot coffee, tea, cocoa, lemonade and raspberry-lemonade slushes, and Minute Maid juice drinks.
---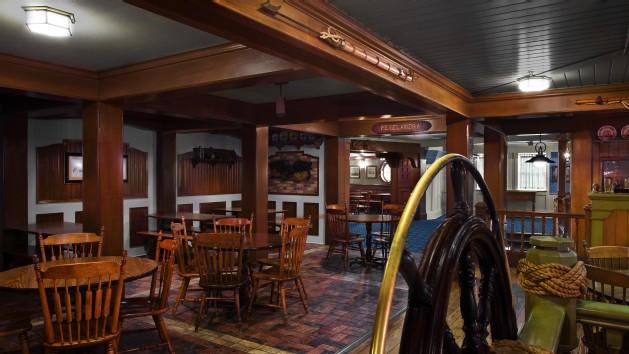 Columbia Harbour House
Reel in fried fish, shrimp or chicken baskets, lobster rolls, New England clam chowder, grilled salmon, vegetarian chili and salads. Specialty sandwiches include the Anchors Aweigh, made with white tuna, and the Lighthouse, made with hummus and broccoli slaw. Kids can enjoy macaroni and cheese, chicken nuggets and more. Top off your meal with seasonal cobbler, yogurt and fountain drinks.
---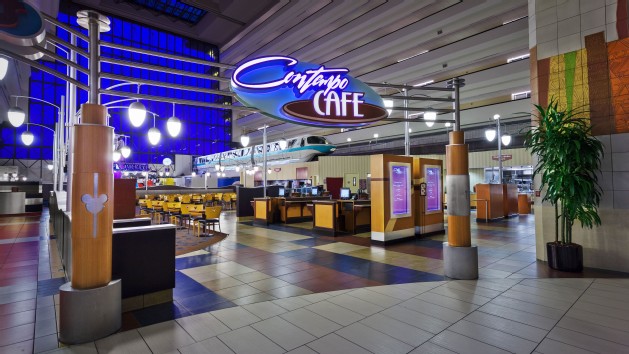 Contempo Café
Order using a high-tech touch screen, which will compute the cost of your meal as you go. Hot breakfasts, bakery items, fresh salads, hot and cold sandwiches, flatbreads and pasta entrées are served. Grab 'n' go items are also available.
---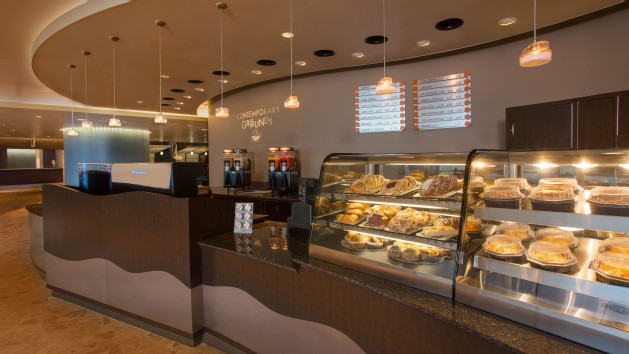 Contemporary Grounds
There's coffee in your future at this sleek counter featuring gourmet coffees, iced tea, hot chocolate, smoothies and assorted baked goods. It's the perfect place to perk up real quick before hitting the parks!
---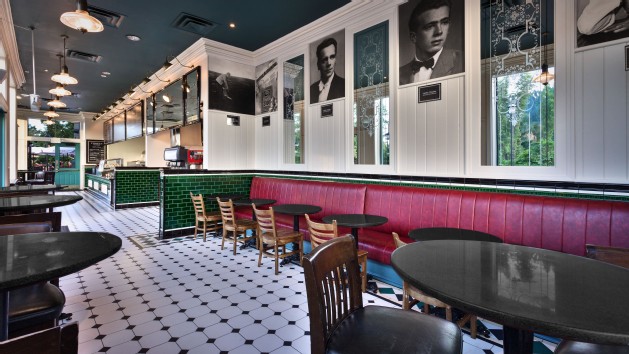 Cookes of Dublin
Enjoy the grub of the Irish with family recipes dating back to the 1930s: battered fish, chicken and sausages with hand-cut chips, savory pies and Atlantic scallops. Pies include beef and lamb, chicken and mushroom, and smoked haddock.
---
Cooling Hut
Thaw out in the heat with a frozen treat that's nice and sweet, like a Mickey's Ice Cream Bar. Or, head off your hunger with something much warmer, including soft pretzels and popcorn. Beverages both hot and cold are also available.
---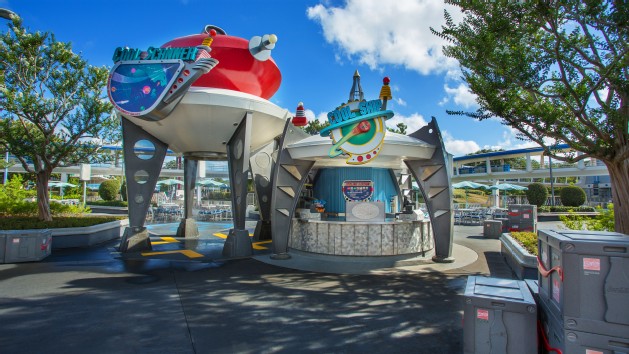 Cool Ship
Chill out and fuel up with fountain drinks, bottled water and salted pretzels at this space-age stand near Space Mountain. You can also purchase a sport bottle with your choice of fountain drink.
---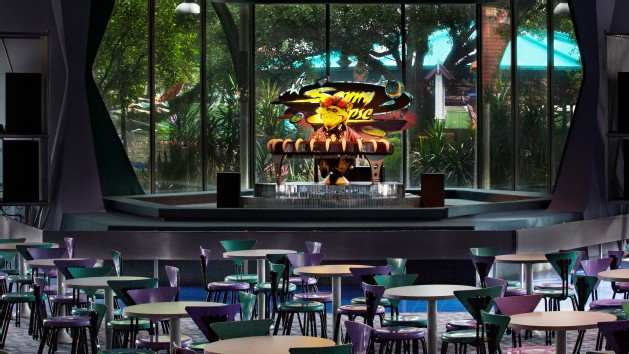 Cosmic Ray's Starlight Café
A galaxy of choices—Bay 1: Rotisserie chicken, BBQ pork sandwiches and chicken breast nuggets; Bay 2: Angus burgers, vegetable burgers and hot dogs; Bay 3: sandwiches, soup and salads. Plus a topping bar! Indoor seating is available. Keep a lookout for alien Audio-Animatronics entertainer Sonny Eclipse!
---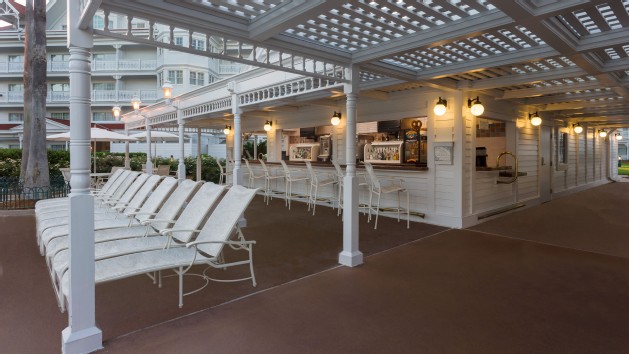 Courtyard Pool Bar
Enjoy a refreshing dip then a refreshing sip by the largest pool at the Resort. A ping-pong table and 2 TVs provide added entertainment. Specialty cocktails, beer, wine, sangria, light snacks and poolside service are available.
---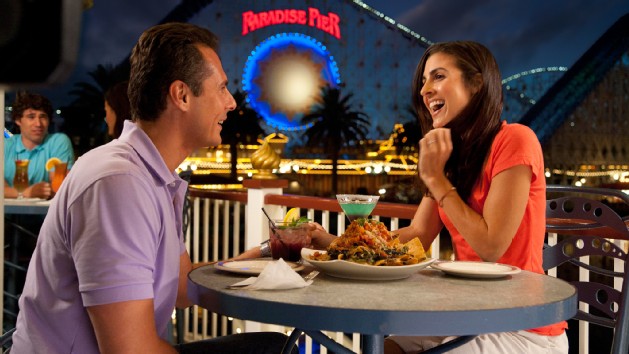 Cove Bar
Find refuge, a bevy of beverages, and eats like chilled sandwiches and salads at this private poolside bar for Disney Vacation Club members and Guests of Bay Lake Tower. Specialty cocktails, beer, wine and private dining are available.
---
Creature Comforts
Discover the delightfully re-imagined Creature Comforts in Discovery Island at Disney's Animal Kingdom theme park—now an exciting new STARBUCKS® coffee and specialty beverages location serving a selection of Disney baked goods and La Boulange™ pastry items!
---
Crepes des Chefs de France
Treat yourself to a light and crispy snack—crepe flavors include plain sugar, chocolate, strawberry preserve and plain sugar topped with soft serve ice cream. Pair your favorite with a delicious espresso or cappuccino.
---
The Daily Poutine
Try a classic Canadian dish—hot, thick-cut French fries loaded with tasty toppings such as cheddar cheese curds and beef gravy. You'll find 4 varieties along with an assortment of specialty sips.
---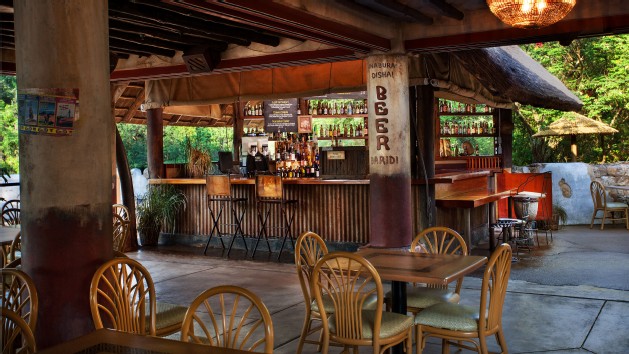 Dawa Bar
Sip on South African wines in the heart of Harambe village at this bamboo bar by Tusker House Restaurant. African beer, including the elusive Tusker Lager, and specialty cocktails like Lost on Safari and the Dawa Colada are also served.
---
Dino-Bite Snacks
Dig up frozen delights at this fossil-friendly site! Re-enact the Ice Age with ice cream cookie sandwiches, floats and cool hot fudge sundaes.
---
Disney Resorts Pizza Delivery
Dine in on delivery classics including specialty pizzas, wings, desserts, beverages and more brought right to your door.
---
D-Luxe Burger
Satisfy gourmet cravings at this ranch-inspired eatery overlooking the springs. Artisanal gelato shakes and freshly cut fries with house-made dipping sauces fully complement the savory scene that has something for every burger aficionado.
---
Dockside Margaritas
Chill out at this laid-back waterfront margarita bar themed after a 1960s Florida fruit-stand—and enjoy some handcrafted margaritas, authentic Florida brews, live entertainment and delightful views of Buena Vista Cove.
---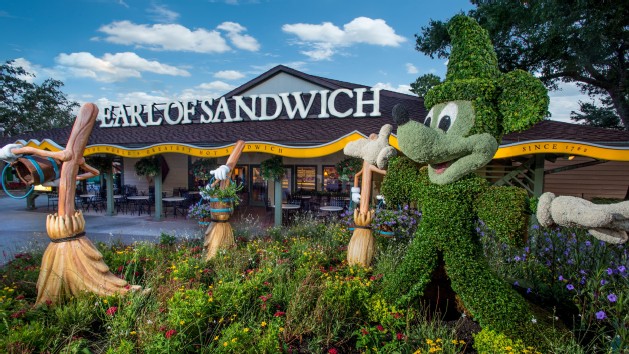 Earl Of Sandwich
John Montagu invented the sandwich in 1762; his descendants perfected it! Try the signature roast beef sandwich on hearth-baked bread or any of number of hot or cold gourmet sandwiches. Soups, salads, wraps and desserts are also served.
---
Eight Spoon Cafe
Cruise through your day at Disney's Animal Kingdom park with quick-and-easy snacks—like our three-cheese pasta, assorted chips and soft drinks. Plus, before you journey back out into the wild, be sure to bring a Mickey pretzel along for the ride!
---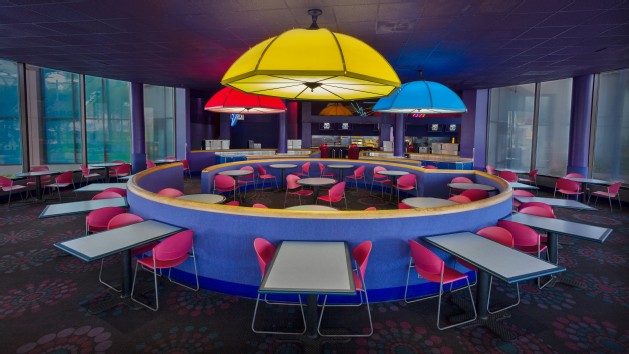 Electric Umbrella
It's raining lunch, hallelujah! Eat beneath colorful canopies at this food court featuring mushroom swiss cheeseburgers, meatball subs, vegetable flatbread, chicken caesar salad, chicken breast nuggets, desserts and soft drinks.
---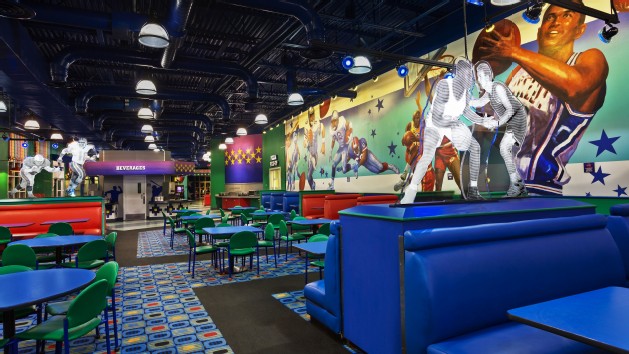 End Zone Food Court
Pardon our dust while we take a time-out—the End Zone Food Court is being refurbished, but for now, you can still blitz your hunger at Game Point Arcade Food and Beverage and the Team Spirits Pool Bar! Pizza Delivery is also available.
---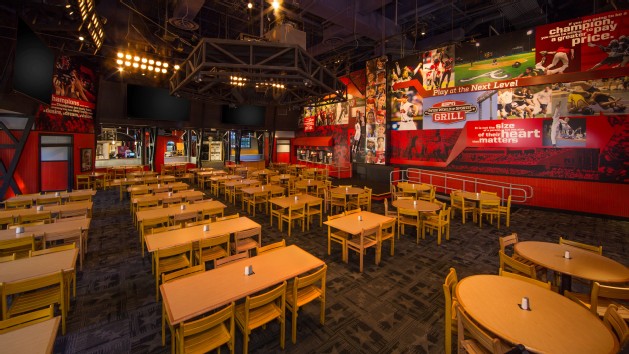 ESPN Wide World of Sports Grill
Watch the game on one of 7 HDTVs and wolf down some wings! Score hot or cold sandwiches, burgers, soups, salads, pizza, nachos and more. A full bar is available, as is patio seating with 2 TVs. Snap a photo at the Sports Center desk!
---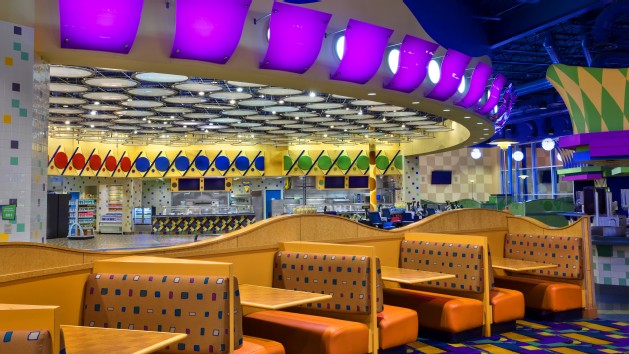 Everything POP Shopping & Dining
Pop in and choose food from any of 7 stations: grab 'n' go items, grill fare, pizza, pasta, sandwiches, healthy choices and ethnic cuisine. Specialties include oven-fired flatbreads, lo mein, pan-seared fish and house-made desserts.
---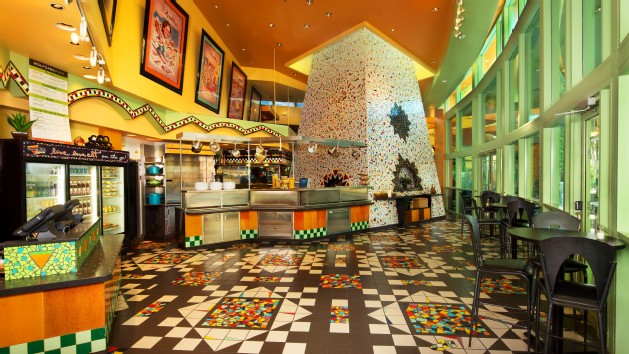 The Express at Wolfgang Puck® Grand Cafe
Enjoy gourmet on the go with specialty sandwiches, soups, salads, wood-fired pizzas and more. Dine on freshly made fare like butternut squash soup, Chinois chicken salad or a beef and gorgonzola pocket. Beer and wine are also available.
---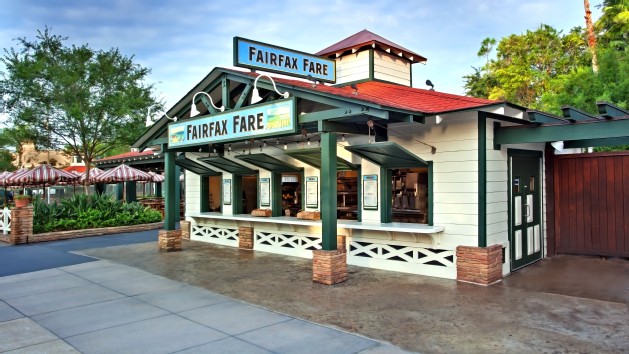 Fairfax Fare
Take a break on the boulevard with a half-chicken meal, St. Louis ribs or a BBQ pork sandwich, all served with baked beans and coleslaw. Turkey legs, the Fairfax salad and fully loaded gourmet hot dogs are also served. Beer is available.
---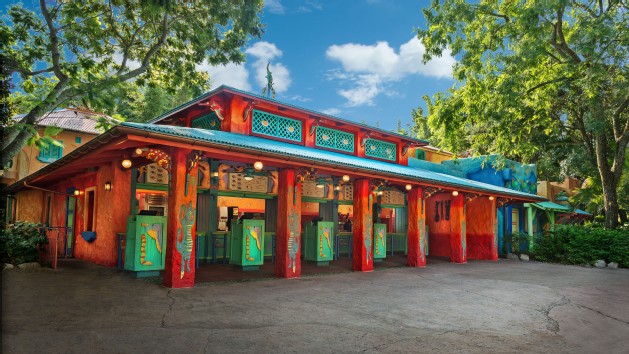 Flame Tree Barbecue
Enjoy a terrace view and hearty meals seasoned with our special Flame Tree BBQ rub. Come try the chicken, St. Louis ribs or our pulled pork sandwich. Desserts, soft drinks, beer and wine are also available.
---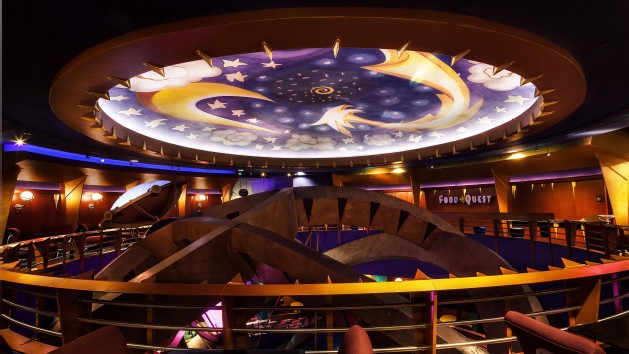 FoodQuest
Take a break from virtual reality with real food: bacon cheeseburgers, the chicken BLT, meatball subs, hot dogs, wraps, pizza, pasta, salad and more. Frozen novelties, desserts and treats like cotton candy and glazed nuts add even more fun.
---
Food Truck – Fantasy Fare
Treat your senses to tasty grub from Disney theme parks spanning the globe—like sticky chicken & waffles inspired by those at Magic Kingdom park, the Croque Monsieur from Disneyland Paris and hand-dipped corn dogs from Disneyland Park!
---
Food Truck – Namaste Cafe
Savor the wild fare from Disney's Animal Kingdom theme park at this colorful rig! From butter chicken to lamb kefta with tomato cucumber raita sauce, these untamed flavors will have your whole pack roaring with delight.
---
Food Truck – Superstar Catering
Dine like a celebrity on scrumptious creations like flatbreads or shrimp and lobster macaroni and cheese.
---
Food Truck – World Showcase of Flavors
Take a victory lap with the globe-trotting eats of the Epcot International Food & Wine Festival at this popular food truck. From grilled chicken breast gyros to pork potstickers to grass-fed beef sliders, there's a cuisine to please all palates!
---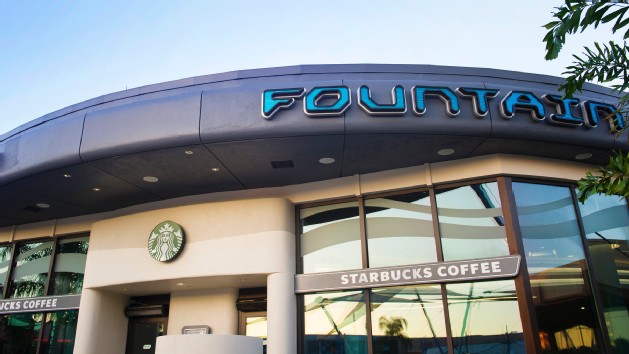 Fountain View
Indulge in an all-new view of this Future World favorite! Pour over classic pick-me-ups—including Starbucks® espresso and specialty beverages—or fill up on warm and tasty treats like Artisan breakfast sandwiches and house-made Disney sweets.
---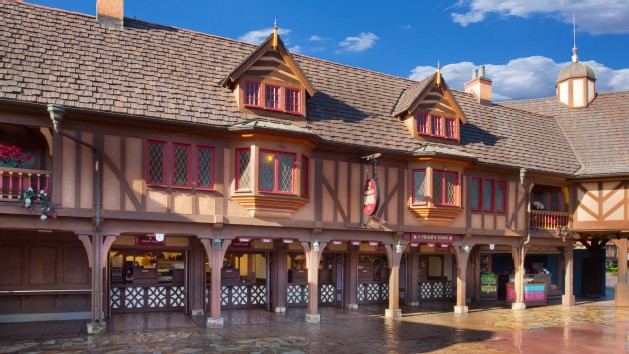 The Friar's Nook
Tuck into the Friar's for tasty fare, including teriyaki or traditional chicken breast nuggets with freshly made potato chips, hot dogs, and veggies and chips with hummus, as well as refreshing beverages like lemonade slush and iced coffee.
---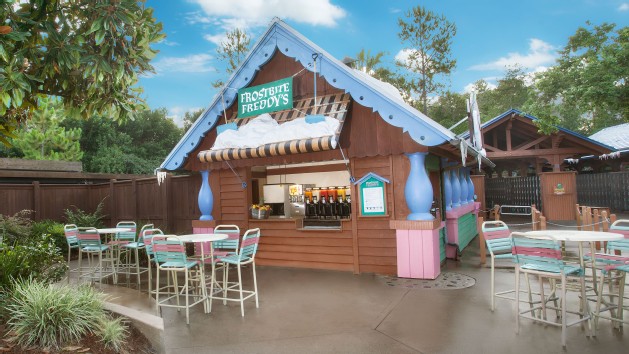 Frostbite Freddy's Frozen Freshments
Cool your heels with frozen novelties—including Mickey ice cream bars—smoothies, frozen lemonade, bottled beer, an "1800 margarita" or a Long Island iced tea. Whole fruit, cookies and pickles are also available at this snow-capped stand.
---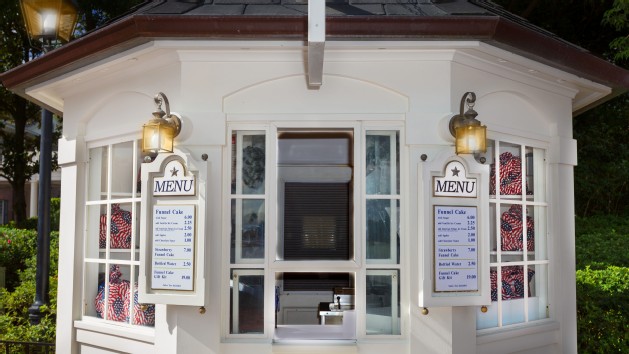 Funnel Cake
Satisfy your sweet tooth with a freshly made funnel cake. Dress it up with your choice of powdered sugar, chocolate syrup or ice-cream, and wash it all down with an ice-cold beverage.
---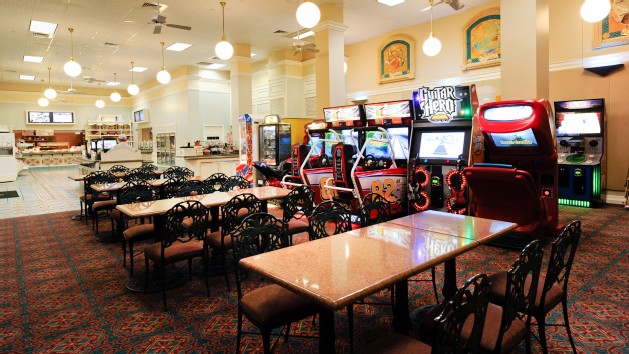 Gasparilla Island Grill
Relax and refuel 24/7 in this casual dining restaurant. Enjoy a hot breakfast served daily until 11:00 AM, and made-to-order grill items until 11:30 PM. Sandwiches, burgers, pizzas, soups, salads, grab 'n' go items, desserts, beer and wine are available.
---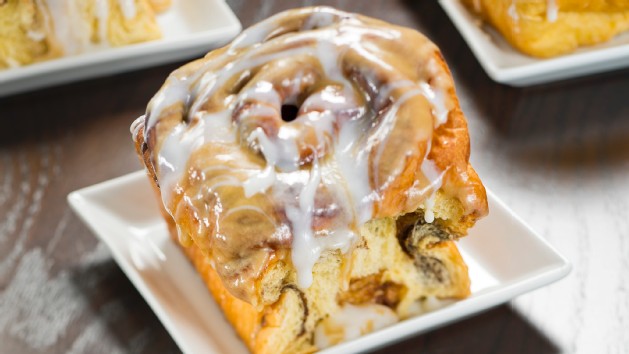 Gaston's Tavern
The manliest of manly places, Gaston's Tavern serves up such satisfying snacks as roasted pork shanks, mixed vegetables cups, hummus with chips, fruit cups and warm cinnamon rolls. Plus, enjoy refreshing beverages, like LeFou's Brew—the restaurant's signature non-alcoholic drink.
---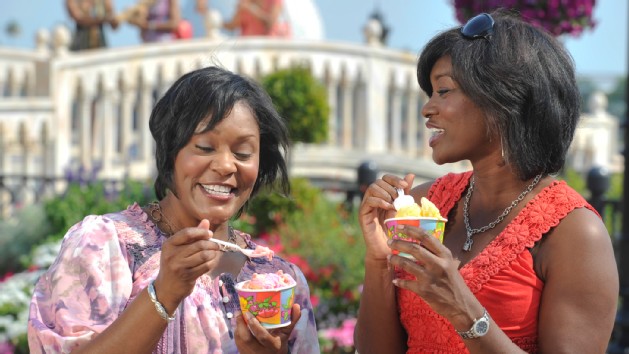 Gelati
Journey into an old world of indulgence with 2 scoops of Italian gelato! Enjoy la dolce vita in a cono, a coppetta or sandwiched between 2 chocolate chip cookies. Beverages are also available, including fine Italian wine, espresso and more.
---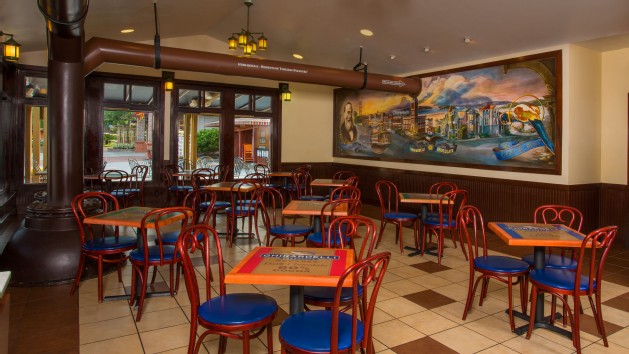 Ghirardelli Ice Cream & Chocolate Shop
The world-famous chocolatier delivers decadent sundaes smothered with hot, house-made fudge as well as chocolate treats and drinks. Strike It Rich with specialty San Francisco-themed sundaes, shakes and floats. Coffee is also available.
---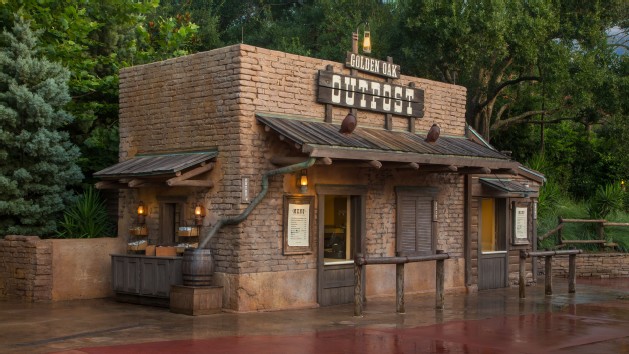 Golden Oak Outpost
Rustle up some vittles on the go at this Old West-style brick building: fried chicken breast sandwiches, chicken nuggets, French fries and desserts including chocolate or carrot cake. Soft drinks, coffee, tea and cocoa are also served.
---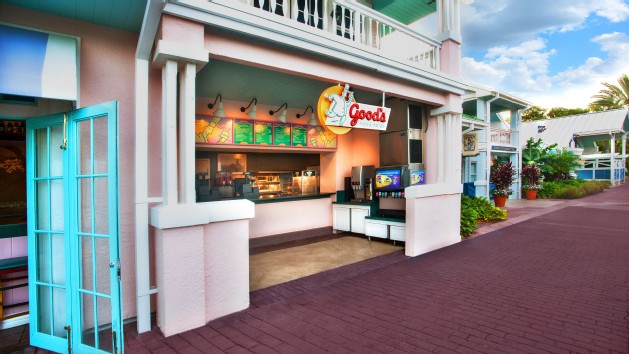 Good's Food to Go
It's all good! Burgers, hot dogs, sandwiches, salads, soups, desserts, ice cream, snacks and beverages are ready to grab and go. Enjoy a cheeseburger, nachos or even chicken noodle soup at a shaded picnic table near the main pool.
---
Grandstand Spirits
Hang loose at this lively bar just 10 toes from the nose of the Surfboard Bay Pool. Bask in a bevy of beverages, including specialty cocktails, frozen drinks, draft beer, sangria and wine.
---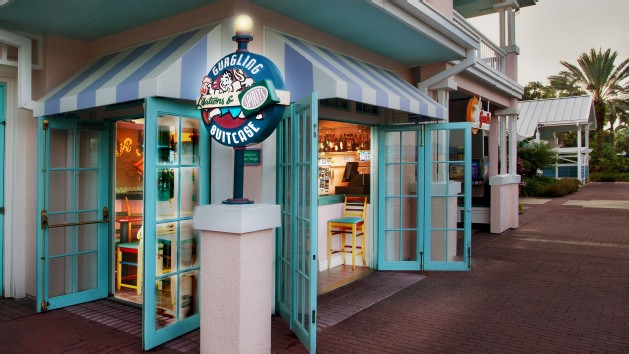 Gurgling Suitcase
Belly up to this cozy little Key West-style bar and try the Turtle Krawl, Sultry Seahorse or your drink of choice inside or by the pool. Wine and domestic and imported beer are also served. Hungry, too? The lunch and dinner menu from Olivia's Cafe is available!
---
Häagen-Dazs at Disney Springs West Side
Celebrate your sweet side with a frozen treat made like no other! Whether cup or cone, take your pick from a frosty assortment of flavors—including dazzling sundaes and frosty shakes as only the folks at Häagen-Dazs can create.
---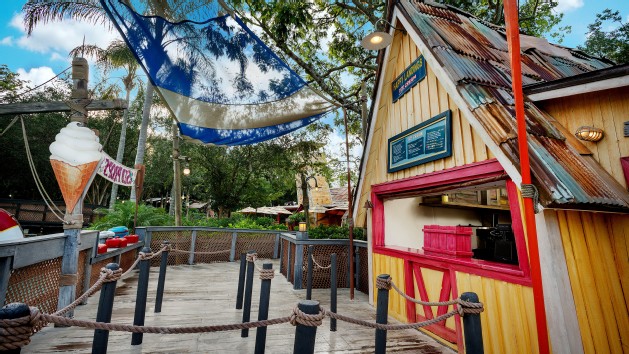 Happy Landings Ice Cream
Drift by for a root beer float or a waffle sundae at this hut beside Castaway Creek. Or try the gargantuan Garbage Pail sundae, 8 scoops of ice cream and toppings eaten with a shovel! Ice cream novelties and soft drinks are also available.
---
Harambe Fruit Market
Take your pick from the freshest fare Disney's Animal Kingdom theme park has to offer—apples, oranges, bananas and more! Or, sink your teeth into offerings inspired by the salt of the earth, including Mickey pretzels and assorted chips.
---
Harambe Market
Venture to this seaside town where 4 walk-up windows await your arrival—each featuring a variety of African tastes, tannins and more.
---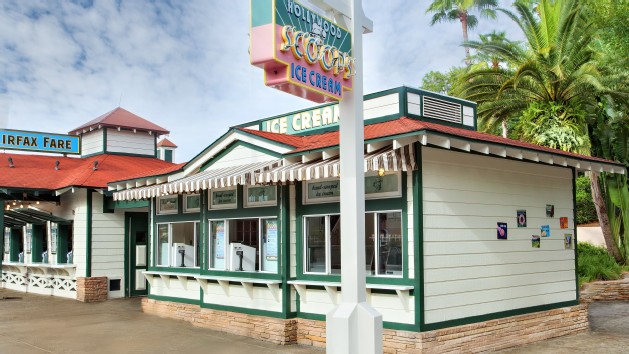 Hollywood Scoops
Get the inside scoop with hand-dipped ice cream, sundaes and ice cream cookie sandwiches. Stars on the menu include the apple crisp à la mode and the brownie sundae. Sugar- and fat-free options are also available.
---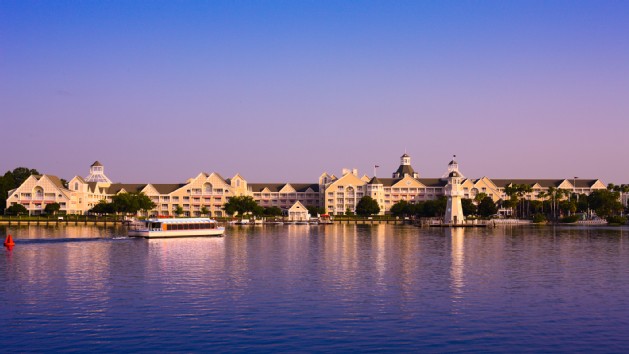 Hurricane Hanna's Waterside Bar and Grill
Enjoy the view of Stormalong Bay as you're blown away by a sea of signature cocktails, frozen drinks and draft beers like Hurricane Reef Caribbean pilsner. Keep your sweet tooth safe with some gelato or a Mickey's Premium Ice Cream Bar.
---

I.C. Expeditions
In search of something sweet? Cool off with frozen treats that include sundaes, floats, bars, waffle cones and other frosty desserts at this ice cream stand in Disney's Blizzard Beach.
---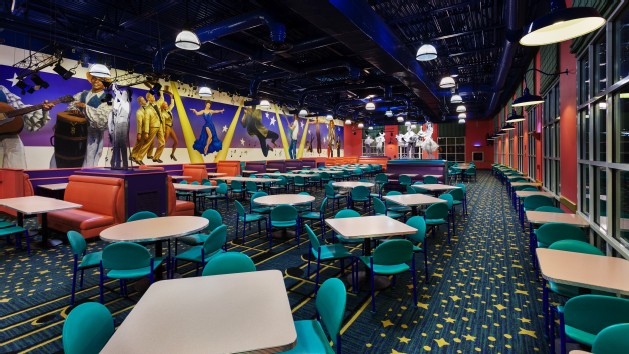 Intermission Food Court
Choose from all of our greatest hits: grab 'n' go items, burgers, pizza, pasta, hot or cold sandwiches, quesadillas, nachos, pasta and delectable desserts. Hot breakfast items are served until 11:00 AM.
---
Isle of Java
Pining for a pick-me-up? Located in Discovery Island, choose from fresh-brewed espresso, cappuccino, cold drinks and various sweet treats. The Island Cappuccino—made with white chocolate and Captain Morgan's Original Spiced Rum—will keep you coming back!
---
Joffery's Coffee & Tea Company
Freshen your day in a frosty way by sliding by this popular stop for tropical smoothies of all kinds! Adults can even enjoy a selection of alcoholic beverages—including coffee with Bailey's, Kahlúa and Jameson.
---
Joy of Tea
Steep your senses in the aromatic essence of tea, one of the world's most popular drinks! Leaf through a selection of flavors to pick your preference—delicate and refined or bold and strong—and then choose a treat to accompany your cup.
---
Kabuki Cafe
Enjoy the refined yet refreshing Japanese favorites of otsumami-style sushi, edamame, kakigōri, assorted Japanese sodas & beer, plum wine and hot or cold sake.,
---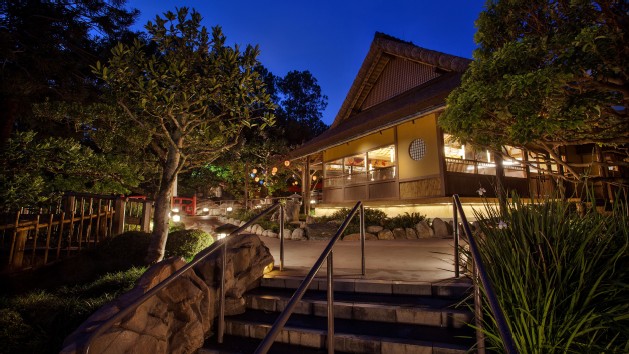 Katsura Grill
Quiet your mind and your hunger in this serene setting as you listen to the sound of distant taiko drums. Enjoy teriyaki, sushi, chicken cutlet curry, savory pancakes, salads and more. Draft beer, sake and plum wine are also available.
---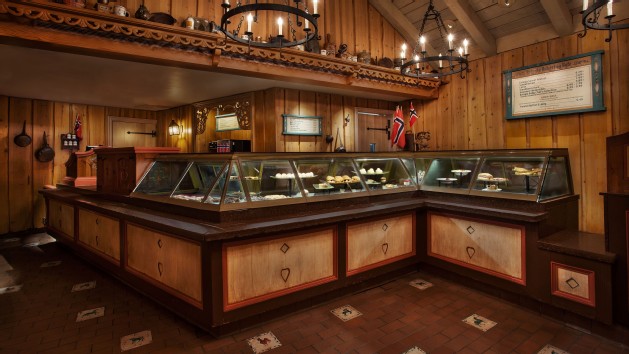 Kringla Bakeri Og Kafe
Tuck into traditional Norwegian specialties like kringla sweet pretzels, cream-filled pastry horns, lefse flatbread and the open-faced salmon and egg sandwich. Then ready yourself for conquest with the Viking coffee! Beer is also available.
---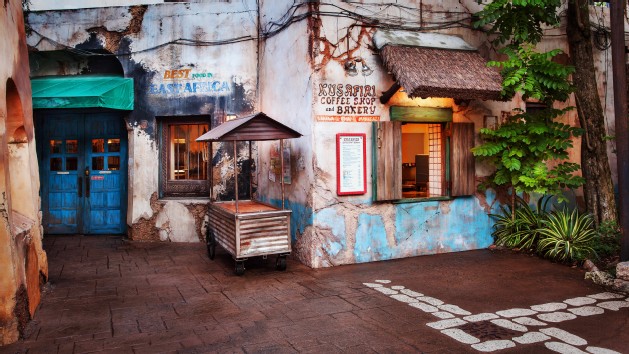 Kusafiri Coffee Shop & Bakery
Fuel up before your safari with a continental breakfast from this convenient walk-up window. Treat yourself to colossal cinnamon rolls, freshly baked pastries, assorted cereals, milk, yogurt, fruit, juice and specialty coffees.
---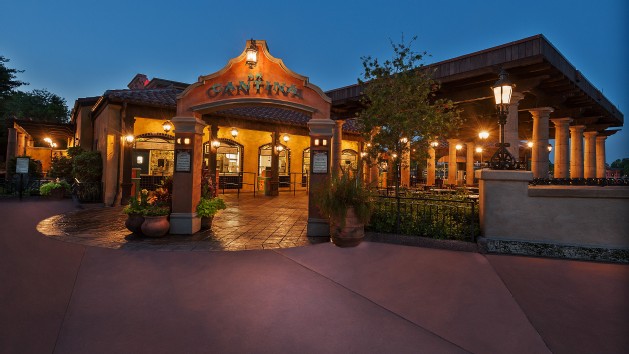 La Cantina de San Angel
Munch on Mexican favorites beside World Showcase Lagoon: beef or chicken tacos, cheese empanadas, loaded nachos and guacamole. Churros, fruit popsicles, frozen margaritas, beer and soft drinks, both Mexican and American, are also available.
---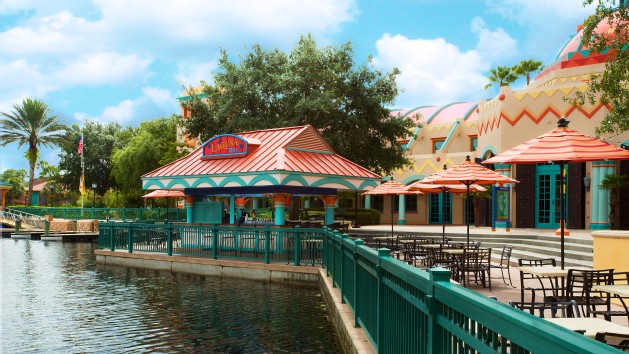 Laguna Bar
Enjoy a lakeside libation at this breezy outdoor lounge: beer, wine, frozen margaritas and specialty cocktails. Tasty light fare includes pizza, salads and sandwiches.
---
The Land Cart
Nosh on healthy fare-to-go! Recharge with a selection of fruit and cheese or veggie plates, hummus, pita chips, Ocean Spray® Craisins Dried Cranberries or Mickey pretzels. Got thirst? Frozen carbonated beverages, draft beer, juice or bottled water will quench it quick!
---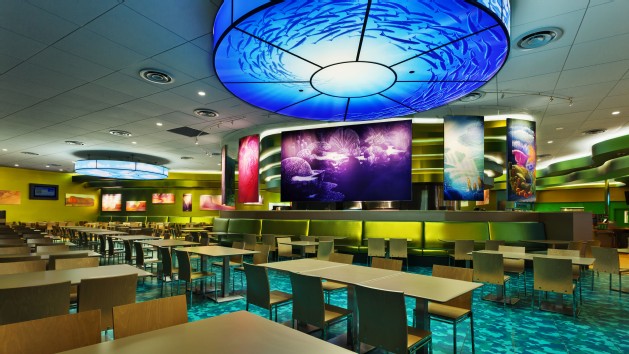 Landscape of Flavors
Please your "palette" with quick-and-delicious fare inspired by international and American favorites—including build-your-own burgers, tandoor oven-roasted meats and veggies, and an array of hot and iced coffee drinks.
---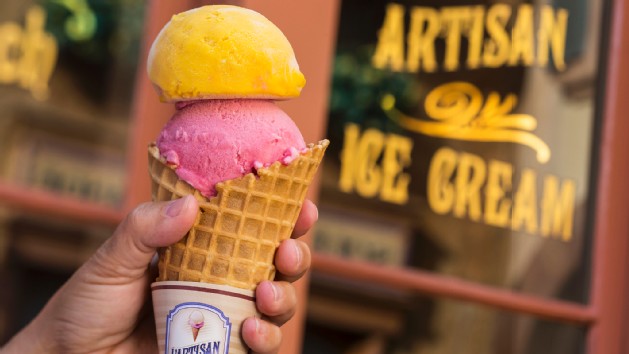 L'Artisan des Glaces
Seduce your sweet tooth, indulge your cravings and give in to your innermost desires with a tantalizing stop at this artisanal French shop, where you can find 16 flavors of hand-crafted frozen treats, including ice cream and sorbet.
---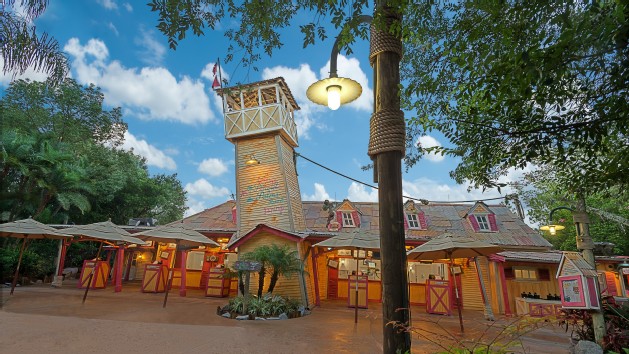 Leaning Palms
Leaning toward a quick bite and a beer? You'll find all that and more here: Angus burgers, chicken nuggets, pizza, hot dogs, hot or cold sandwiches, wraps, salads and drinks! Wet your whistle with the featured beer, Hurricane Reef Amber.
---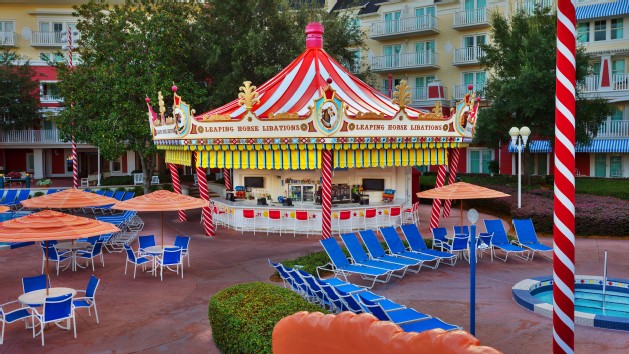 Leaping Horse Libations
Childhood memories meet adult merriment at this whimsical carousel-themed bar by the Luna Park Pool. Clown around while you enjoy specialty rocks or frozen cocktails, beer, wine and sangria. Snacks and sandwiches are also available.
---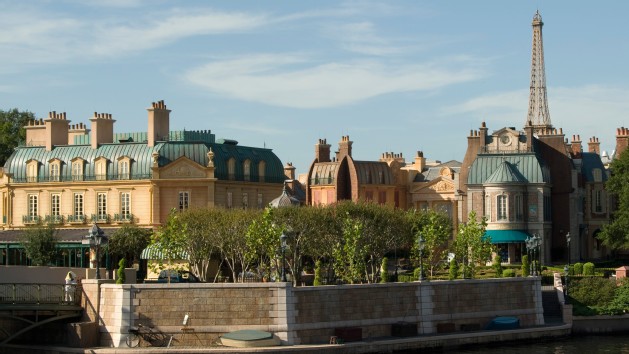 Les Halles Boulangerie & Pâtisserie
Sample delectable treats and tempting delicacies at this traditional French bakery—from soups and salads to fresh baguette sandwiches and pastries. Wine, champagne, beer and gourmet coffees are also available. Bon appétit!
---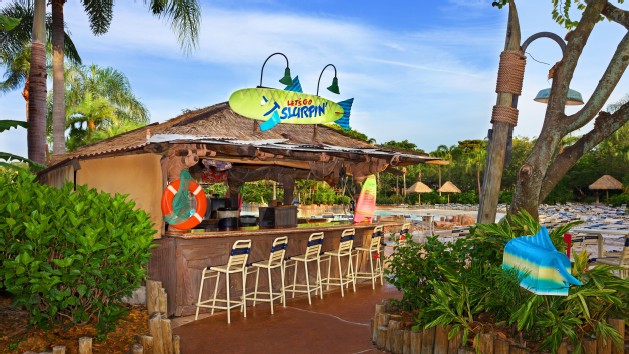 Let's Go Slurpin'
Shimmy over to this shack on the beach and loudly inhale surfside specials frozen or on the rocks, select beers or any drink from the full bar menu. Try the rum-based Miss Tilly or the frozen mango margarita, made with Patron silver.
---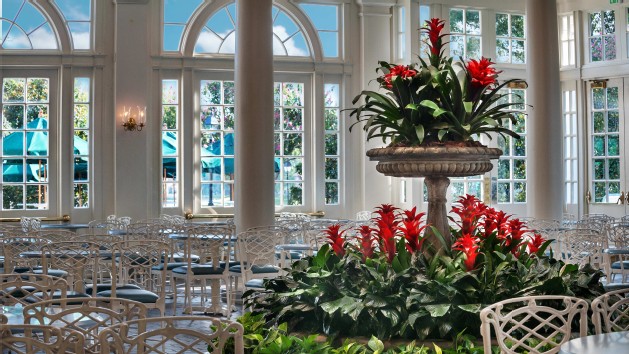 Liberty Inn
Feast on American fast food at this columned colonial-style eatery: cheeseburgers, chicken nuggets, hot dogs, fresh tossed salads and more. Then salute America by swigging on a Sam Adams! Kosher meals and veggie burgers are also served.
---
Liberty Square Market
Let freedom ring before or after your Hall of Presidents experiences at Liberty Square Market, where you can sink your teeth—whether wooden or pearly white—into chips, healthy snacks or a hot dog before wetting your whistle with a variety of beverages.
---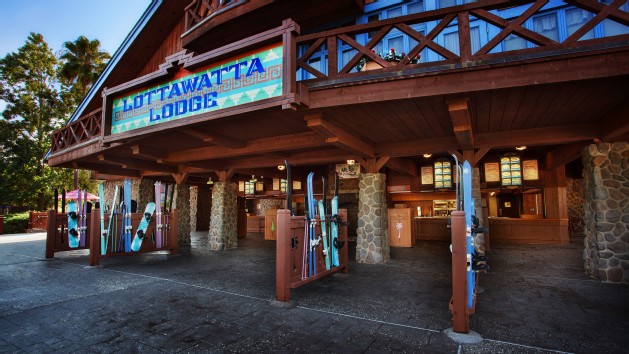 Lottawatta Lodge
Get a lotta grub at this alpine chalet: cheeseburgers, chili dogs, pizza, sandwiches, wraps, salads and more. Chill out with frozen novelties and select draft "brew-skis." All-day refillable mugs and hot and cold drinks are also available.
---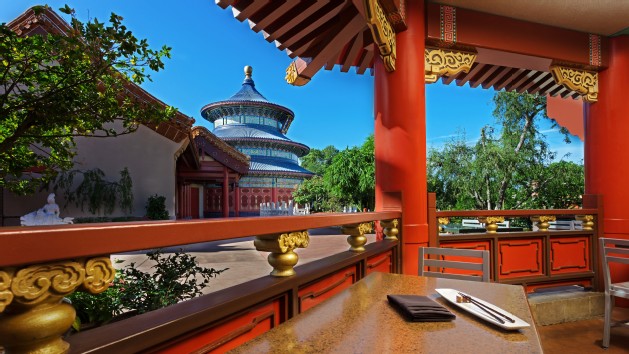 Lotus Blossom Café
Chow down on Chinese favorites: potstickers, egg rolls, orange chicken, shrimp fried rice, beef noodle soup and more. Then take your taste buds on a trip with ginger or red bean ice cream. Smoothies, plum wine and beer are also available.
---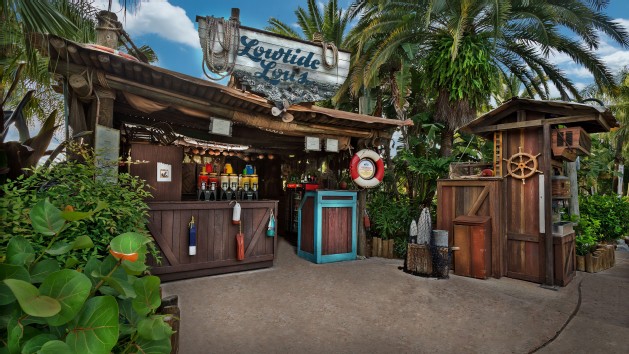 Lowtide Lou's
Low tide is lunchtime at Lou's: Caesar salad, chicken wraps, sandwiches, burgers, pizza and hot dogs. Then hit the sweet spot with ice cream novelties, frozen lemonade or a root beer float. Beer and wine are also available. Open seasonally.
---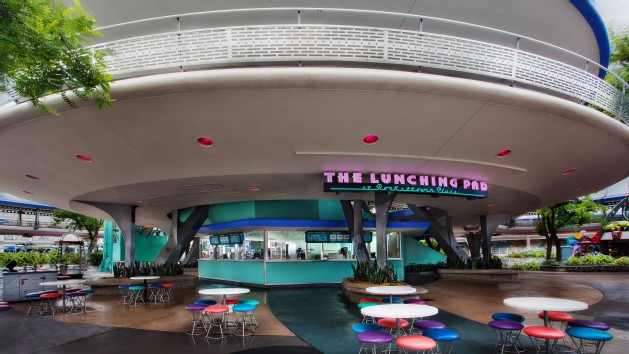 The Lunching Pad
Fuel up just before blast off with some out-of-this-world specialties including the Philly cheese steak hot dog or the Coney Island dog, topped with chili. Cream cheese pretzels, assorted chips, slushes and soft drinks are also available.
---
Mahidi
Safari trekking is thirsty work! Visit this roadside hut to satisfy your cravings with cinnamon-glazed almonds or pecans and a souvenir bucket of popcorn. Then, beat the heat with a beer, water and soda—or the popular Jungle Juice slushie!
---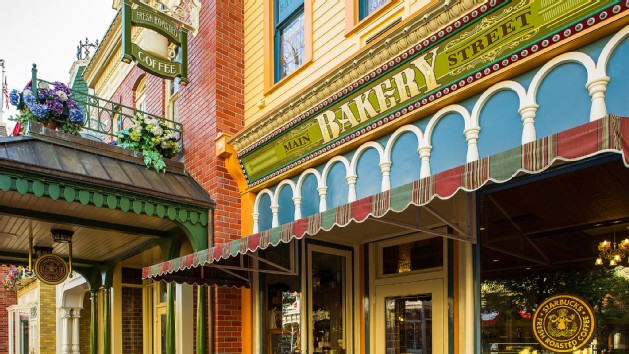 Main Street Bakery
Stop off on the way down Main Street, and top off your day with a coffee or even a tasty treat! Enjoy a Starbucks® Espresso and Specialty Beverages, Artisan breakfast sandwiches and delicious, house-made Disney sweets.
---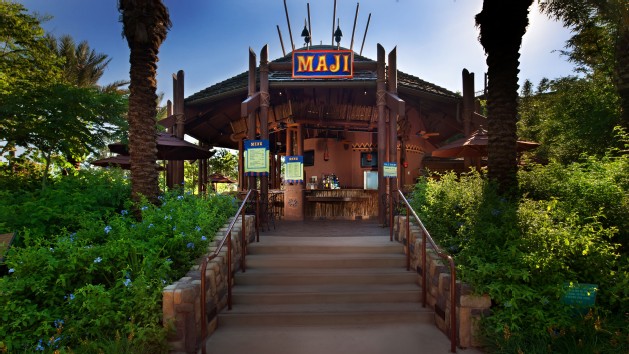 Maji Pool Bar
Swahili for "water," Maji offers other liquids as well: Resort cocktails, wine and draft beer, including Safari Amber. Sandwiches, salads, fruit and other snacks are offered at this secluded poolside bar. Private dining is also available.
---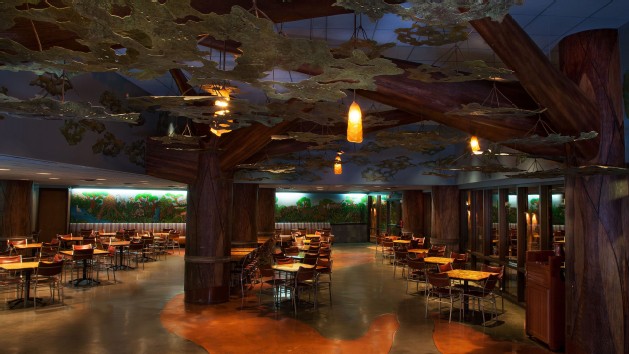 The Mara
Named for a river flowing through Kenya and Tanzania, this savanna-like space serves African stew, pitas, half-chicken dinners and more. American favorites like burgers and flatbreads are also available, as is breakfast until 11:00 AM.
---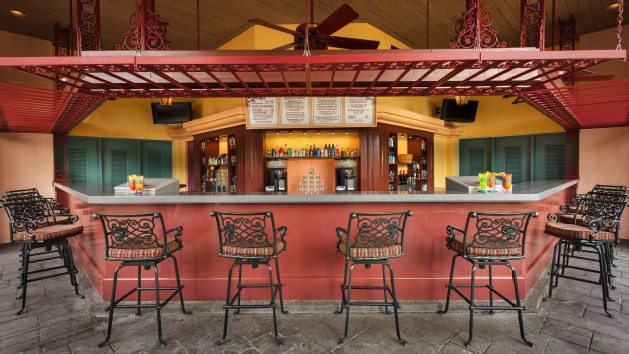 Mardi Grogs
Every day's Fat Tuesday here! Celebrate with specialty drinks frozen or on the rocks, wine, sangria and draft beers, including Abita Amber and TurboDog. You can even get it to go and take a leisurely stroll along the Sassagoula River.
---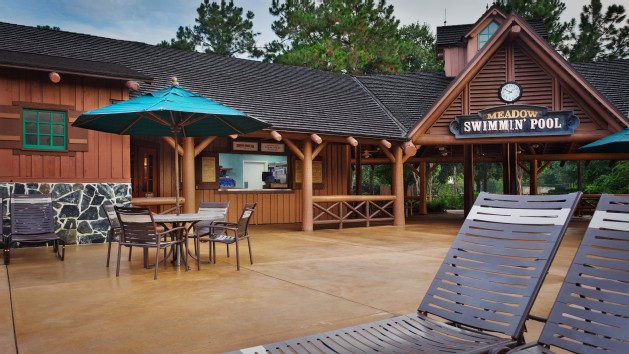 Meadow Snack Bar
Go grazing in the great outdoors. Open-air eats include fresh salads, tasty sandwiches and light snacks. Top it off with a slice of cheesecake or a Mickey ice-cream bar. Beer, sodas and smoothies are also available.
---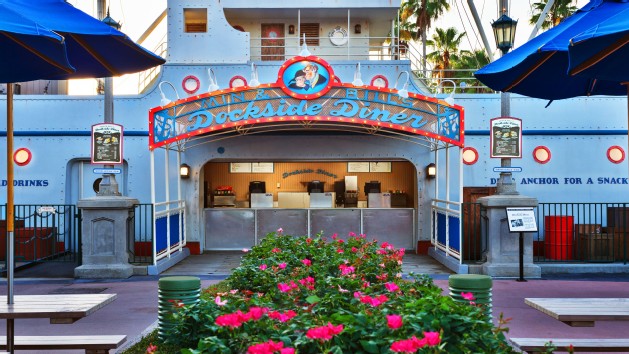 Min and Bill's Dockside Diner
Cast your anchor at this open-air "tramp steamer" eatery that pays homage to MGM's 1931 comedy hit, Min & Bill. Serving up salads, frankfurters and hoagies, in addition to desserts and beverages, it's the perfect place to dock.
---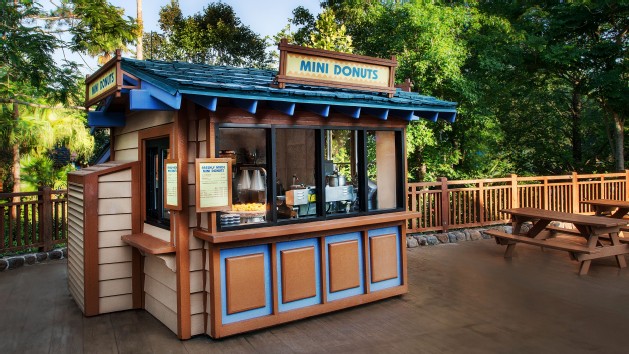 Mini Donuts at Disney's Blizzard Beach Water Park
These mini treats are big on taste! Dip in by the dozen or half dozen with raspberry, chocolate or white chocolate sauce. Soft drinks, frozen lemonade, coffee, tea and hot chocolate are also available from this stand near Lottawatta Lodge.
---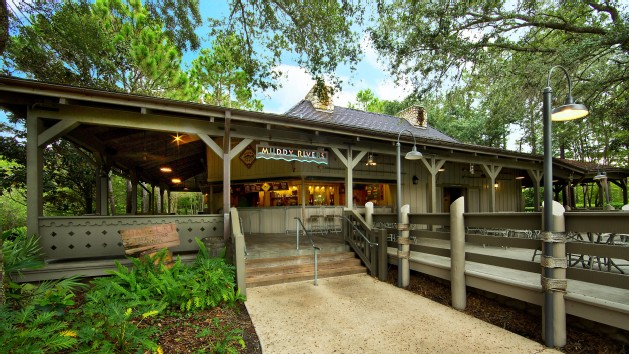 Muddy Rivers
Don't miss a sippy—let the good times roll at this poolside bar at lushly wooded Ol' Man Island. Party with frozen and rocks specialty drinks, draft beer, wine, superfruit sangria and nonalcoholic beverages, including the orange freeze.
---
Oasis Bar & Grill
Take a break from the sun and imbibe on some fun at this poolside retreat—featuring tasty favorites like fish tacos, kalua pork sliders and Polynesian-themed burgers, along with tropical cocktails, wine, Hawaiian beer and assorted beverages.
---
Oasis Canteen

This Indiana Jones-style desert canteen may look ramshackle and rusty… but it's a trusted tabernacle for travelers hankering for beverages and signature sweet treats—including funnel cakes, topped off with an assortment of tempting accoutrement.
---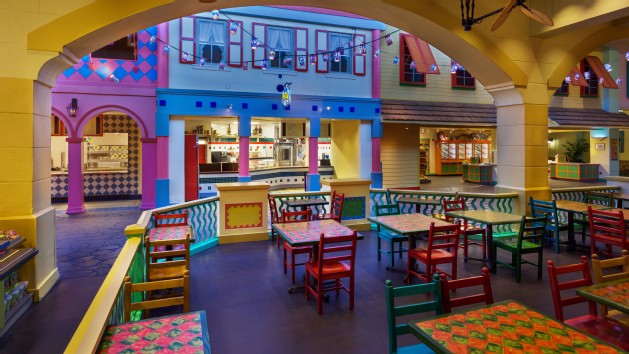 Old Port Royale Food Court
Drop anchor at this hamburger haven for cheeseburgers, hot dogs, grilled chicken sandwiches, chicken nuggets and tropical smoothies. Starting at 7:00 AM, sail in for Mickey waffles, croissant sandwiches or the French toast bucket for kids.
---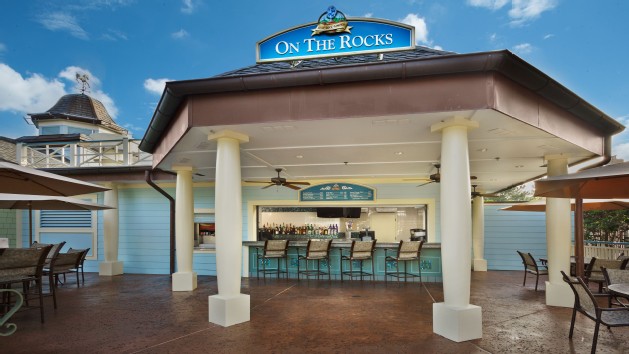 On the Rocks
Sip on spring water or more robust refreshments like Saratoga Lager at this poolside gazebo bar with a view of the High Rock Spring pool. Specialty cocktails frozen or "on the rocks," draft beer, sangria and wine are also available.
---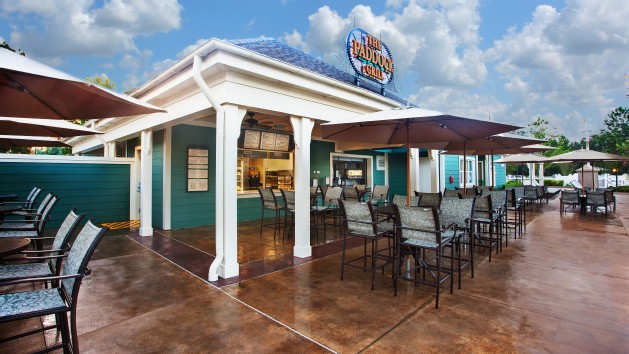 The Paddock Grill
Graze on sandwiches with gourmet flair, from spice-crusted fish to roasted vegetable. Chopped chicken salad, bacon cheeseburgers and house-made potato chips—invented in Saratoga—are also featured. Breakfast is served until 11:00 AM.
---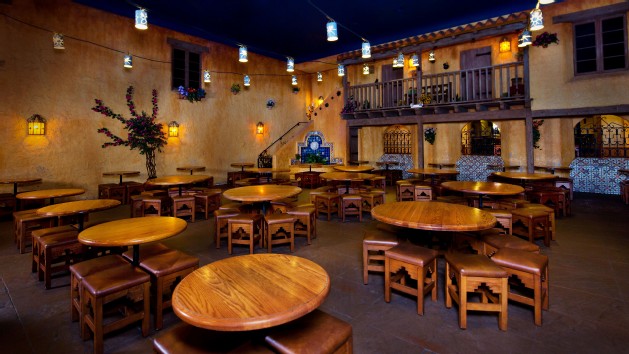 Pecos Bill Tall Tale Inn and Cafe
Rustle up some quick grub with your Slue-Foot Sue at this Old West saloon. Tell tall tales over BBQ pork sandwiches, Angus burgers, taco salad, chili and more then bounce into the sky on a sugar high with desserts and soft drinks.
---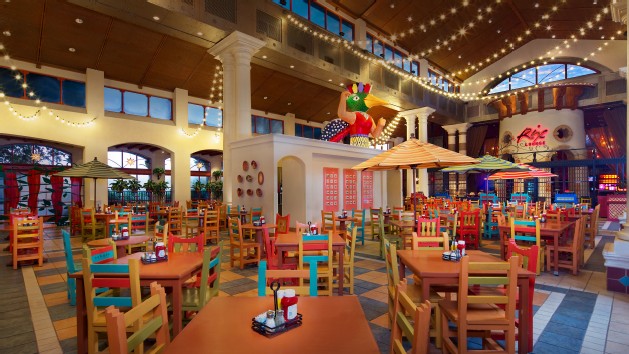 Pepper Market
Find something for everyone at this food court: pancakes, omelets, crème brûlée French toast, breakfast burritos and Mexican fare, salads and sandwiches, grill items, hot sandwiches, pizza and pasta, kids' picks and drinks. Plus wine, beer and margaritas!
---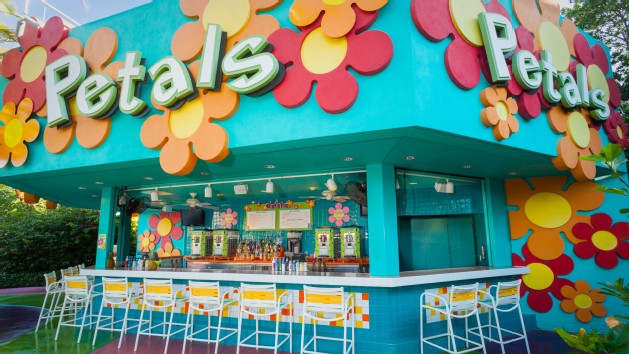 Petals Pool Bar
Find your inner flower power at this groovy bar beside the Hippy Dippy pool. Try the house specialties: the colorful Lava Lamp and the swingin' Hula Hoop. And play ping-pong! Cocktails, draft beer, sangria and wine are also available.
---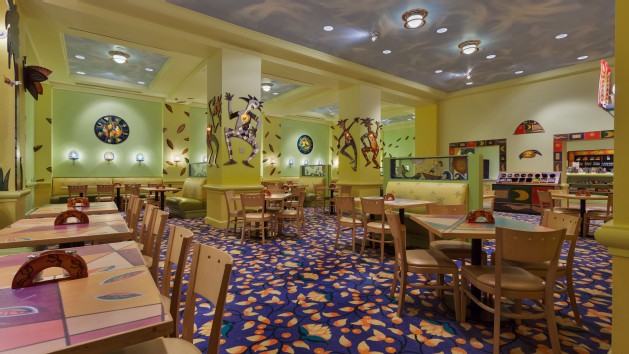 Picabu
A curious gallery of evocative art and America's favorite foods, Picabu offers the ease of cafeteria-style dining and the selection of a full buffet. A convenience store selling sundries, snacks and toiletries is also located inside.
---
PIneapple Lanai
Savor a taste of island sunshine with the legendary frozen treat known as Dole Whip®. Enjoy traditional soft serve swirls and floats, which are also available in souvenir Tiki Sippers or Bowls. Located just outside the great Ceremonial House at Disney's Polynesian Village Resort.
---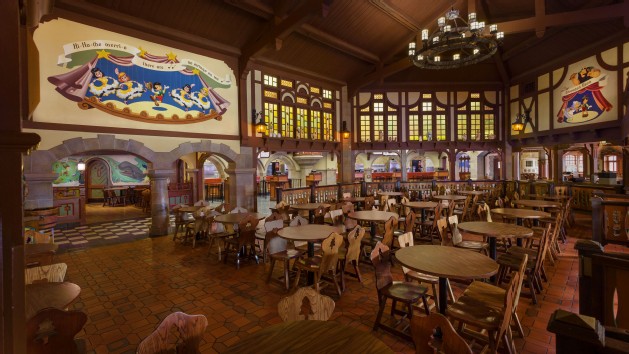 Pinocchio Village Haus
Real boys and girls can feast on Italian favorites at this quaint cottage: flatbread pizzas, meatball subs, macaroni and cheese, Mediterranean salad and more. Finish your meal with gelato, yogurt, chocolate cake and iced coffee or other beverages.
---
Pizzafari
Make your appetite extinct with flatbreads, pizzas, salads, pasta, subs and desserts—all while spying critters gracing a series of colorful murals and mosaics in 6 themed rooms. Draft beer, fountain drinks and other beverages are also available.
---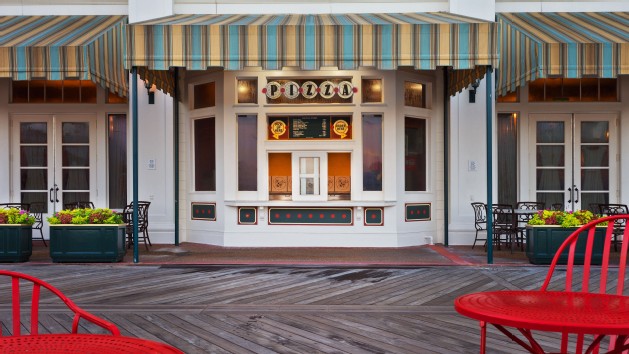 Pizza Window
Stroll down Disney's BoardWalk with a hot slice in hand or order a whole pie for the whole gang. Choose from cheese, pepperoni or veggie or customize your pizza with delicious toppings. Draft beer, sangria and soft drinks are available.
---
P & J's Southern Takeout
Wheel yer wagon over to this Old West eatery where you can grab some grub and take yer finger-lickin' feast to go!
---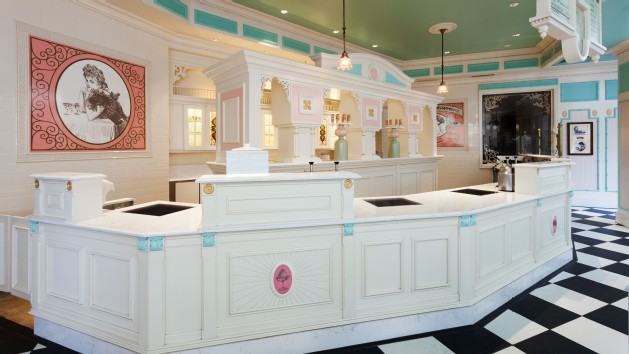 Plaza Ice Cream Parlor
Indulge in hand-scooped ice cream at this sweetly nostalgic parlor on Main Street, U.S.A. Savor floats, fresh waffle-bowl sundaes smothered in hot fudge and Mickey cones with chocolate ears! Fat- and sugar-free options are also available.
---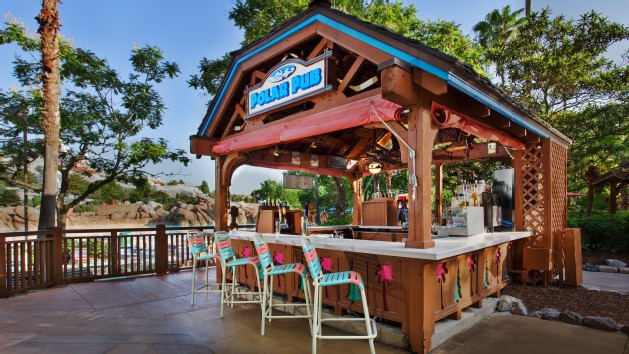 Polar Pub
Make your day even cooler at this full-service beach bar by Melt-Away Bay. Grab a cold one with specialty cocktails like the Alpine Sunset and Blue Blizzard as well as draft brew "skis." Little squirts can sip on Gator's juice of the day.
---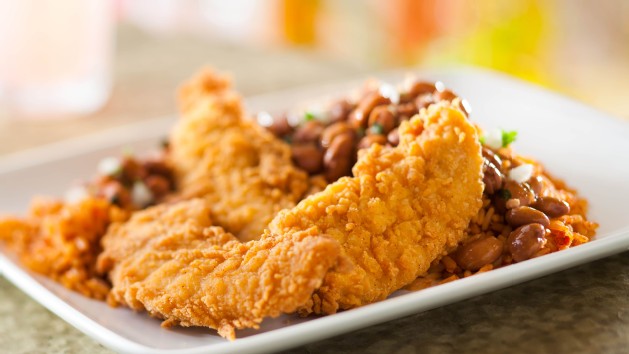 Pollo Campero
Fried or citrus-grilled chicken and sides with Latin flavors like yucca fries and plantains give you something to cluck about. Chicken sandwiches and strips, horchata, beer and watermelon sangria are also served.
---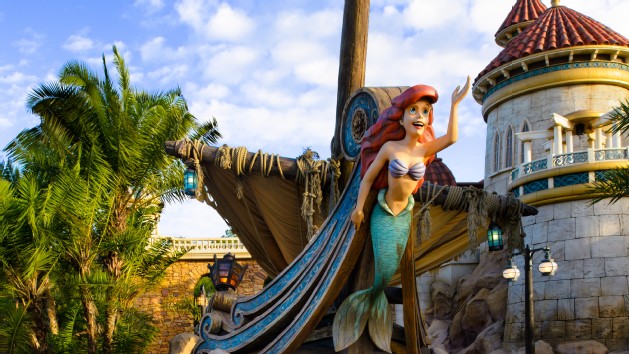 Prince Eric's Village Market
Revitalize your appetite at this energetic stand where you can find healthy foods like whole and cut fruit, veggies & dip and hummus & chips, in addition to icy cool treats like shaved ice—available in a rainbow of refreshing fruit flavors.
---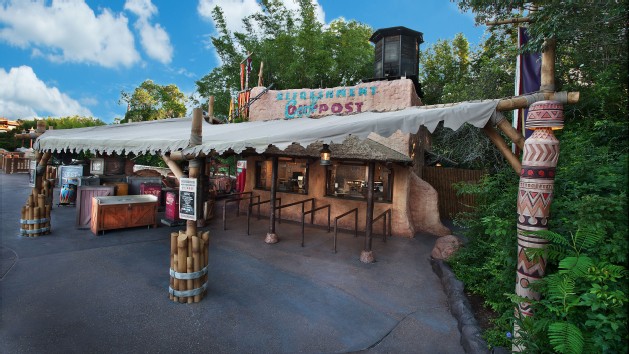 Refreshment Cool Post
Tame your thirst with soft drinks and beer on tap, including Land Shark Lager and Safari Amber. Soft-serve ice cream, sundaes, floats, slushes, fruit cups, hot dogs, chips, soft drinks, coffee and tea are also available.
---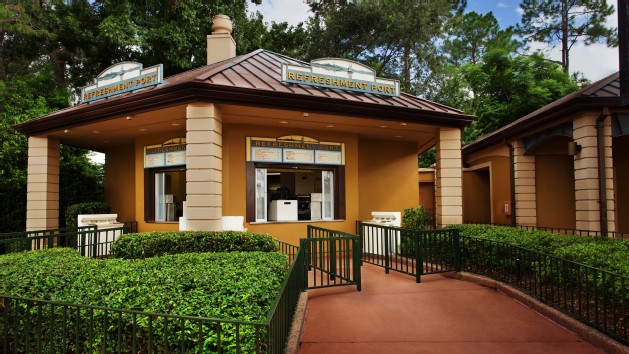 Refreshment Port
Before or after your trip around World Showcase, stop by for a frozen mojito, spicy chicken-cheddar poppers, fried shrimp or a crispy chicken sandwich. Soft-serve ice cream, smoothies, specialty coffees and soft drinks are also available.
---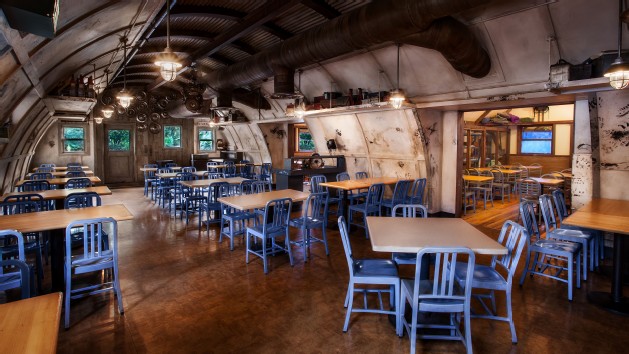 Restaurantosaurus
Delight in pre-hysteric, paleontology student humor as you dine on Angus or black bean burgers, hot dogs, chicken nuggets and more in a dino-themed dorm. Enjoy ice cold beverages and Safari Amber draft beer.
---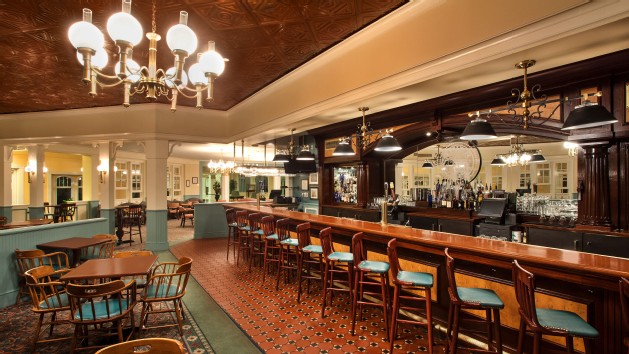 Riverside Mill Food Court
Get a taste of New Orleans at this food court by the big mill wheel that powers a working cotton press. Six stations satisfy any craving: bakery, grill, pizza & pasta, specialties, salads and a carving station. Grab 'n' go items are available.
---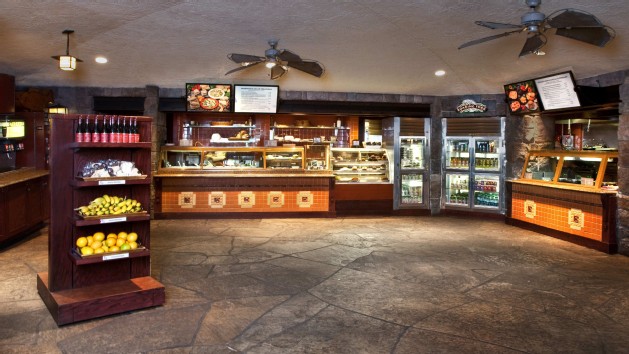 Roaring Fork
Rush by for a rapid repast: continental and hot breakfast served in the morning and gourmet sandwiches, grill items and pizza later on. Try a roast beef bleu cheese sandwich or a signature Wilderness Salad. Beer and wine are also available.
---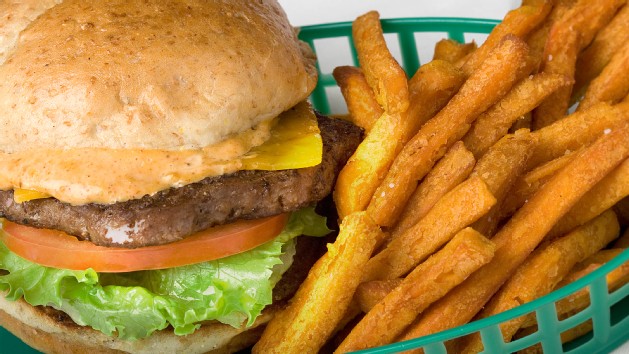 Rosie's All-American Café
Relish in the red, white and blue spirit with American classics like Angus cheeseburgers, crispy chicken nuggets, fries and coleslaw. Wash it down with an icy Coke or bottle of beer before topping off the feast with some banana parfait!
---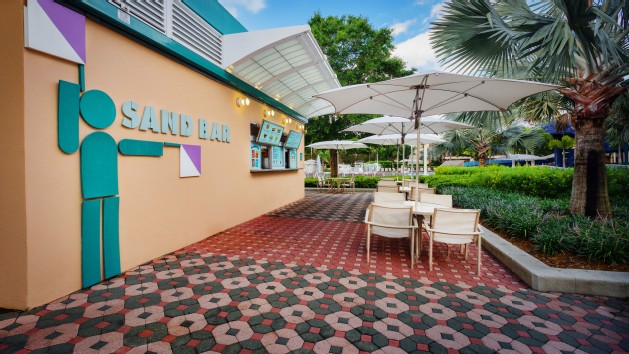 The Sand Bar
Picnic poolside with burgers, hot dogs, sandwiches and more. Tropical cocktails, draft beer, sangria and wine make it even more fun! Or cool off with a full bar menu and some AC inside the enclosed bar. Dessert items are also available.
---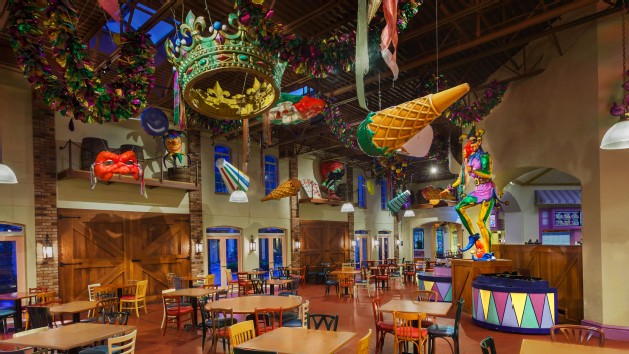 Sassagoula Floatworks and Food Factory
Dine like a Mardi Gras reveler as giant parade icons float overhead. Bite into beignets for breakfast or a King Creole platter until 11:00 AM, then feast on muffalettas and other sandwiches, burgers, pizza, salads, ice cream and more.
---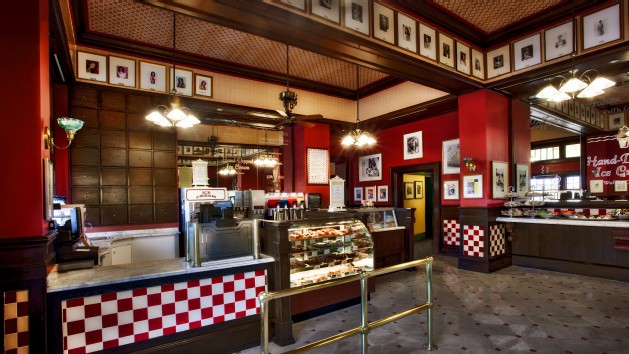 Seashore Sweets'
Enjoy "confections served with affection" by the Sweet Sisters, proprietors of this old-fashioned Atlantic shore-style candy shop. Saltwater taffy, fudge, hand-dipped ice cream, shakes, floats, chocolate, bulk candy and more are in store.
---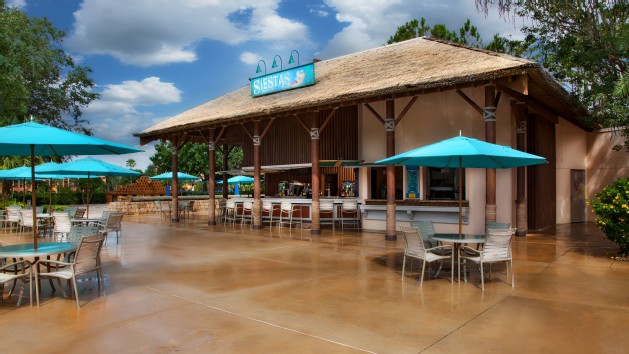 Siestas Cantina
Grab a bite before or after a power nap: sandwiches, burgers, nachos, wings and more. Sip on specialty cocktails like Francisco's Margarita and the Pancho Villa Colada. Draft beer is also available.
---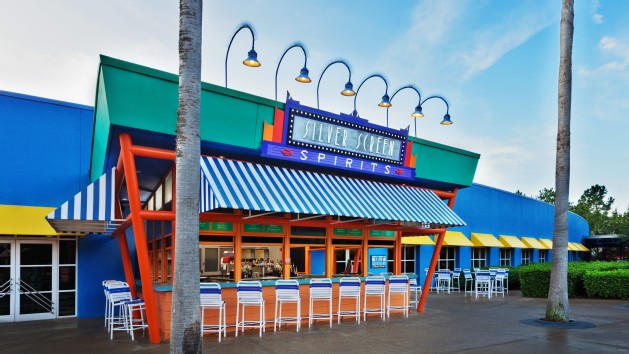 Silver Screen Spirits Pool Bar
Discuss your favorite flicks over drinks at the bar or head to the Fantasia Pool with a cup to go. Turn a refreshing matinee into a tantalizing double feature by choosing from featured draft beers, specialty cocktails, sangria and wine.
---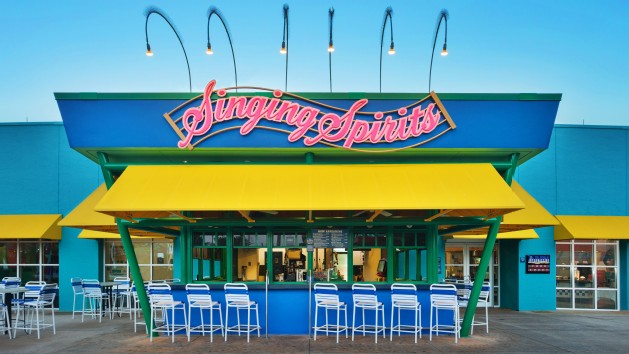 Singing Spirits Pool Bar
You'll be in high spirits after a refreshing round at the bar. Then head over to the guitar-shaped Calypso Pool and hit a high note as you sip away from a chorus of specialty cocktails, draft beers, sangria and wine.
---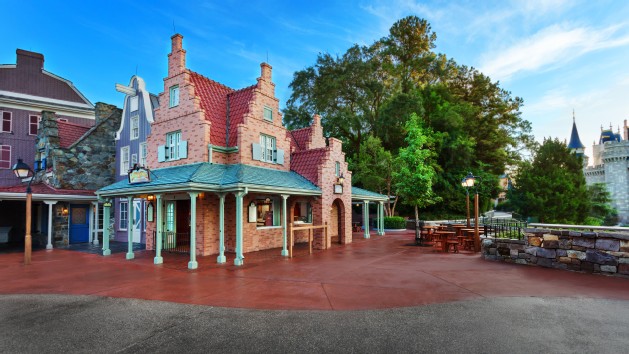 Sleepy Hollow
Fill the hollow in your belly with a sweet treat at this quaint brick cottage by Cinderella Castle: freshly made fruit waffle sandwiches, funnel cake, ice cream, floats and slushes. Savory waffle sandwiches and coffee are also available.
---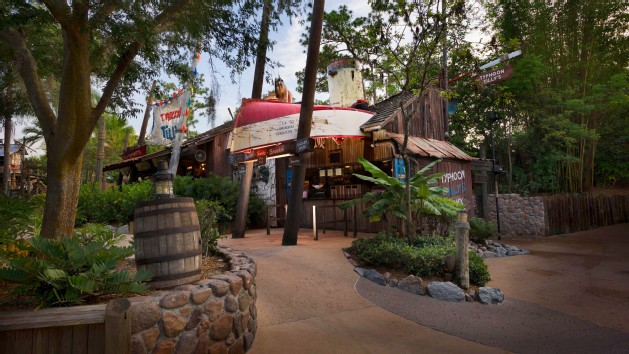 Snack Shack
Surf on by for wraps, sandwiches, salad and more from this walk-up window to the right of Miss Tilly's. Try a turkey pesto or tuna sandwich with chips. Nachos, desserts, smoothies, fresh fruit and fountain drinks are also available.
---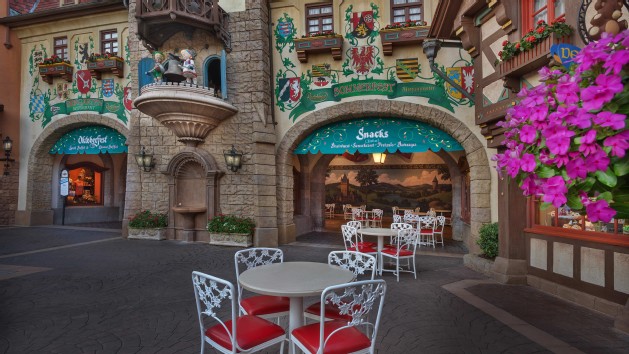 Sommerfest
Dine on Deutsch delicacies at this walk-up counter: bite into a bratwurst or frankfurter loaded with sauerkraut or snack on a soft pretzel. Bavarian apple strudel, black forest cake and German beer, wine and schnapps are also available.
---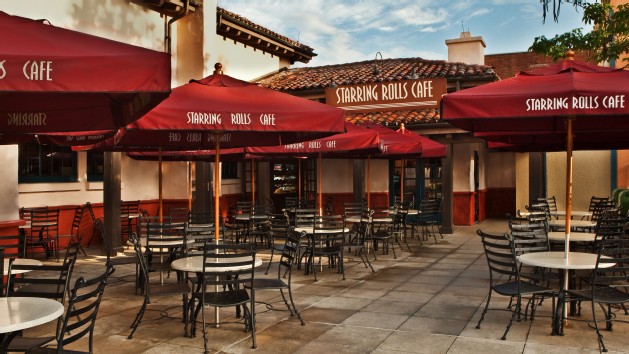 Starring Rolls Cafe
Let's do breakfast or lunch! Have your people call my people. Start your day with a fresh pastry—like a croissant or apple turnover. Later, tuck into tasty sandwiches or sushi. Enjoy assorted baked goods, desserts, wine and beverages too.
---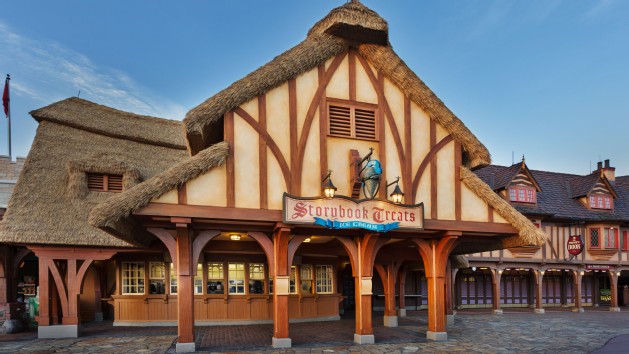 Storybook Treats
Find your fairy tale ending in a fudge brownie sundae. Other sundae choices are hot fudge cookie and strawberry shortcake. Soft-serve ice cream, chocolate chunk cookies, milkshakes, floats, and hot and cold beverages are also available.
---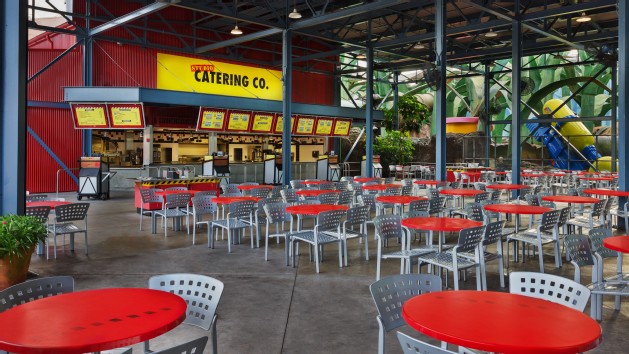 Studio Catering Co.
Take a break between takes with sandwiches, wraps and salads. Try the pressed Tuscan deli or the Buffalo chicken sandwich. Kids' picks include chicken nuggets and PB and J sandwiches. Soft drinks, beer, wine and sangria are also available.
---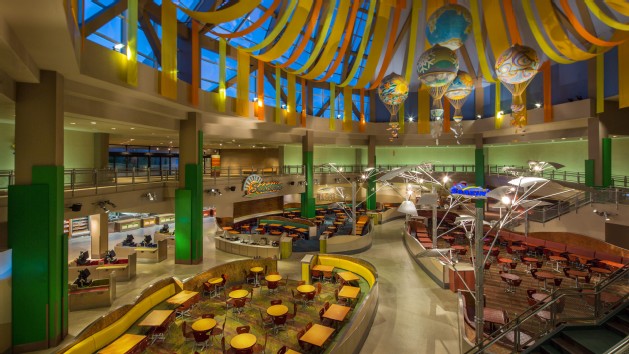 Sunshine Seasons
Feast on the bounty of The Land pavilion's greenhouses at its food court. Choose from stations featuring Asian fare, gourmet sandwiches, soups and salads, and wood-fired entrées. Try the ginger Mongolian beef or the grilled salmon.
---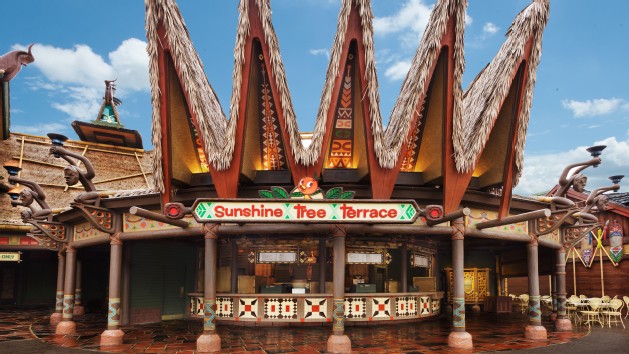 Sunshine Tree Terrace
Sip on some sunshine by the Enchanted Tiki Room with a raspberry lemonade slush, iced coffee float, fruit juice or specialty coffee. Try a citrus swirl—tasty soft-serve ice cream blended with frozen juice. Cookies, assorted chips and fountain drinks are also available.
---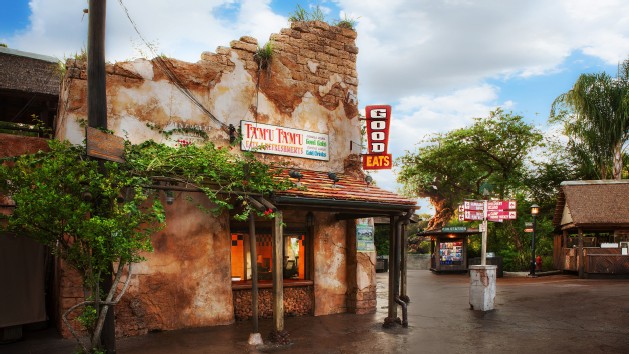 Tamu Tamu Refreshments
Meaning "very delicious" in Swahili, this walk-up window in the heart of Harambe offers roasted chicken salad, as well as chicken and vegetarian curries—both served with jasmine rice. Desserts, milkshakes and soft drinks are also available.
---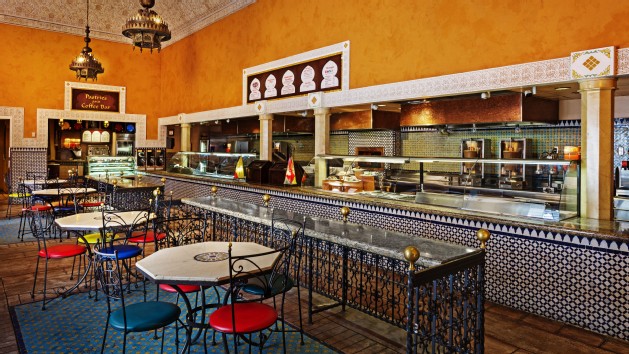 Tangierine Café
Step into this Mediterranean eatery for its famous shawarma (marinated lamb or chicken roasted on a rotating skewer), wraps and platters, as well as fresh tabouleh, hummus, lentil salad and falafel. Kids will delight in a special menu of tempting treats.
---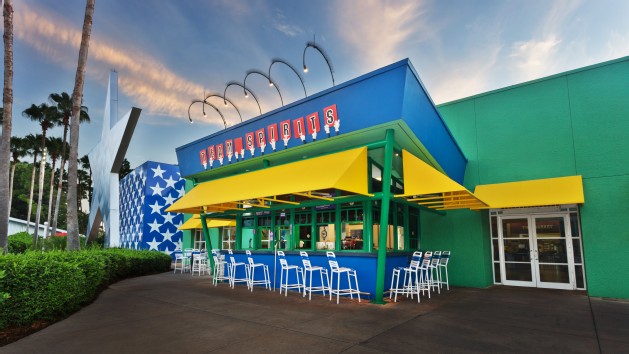 Team Spirits Pool Bar
Hang loose at this lively bar just 10 toes from the nose of the Surfboard Bay Pool. Bask in a bevy of beachy snacks and beverages, including specialty cocktails, frozen drinks, draft beer, sangria and wine.
---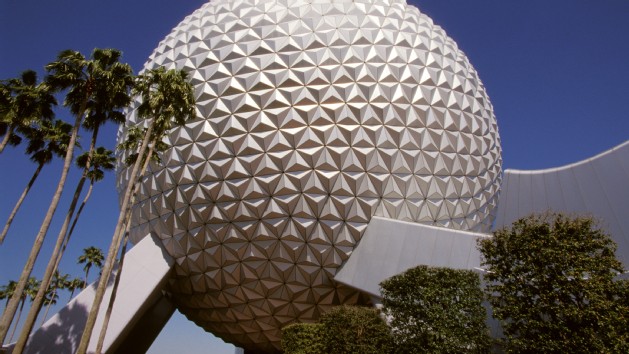 Test Track Cool Wash
Wash your thirst away with Frozen Raspberry Lemonade and Coca-Cola-flavored slushies, Mountain Blast PowerAde or ice-cold water. Crunch on assorted chips and sip from your Test Track cup under misters and cooling fans!
---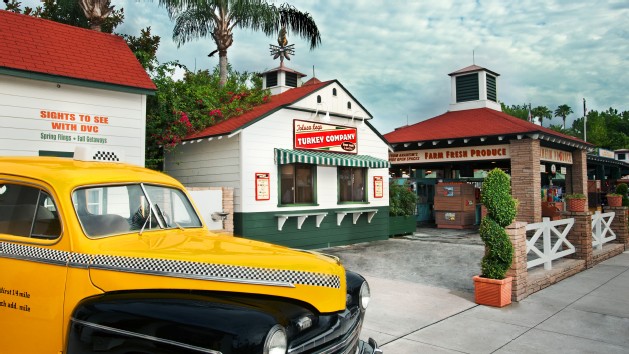 Toluca Legs Turkey Co.
Get a load of the hot legs on Sunset Boulevard—hot turkey legs! Taste a legend when you tuck into these jumbo drumsticks: they're crisp outside, tender and moist inside, and big enough to share!
---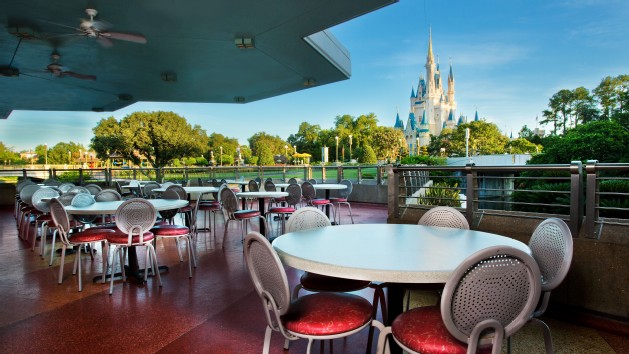 Tomorrowland Terrace Restaurant
There's food in your future: Angus burgers, salads, sandwiches, pasta and more. Featured salads are beef with bleu cheese and citrus shrimp. Lobster rolls with house-made chips, pasta primavera and pasta Alfredo are among the other options.
---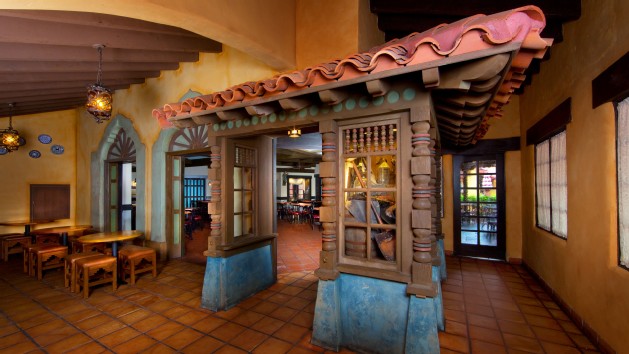 Tortuga Tavern
Plunder this pirate haunt for a few south of the border favorites, as well as an all-you-care-to-enjoy island dinner buffet.
---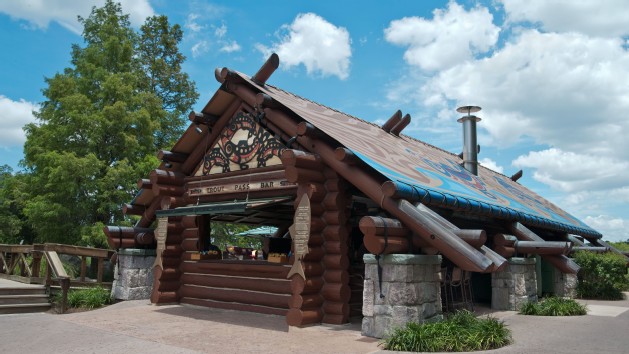 Trout Pass Pool Bar
Swim upstream to this rustic little log cabin for delicious specialty cocktails like the orange creamsicle, draft and bottled beer, and wine. Or get jumping with energy drinks or frozen nonalcoholic beverages such as the espresso freeze.
---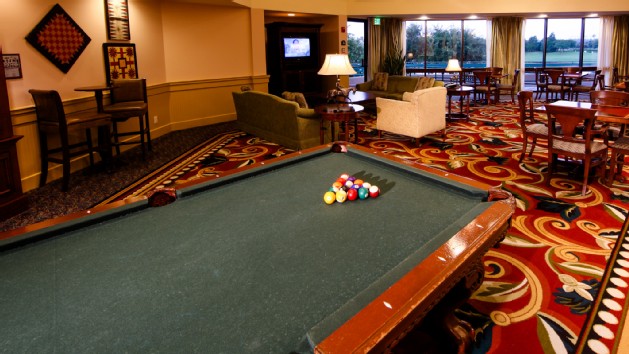 The Turf Club Lounge
Linger on the sweeping views of Disney's Lake Buena Vista Golf Course and Downtown Disney West Side at this casual bar inside The Turf Club Bar and Grill. Serving a light menu, and featuring a pool table, it's the perfect place to unwind.
---
Turtle Shack Poolside Snacks
Crawl onto dry land for pizza, sandwiches, hot dogs and salads. Sweet treats, smoothies, wine, draft and bottled beer, and soft drinks are also available at this seasonal venue. A shuffleboard court and game room offer further diversions.
---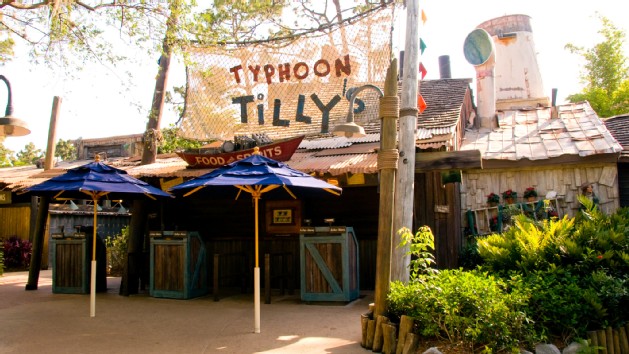 Typhoon Tilly's
Steer your crew this way for lunch. Featured items include BBQ pork sandwiches, fried shrimp, chili dogs, fish baskets, chicken wraps and salad. Dessert items, soft drinks and draft beer are also available at this shipwreck-inspired eatery.
---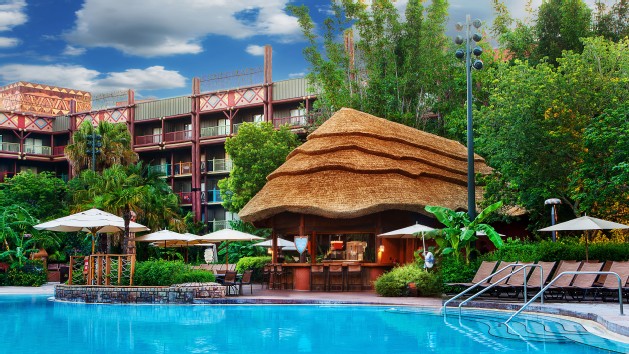 Uzima Springs Pool Bar
Invigorate your senses at this "spring of life" with cocktails, frozen drinks, beer and wine. Sip on a Swahili colada beneath the thatched hut or try Safari Amber on tap over by the pool. Bottles of Casa and Tusker lager are also available.
---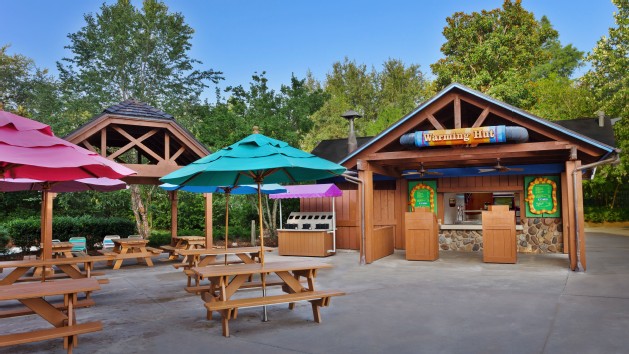 Warming Hut
Thaw out with toasty sandwiches and barbecue items. The pulled pork sandwich and BBQ chicken sandwich are featured, as are St. Louis ribs and chicken salad. Desserts, frozen novelties, fountain drinks and draft beer are also available.
---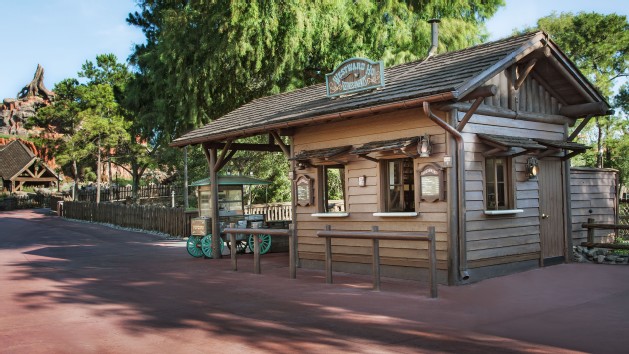 Westward Ho
Take a break from blazing the trail with corn dogs, assorted chips, frozen lemonade and fountain drinks at this cabin-like counter in Frontierland. Then cozy up to the campfire with hot cocoa, coffee or tea.
---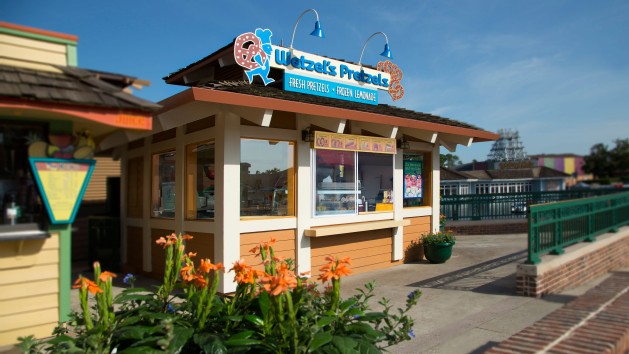 Wetzel's Pretzels®
Give in to the call of freshly baked flavored pretzels and sweet or savory dips like sweet caramel or pizza sauce. Wetzel dogs, Wetzel Bitz, cheese dogs, frozen lemonade, granita and soft drinks are also available at this walk-up kiosk.
---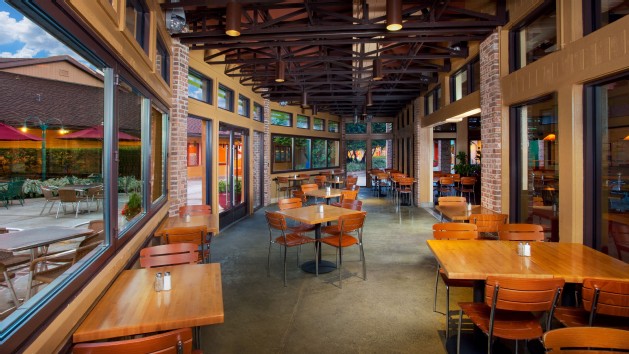 Wolfgang Puck® Express at Downtown Disney Marketplace
Get a gourmet start to the day with unique breakfast plates, artisan lunch and dinner specials, as well as an exciting kids menu.
---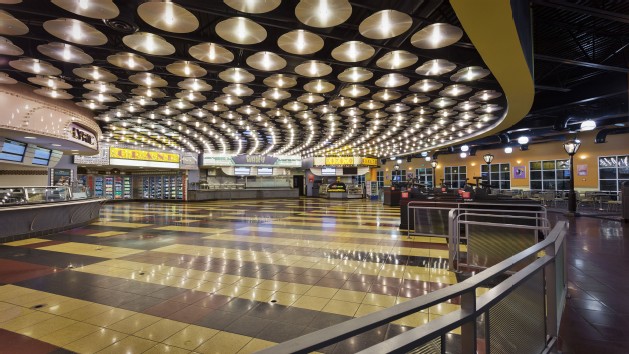 World Premiere Food Court
Get the red-carpet treatment at this cinema-themed food court with 5 stations: pizza and pasta, grill items, traditional favorites, specialties, and bakery items and ice cream, served until midnight. Breakfast is available until 11:00 AM.
---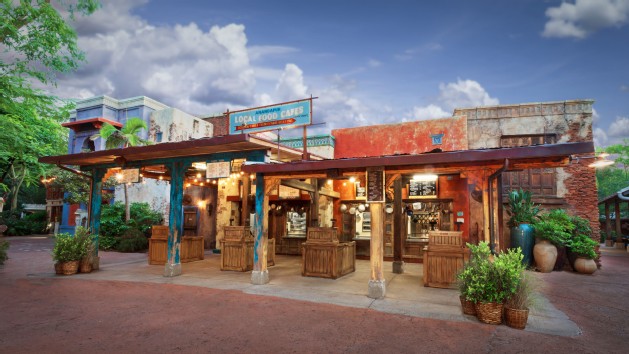 Yak & Yeti™ Local Food Cafes
Hungry after your Himalayan trek? Feast on Asian fare like sweet 'n' sour chicken, beef lo mein, mandarin chicken salad, egg rolls and fried rice. Kids' picks, desserts, draft beer, frozen lemonade and other soft drinks are also available.
---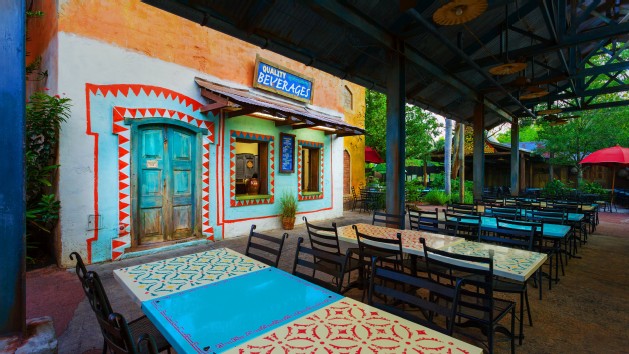 Yak & Yeti™ Quality Beverages
Walk up to the window for a cold one: the Yak Attack, an emperor margarita or a draft beer, including Safari Amber and Shock Top. Asian chicken sandwiches and salads are also available, as are chips, frozen lemonade and soft drinks.
---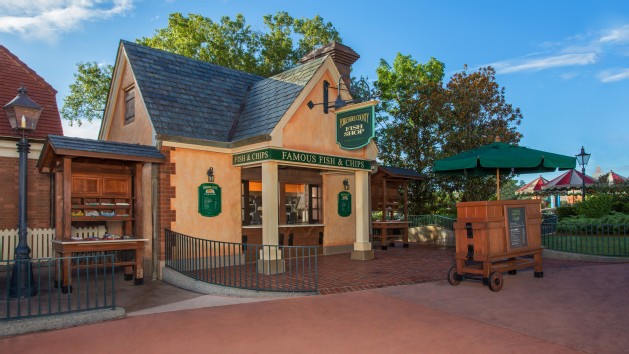 Yorkshire County Fish Shop
Stop by for the finest fish and chips this side of the Pond. Tuck into 2 strips of battered fish with piping-hot chips. English cookies, soft drinks and "draught" beer, including Bass and Harp Lager, are also available, served in a souvenir glass.