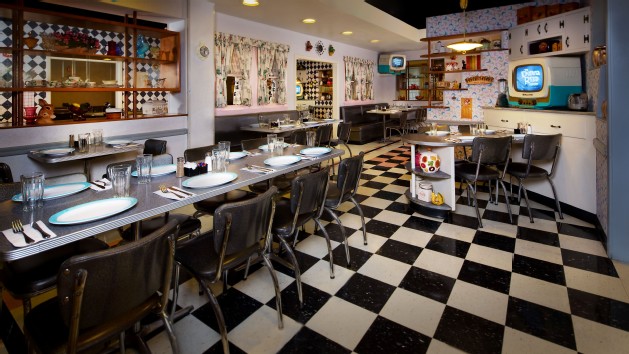 50's Prime Time Café
Bring your appetite and your sense of humor, because Mom and the extended family aren't above giving you lessons in table etiquette—and doling out punishment to misbehaving boys and girls.
---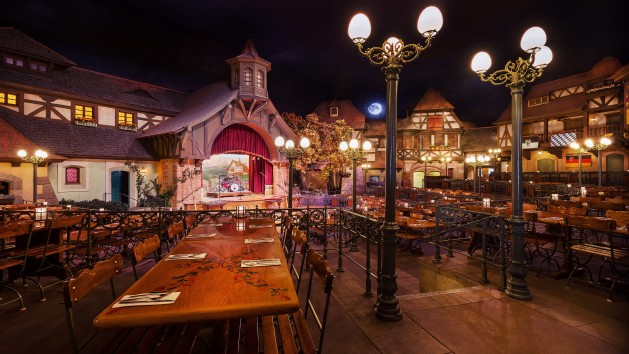 Biergarten Restaurant
At communal, biergarten-style tables, enjoy such rotating buffet selections as bratwurst, rotisserie chicken, pork schnitzel and a variety of salads. Save room for Bavarian cheesecake and hand-pulled apple strudel, made fresh daily!
---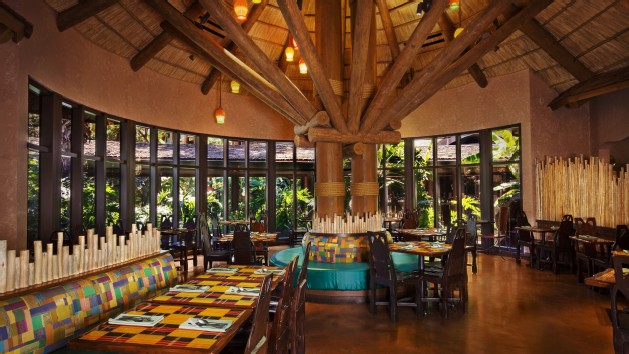 Boma – Flavors of Africa
Buffet/Family Style, Unique/Themed Dining
Resembling a lively African marketplace, this restaurant features all-you-care-to-enjoy buffets at breakfast and dinner.
---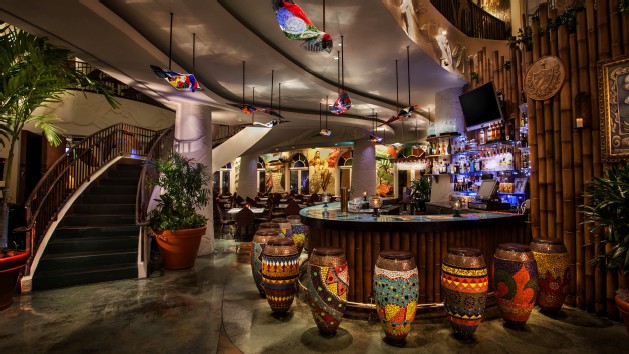 Bongos Cuban Café™
Enjoy hot Latin rhythms and authentic Cuban cuisine at this recreation of a 1950s Havana nightclub. Discover Cuban cooking and live entertainment at this tropical hotspot.
---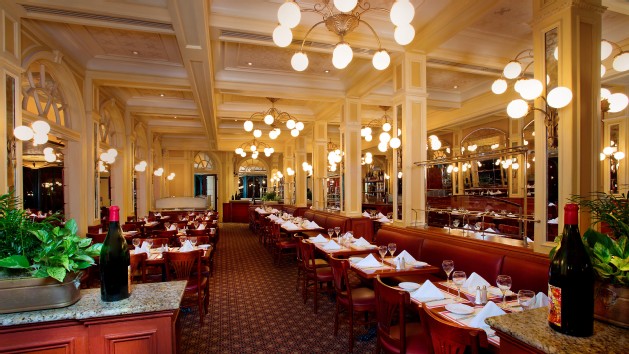 Chefs de France
Be transported to the heart of Paris at this charming café. With its high ceilings, intricate mosaic flooring and expansive windows looking out onto the promenade, this bright and airy restaurant features innovative French cuisine.
---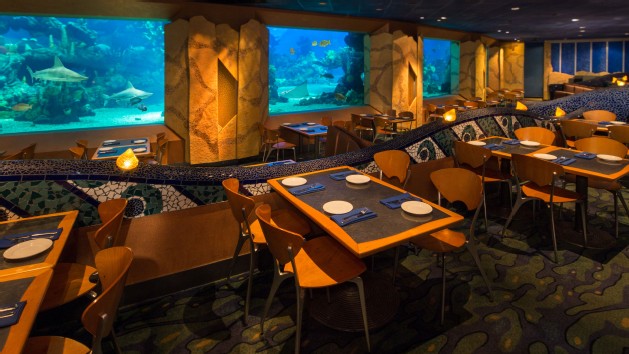 Coral Reef Restaurant
Watch over 4,000 sea creatures—including sharks, turtles, rays and fish—swim in the living coral reef while you dine. Savor seafood favorites like Coral Reef lobster orecchiette pasta and grilled mahi mahi, as well as tender chicken and steak dishes.
---
Bring your appetite and your sense of humor, because Mom and the extended family aren't above giving you lessons in table etiquette—and doling out punishment to misbehaving boys and girls.
---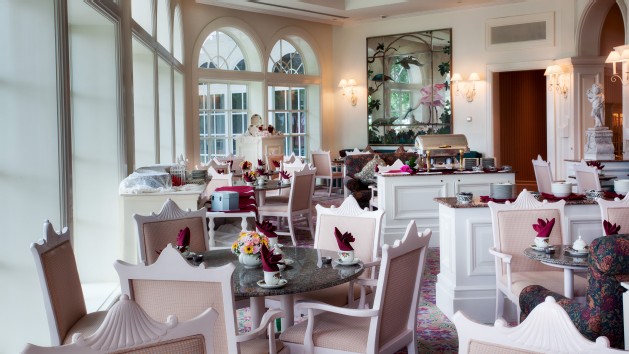 Garden View Tea Room
Delight in an elegant pair of tea times, each overlooking the grounds and pool of Disney's Grand Floridian Resort & Spa.
---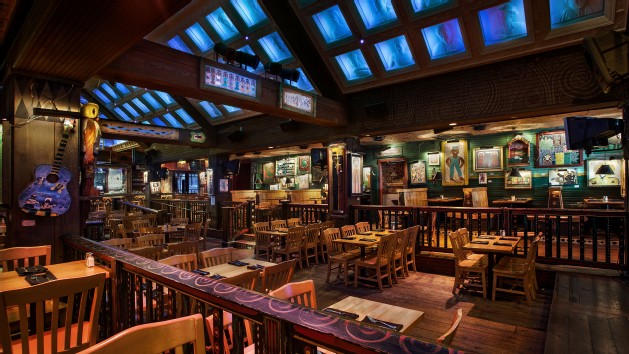 House of Blues Restaurant & Bar
Created by celebrity chef Aarón Sanchez, the mouth-watering menu from Crossroads at House of Blues includes such staples as Creole seafood jambalaya, slow-smoked pulled pork and shrimp with grits, as well as beefy burgers, street tacos and short rib meatball sliders.
---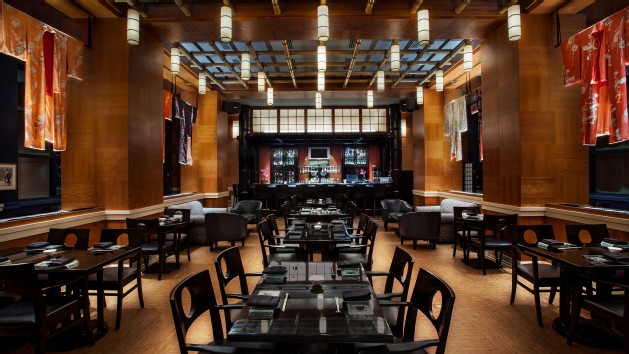 Kimonos
Dark teak wood and a gorgeous collection of colorful kimonos lend to the elegant, inviting atmosphere, and Guests can watch chefs expertly prepare seafood creations at the sushi bar.
---
Sing a song or simply sing along with karaoke nightly in the Kimonos lounge. Featuring popular tunes of the past and present, this lively bar serves up traditional sake, specialty cocktails and snacks amid colorful hanging kimonos.
---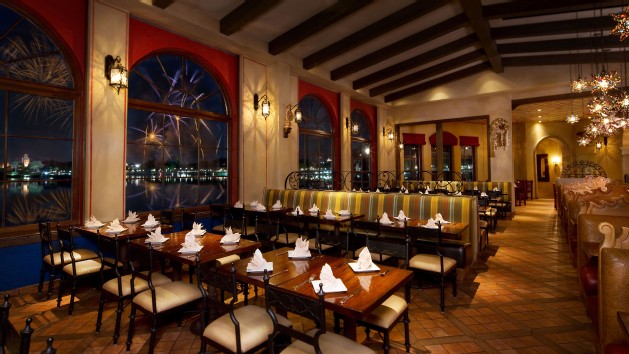 La Hacienda de San Angel
Authentic Mexican cuisine and premium margaritas are served with Old World hospitality at this waterfront retreat. Discover vibrant flavors from regions around Mexico, as you dine under colorful globe lamps and star lanterns.
---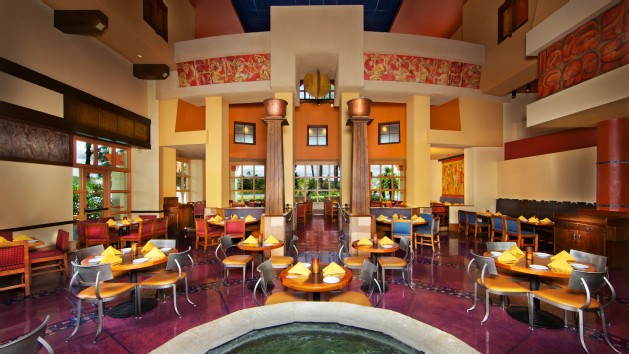 Maya Grill
Dine on traditional Mexican and American dishes at Maya Grill, serving dinner daily at Disney's Coronado Springs Resort. Here, the essence of ancient Mexico greets you in a majestic dining room accented by the welcoming Mayan motifs of fire, sun and water.
---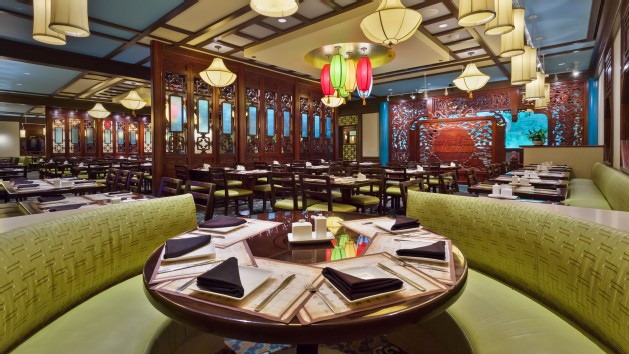 Nine Dragons Restaurant
Greeted by a stunning glass etching of 2 dragons chasing a glowing pearl, diners can feast on such favorites as honey-sesame chicken, peppery shrimp and fried rice. Request a table by one of the windows for a sweeping view of the World Showcase Lagoon promenade.
---
Stop off at this refreshing oasis to discover specialty cocktails and enticing appetizers from all across the globe.
---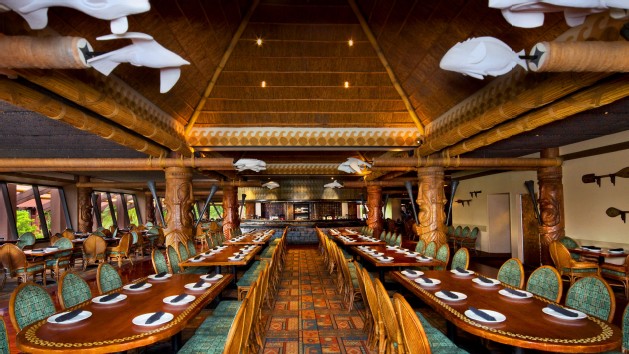 'Ohana
Feast family-style as Disney Friends visit with Guests, sign autographs and pose for photos. Breakfast selections include scrambled eggs, Island-style fried potatoes, Hawaiian pork sausages, smoked bacon and a variety of fresh fruits and breads.
---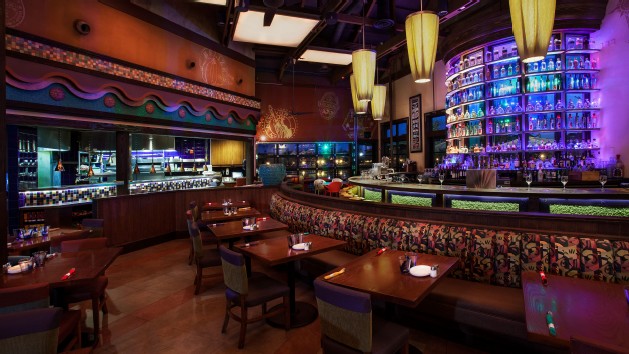 Paradiso 37, Taste of the Americas
This lively watering hole overlooking Village Lake features 2 levels and large windows for stunning lake views. Brightly colored booths and accents lend a Latin flair inside, while ample seating on the spacious patio and a dedicated outdoor bar make it perfect for dining al fresco.
---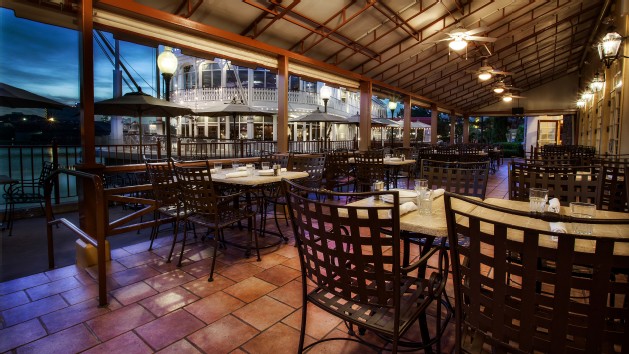 Portobello Country Italian Trattoria
On the waterfront patio or in the airy dining room, whet your appetite with house-made bread dipped in olive oil and roasted garlic, mouthwatering meatball sliders and caprese made with sun-ripened tomatoes and thick slices of mozzarella.
---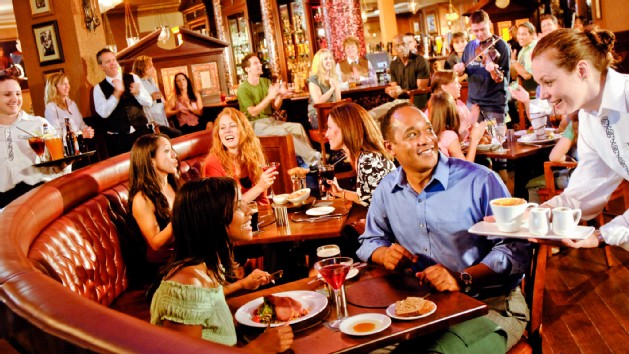 Raglan Road™ Irish Pub and Restaurant
Feast on beer-battered fish 'n' chips, shepherd's pie, bangers and mash, fresh salads and mushroom risotto. Polish off your meal with bread and butter pudding or the chocolate-upon-chocolate Dunbrody Kiss.
---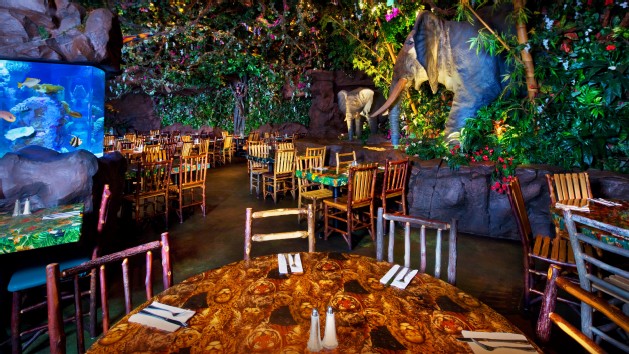 Rainforest Cafe® at Disney's Animal Kingdom
Make your day at Disney's Animal Kingdom park even wilder with a feast in the middle of a tropical rainforest. Southwestern fare with a tropical twist amid a dense jungle filled with animals await you.
---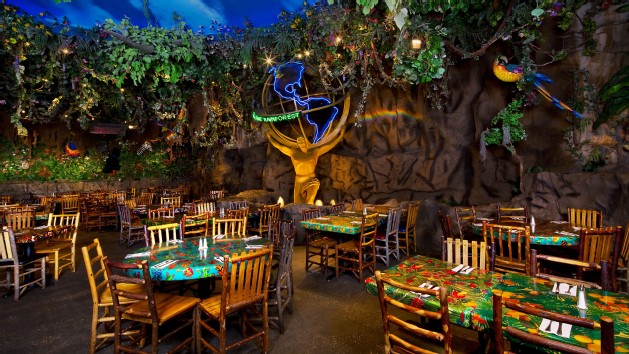 Rainforest Cafe® at Disney Springs
Traipse the jungle and tantalize your taste buds with flavorful American favorites and kid-friendly cuisine. A tropical rainforest retreat and delicious eats await you. Look for the erupting volcano!
---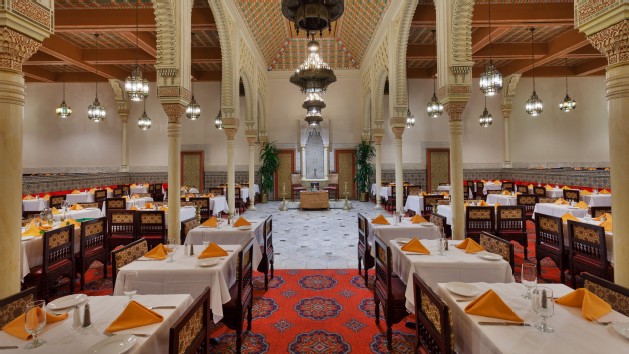 Restaurant Marrakesh
Stained-glass chandeliers bathe diners in a warm, dim glow, while intricate tile mosaics evoke timeless majesty. Select an à la carte favorite, or partake in a culinary adventure with the Taste of Morocco: Royal Feast, which includes everything from Harira soup and lemon chicken to Moroccan pastries and more.
---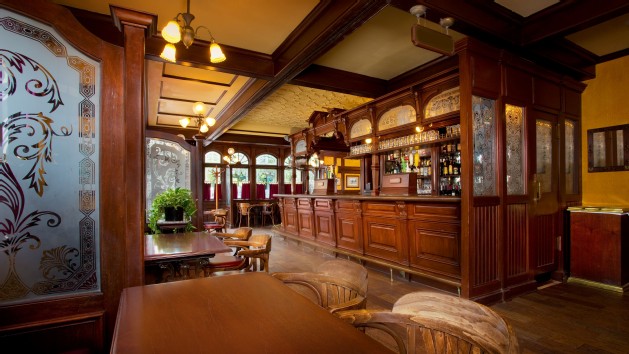 Rose & Crown Pub & Dining Room
Delight in such specialties as fish and chips, bangers and mash, vegetable curry and cottage pie. In addition to British selections, the kids menu includes American favorites like pizza and pasta.
---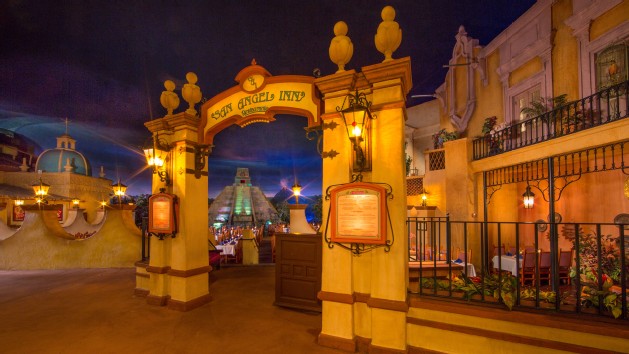 San Angel Inn Restaurante
Start with such zesty appetizers as tortilla soup topped with avocado, cheese and tortilla strips. Then delight in steak, chicken and fish entrées served with such sauces as chipotle pepper, chile ancho, chocolaty mole and green tomatillo.
---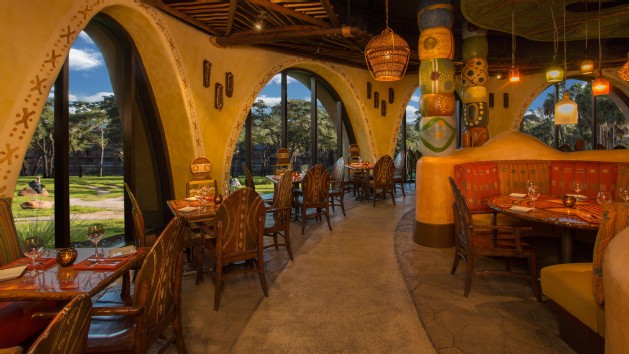 Sanaa
Experience the art of African cooking with Indian flavors, as exotic animals roam the Sunset Savanna before you. Savor slow-cooked meats, zesty salads and vegetarian specialties as you discover exquisite African cooking with Indian flavors.
---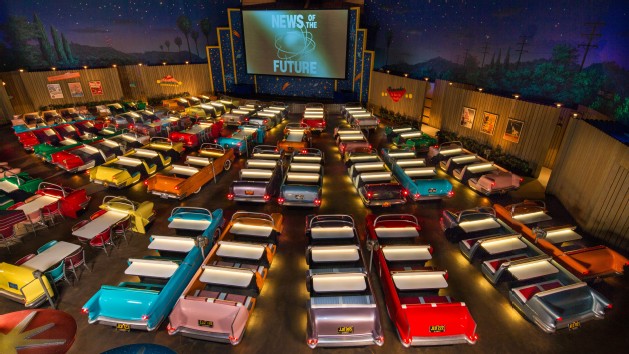 Sci-Fi Dine-In Theater Restaurant
Do dinner and a movie retro-style at this eatery done up like a '50s drive-in, with all-American cuisine to match. Watch campy clips as you picnic under the stars in a classic car-shaped booth or table.
---
Spice Road Table
Simmer your senses in the flavors of the Mediterranean as you unwind in the ambience of a picturesque waterfront view.
---
Roll in and rock out at this vintage, retro-style bowling alley with a fresh spin on dining, music and entertainment.
---
You grotto check out this tropical tiki bar that captures the romance of the South Seas through unique food and drinks.
---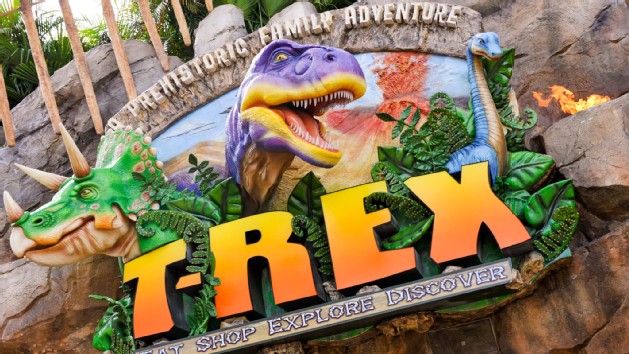 T-REX ™
For dinosaur-themed dining amid prehistoric creatures and periodic meteor showers, head to the Downtown Disney Area. Travel back 200 million years for a Jurassic adventure and megalosaurus-sized eats.
---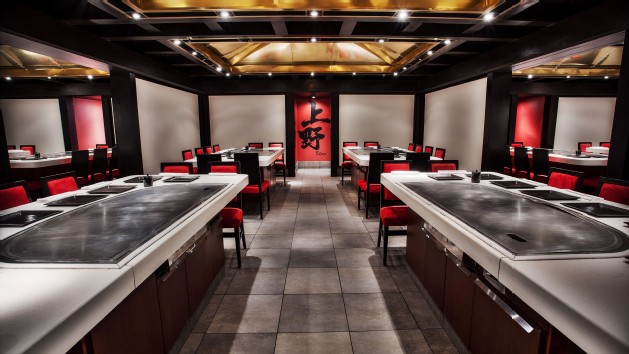 Teppan Edo
Celebrate authentic Japanese cuisine during an exciting dining experience that's part meal, part show. In the communal ritual of Teppan-yaki-style cooking, skillful chefs chop and stir-fry dishes on grills at your table.
---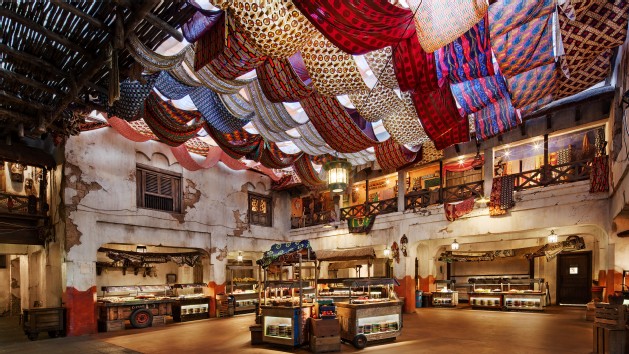 Tusker House Restaurant
At this colorful Harambe marketplace eatery, you'll find a family-focused buffet brimming with African flavors. Let Safari Donald Duck and his friends quack you up at the wildest Character Breakfast and Character Lunch this side of Kilimanjaro.
---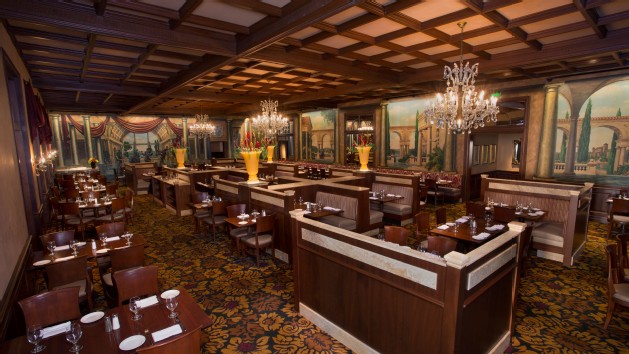 Tutto Italia Ristorante
Delight in warm service and traditional favorites at this Italian restaurant. Relax in Old World ambience as you enjoy platters of chicken, fish, handmade pasta, lasagna and more.
---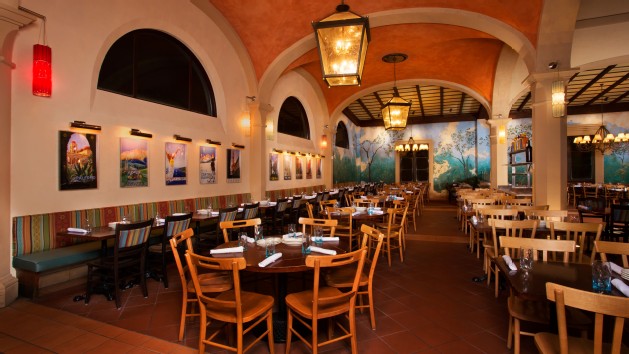 Via Napoli Ristorante e Pizzeria
Discover authentic Italian cooking, including hearty pastas, fresh salads and pizzas perfected in wood-burning ovens. Take a culinary tour of Southern Italy at this family-friendly restaurant and pizzeria at Epcot.
---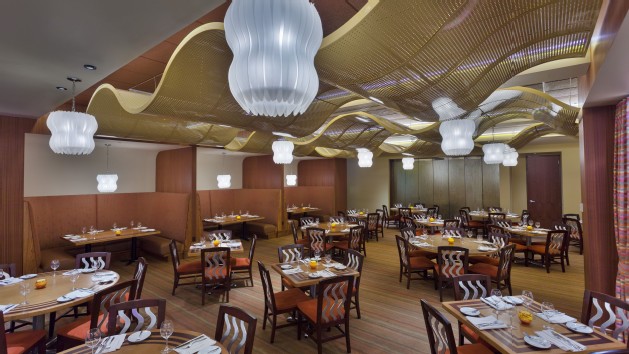 The Wave… of American Flavors
Enjoy healthful dishes infused with an international flair at this casual eatery. For maximum freshness, many of the ingredients featured in the menu are sourced locally and regionally.
---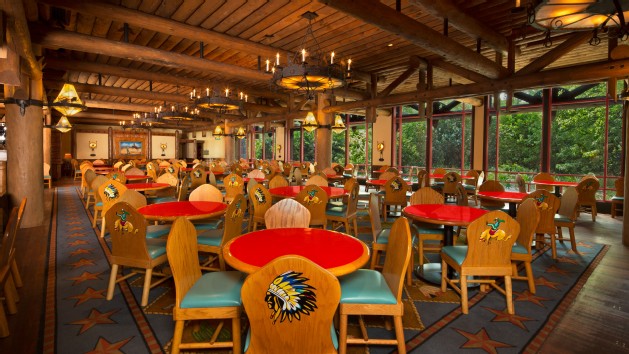 Whispering Canyon Cafe
For a rowdy, rootin' tootin' good time, round up the whole family for hearty western fare and antics aplenty. Gallop on over to this Old Western eatery for games and good eatin' served with attitude.
---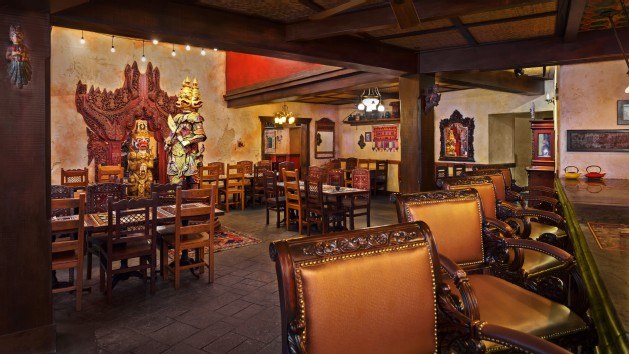 Yak & Yeti™ Restaurant
Travelers can relax and replenish with a pan-Asian feast in this beautiful Nepalese-style restaurant. Discover exciting pan-Asian cuisine at this quaint village home that's been turned into a restaurant.