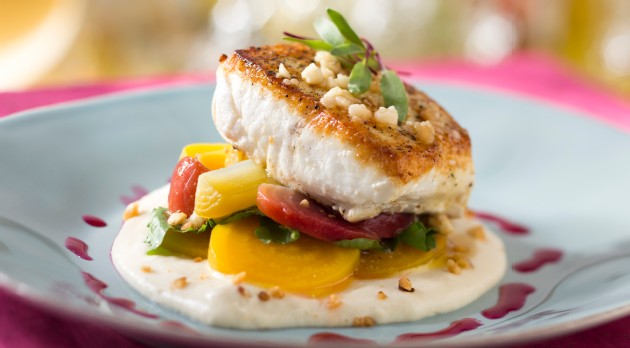 Savor the finest in Californian cooking, as you take in the sights of Seven Seas Lagoon and Magic Kingdom park.
Location: Disney's Contemporary Resort
Type: American, Seafood, Sushi Cuisine
Price: $$$ ($35 to $59.99 per adult)
Reservations: Yes
Sublime Vistas and Spectacular Cuisine
Experience the flavors of the Pacific Coast at this award-winning restaurant.
Via private elevator, ascend to the 15th floor of Disney's Contemporary Resort, where you'll discover exquisite panoramic views of the shimmering lagoon, Floridian woodland and Cinderella Castle. Inside, enjoy the vibrant sights and sounds of the lively onstage kitchen, where chefs combine global flavors in deliciously inventive new ways.
Gourmet Dining
Californian cuisine celebrates fresh, seasonal ingredients and the international, melting-pot culture of the Golden State. Changing seasonally, the menu may include such specialties as handmade Sonoma goat cheese ravioli, steamed mussels and oak-grilled filet of beef.
Delight in mouthwatering sushi, as well as brick oven-fired flatbreads topped with roasted chicken and caramelized onions, sun-dried tomatoes and three cheeses, or black beans and braised pork. Then polish off a perfect meal with decadent desserts like warm Valrhona chocolate cake, cheesecake and fruit cobbler.
To complement their entrées, Guests 21 years of age and up can select from over 300 hand-picked wines—most of which are from California. Over 50 are available by the glass, and sommeliers are on hand to offer pairing suggestions.
---
Magic Kingdom Fireworks Spectacular
California Grill offers one of the best fireworks dining experiences at Walt Disney World Resort.
Lights dim as the music is piped into the restaurant—immersing Guests in the magic of the night.
Dining before the fireworks? Bring your receipt to the check-in desk on the 2nd floor for reentry to California Grill. Then, enjoy the show either from California Grill Lounge or the outside observation deck.
Guests with a dining reservation after the fireworks are also invited to watch the show from the lounge or observation deck.
---
California Grill Lounge
Enjoy pre-dinner cocktails and first-come, first-served seating in the lounge, offering the same menu as the restaurant.
---
Check-In
Check in at the podium located on the 2nd floor of Disney's Contemporary Resort. A Cast Member will then escort you up to the 15th floor in an elevator exclusively reserved for California Grill Guests.
---
Dress Code
At this signature dining experience, Guests are asked to adhere to the dress code.
Men may wear khakis, slacks, jeans or dress shorts and collared shirts. Sport coats are optional.
Women may wear Capri pants, skirts, dresses, jeans or dress shorts.
Not permitted are tank tops, swimsuits, swimsuit cover-ups, hats for gentlemen, cut-offs, torn clothing and t-shirts with offensive language and/or graphics.
---
Omakase Experience
Pamper your senses at a private sushi encounter, delicately prepared in Japanese tradition.
At the Omakase Experience, which literally translates to "I'll leave it to you," you can indulge your palate in a tasting menu that stylishly serves up the freshest and most seasonal selections for a tour of Japan's finest.
Over the duration of 12 to 14 pre-set courses, relish in the rich textures and unforgettable tastes of this unique experience as it progresses from lighter dishes into richer fare.
Enjoy the tantalizing sensations as you and up to 8 Guests savor an exquisite range of fresh-caught cuisine, which may include such offerings as uni, oysters, octopus, crab, lobster, sweet shrimp and squid.
Please note: the Omakase Experience takes place at 8:00 PM daily, and is held exclusively at the sushi counter. Reservations are required and must be made at least 48 hours in advance. Full payment is due at the time of booking. Due to the pre-set nature of this culinary experience, the Omakase Experience is unable to accommodate Guests with fish or shellfish allergies, Guests who do not eat rice or vinegar, and Guests who are vegetarian or gluten-free; please do not book a reservation if you have one of these dietary restrictions.