Character Greetings, where kids and adults can meet and greet Disney Characters, occur throughout the Disney Cruise Line ships, both in designated places and during special surprise appearances.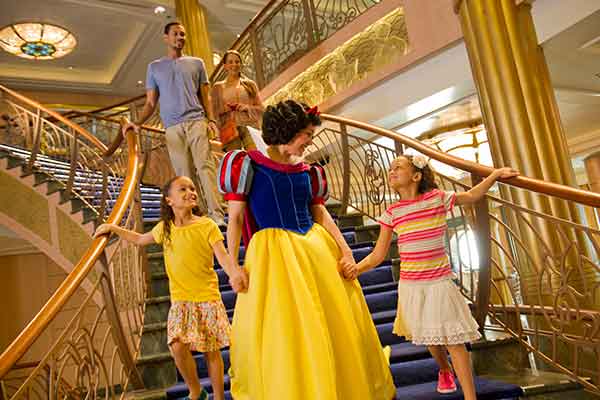 Share hugs with Snow White and Cinderella. Enjoy a hearty laugh or two with Goofy and Donald Duck. And collect one-of-a-kind autographs from the likes of the lovable, but scheming, chipmunks Chip 'n Dale.
A Disney Cruise Line cruise offers you what no others can—memorable experiences with Disney Characters. Although subject to change, Disney Characters you are likely to see during your cruise may include:
Mickey Mouse
Minnie Mouse
Donald Duck
Daisy Duck
Chip & Dale
Goofy
Pluto
Max
Captain Hook
Peter Pan
Lilo
Stitch
Cinderella
Belle
Snow White
Princess Aurora
Princess Tiana
Ariel
Captain Jack Sparrow
Dopey
Jake
Character Greetings are available throughout the day. For a schedule of Disney Character appearances, check the Personal Navigator—the Disney Cruise Line daily newsletter detailing all there is to see and do—once you're onboard the ship. You can also dial 7-PALS from your stateroom phone or check the message board in the Lobby Atrium for more details about Character Greetings.
Available on all Disney cruises, a final farewell reception lets you share goodbye hugs and snap some last-minute pictures of your favorite Disney Characters, Disney Cruise Crew Members and stars of the Disney Cruise Line Live Shows before your cruise vacation draws to an end.