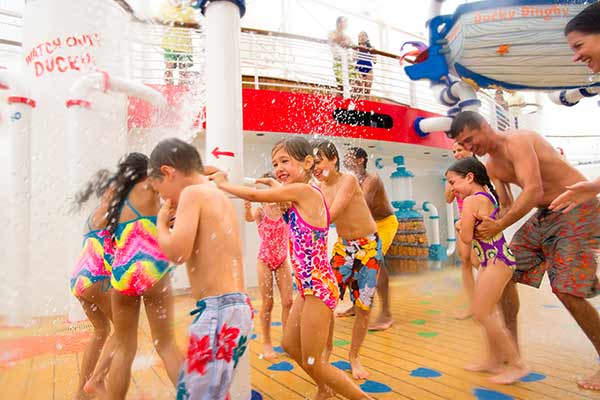 Disney Cruise Line pools aboard the Disney Fantasy include 3 themed freshwater pools—one for kids, one for adults and one for families—and an exciting standalone water slide open each and every day of your cruise vacation.
---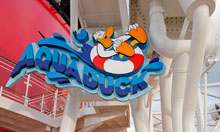 AquaDuck
AquaDuck is an exciting 765-foot-long water coaster located at Deck 12, Midship aboard the Disney Dream that transports Guests on an exhilarating journey up, down and around 4 decks, over the side of the ship and through the Forward Funnel.
---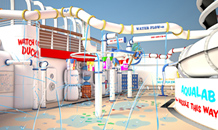 AquaLab
Splash into fun in AquaLab! Located on Deck 12, Aft aboard the Disney Fantasy near the entrance to the AquaDuck water coaster, this 1,800-square-foot water play area features pop jets, geysers and bubblers. AquaLab is sure to delight every member of the family!
---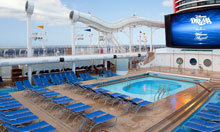 Donald's Pool
Donald's Pool, a family pool located at Deck 11, Midship aboard the Disney Fantasy, includes an approximate 5-foot deep main pool with an adorable picture of Donald Duck on the pool floor.
---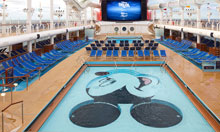 Mickey's Pool
Mickey's Pool, a children's pool located at Deck 11, Midship aboard the Disney Fantasy, includes a 2-foot-deep main pool with Mickey Mouse's smiling face and, nearby, a twisting one-deck-high slide.
---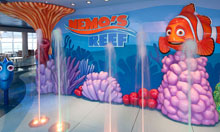 Nemo's Reef
Nemo's Reef, a whimsical water play area located on Deck 11, Midship aboard the Disney Fantasy, is a fun-filled splash deck for young ones featuring pop jets, bubblers and fountains—starring characters from the hit Disney•Pixar film, Finding Nemo.
---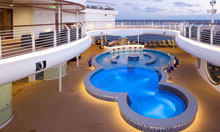 Quiet Cove Pool
Quiet Cove Pool, an adults-only pool located on the Disney Fantasy at Deck 11, Forward features an approximate 4-foot-deep main pool and connecting bar, perfect for adult Guests looking for a relaxing sojourn amid a more relaxed environment.
---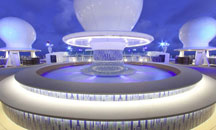 Satellite Falls
Guests ages 18 and up can savor moments of serenity at Satellite Falls, an adult-exclusive area on Deck 13, Forward aboard the Disney Fantasy. Lounge in the sun or cool off in the circular splash pool, which features benches and a gently cascading rain curtain.
---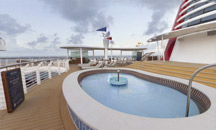 Wading Pool
Enjoy a splash of refreshment in the wading pool area, located on Deck 12, Forward aboard the Disney Fantasy. With its soothing fountain feature and shaded lounge chairs, this is an ideal spot to relax while the kids play at the nearby AquaLab.
---