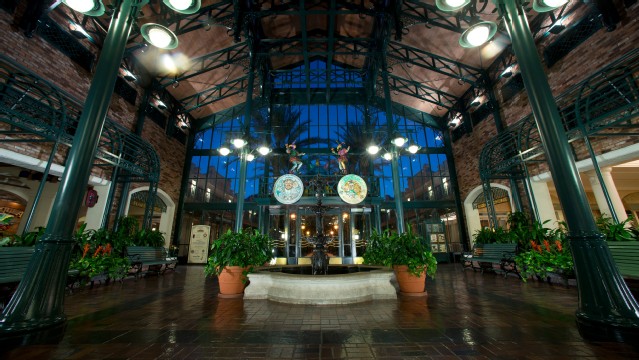 Revel in the romance and pageantry of New Orleans's historic French Quarter at this Resort hotel, where cobblestone streets, gas lamps, wrought-iron balconies and fragrant magnolia blossoms evoke the Antebellum era and colorful Mardi Gras characters and jazz keep things lively. Then stroll along the Sassagoula River to Disney's Port Orleans Resort – Riverside, home to Cajun and Creole specialties.
Dining | Recreation | Amenities
What Makes This Resort Hotel Unique
Pool with Waterslide
Parade around a Mardi Gras-themed pool area where King Neptune sits astride a giant sea serpent. Scale "Scales," as he's affectionately known, and slide down his tongue for a splash landing. Jazz-loving gators and clamshell water features add more poolside panache while a hot tub and the nearby Mardi Grogs pool bar let the good times roll.
---
Scat Cat's Club
Sip on a hurricane as you groove to the smooth sounds of a one-man jazz band on select evenings.
---
Horse-Drawn Carriage Rides
Clip-clop up and down the scenic Sassagoula River in a carriage seating up to 4 adults. Fee applies.